The Stock Market with its pineapple logo used to be operated by Del Monte Philippines. Recently, however, it was taken over by Bistro Group Restaurant Concepts that also manages popular chains T.G.I. Fridays, Italianni's, and Fish & Co, among others. They renovated the interiors a little and revamped the menu.
I have read about it, so I went in on a slightly rainy Sunday evening. The original plan was just to have an afternoon snack, but it was Sunday, and being lazy is legal on Sundays. Anyway, I got to Bonifacio High Street, and The Stock Market is a little far a walk coming from Serendra. I eventually found out that it is just beside T.G.I. Friday's in Quadrant 3. Read more…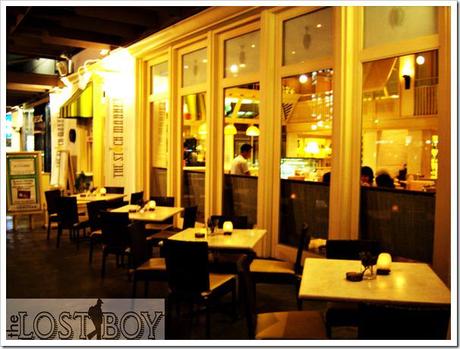 As I entered the door, the host graciously welcomed me, led me to my table, and took my umbrella. I found an article from Inquirer Lifestyle by Walter Ang that accurately described the  divine interiors: "Fans of the TV cooking show, "Barefoot Contessa," may find the interiors familiar: white-washed walls, large windows that allow sunlight to wash into the dining area, and even striped faux-awnings – elements that evoke a crisp Hamptons-style aesthetic."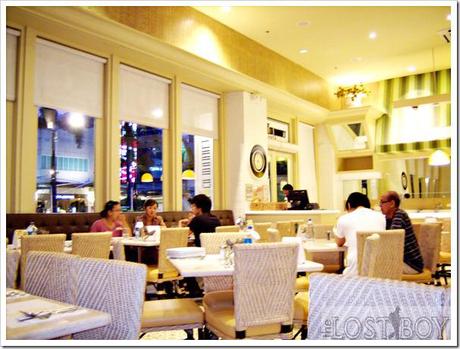 I was tempted to get the "must-try" Roasted Pork Short Ribs priced at 395php, but then I reminded myself that I was only there for a "snack." I looked at the pasta and the sandwiches selection, and my attention was caught by The Stock Market Burger, also a "must-try" at 325php. Well, "1/2 pound" and "US Angus Beef" were enough for me to decide to get it. My server asked how I wanted my burger. Beef should always be cooked medium rare for me.
While waiting, I was served my customary Coke Zero and a complimentary basket of bread slices and salsa—an unlikely pairing. But it wasn't long after when the pièce de résistance arrived. It was a lot larger than I expected, thus I had to cut it into quarters. Sure, the menu describes The Stock Market Burger as "1/2 pound US Angus Beef patty with grilled pineapple and cheese, served with pickles and fried potatoes," but trust me, that is an understatement.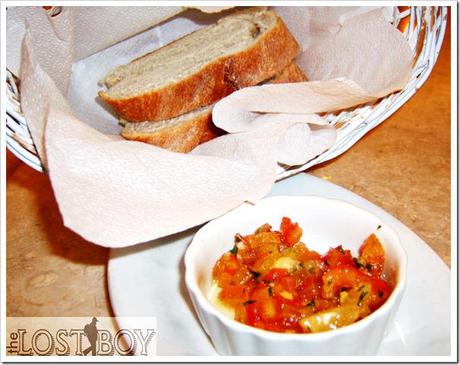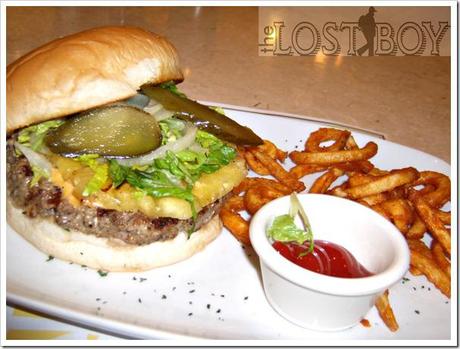 The patty was so tender and seasoned well. The bun was soft, warm, and buttered. The pineapple was caramelized and sweet, contrasting with the melted cheese. Overall, it was a great tasting burger, probably one of the best I've had yet.
I'd like to rave about the service as well. While I was having my burger, first, the store manager came over to ask how my burger was, and my server did the same not long after. From the beginning, service was very attentive and all smiles that it was overwhelming to receive such superb service.
Verdict: Elegant ambience, great food, and impressive service will definitely make me go back to The Stock Market. Hats off to my server and the store manager, whose names I have unfortunately forgotten. Looking forward to my next dining experience!
P.S. The store manager told me that they were revising their menu last week, as they regularly do. They retain their classic menu items though, such as The Stock Market Burger.
THE STOCK MARKET
Quadrant B3, Bonifacio High Street, Global City, Taguig, Philippines (Google Maps)
Hours: 11:00am to 11:00pm on Sun to Thurs and 11:00am to 1:00am Fri and Sat
Contact: +63 2 856 6301 or [email protected]
Prices: entrees start at 325php
Notes: Major credit cards and Philippine-issued ATM cards are accepted. Serves alcohol.