People usually say "when in Rome, do as the Romans Do!" Why?? Let's break that! 
What am I coming to say is, do whatever you'd like to do and eat whatever you'd like to eat! No matter where you are.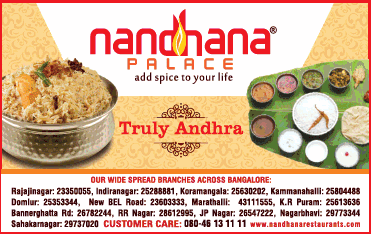 We know that Andhra is famous for its colorful, flavorsome, lip-smacking spicy Andhra cuisinesin India. It gratifies the taste-buds of the foodies all over the world. But the question is …..
"Is that really possible to treat your inner soul with authentic Andhra food in Bangalore?"
For those people who have been craving for delectable Andhra style food, Nandhana Palace is here to make it possible!
With an appetizing menu list for both Vegetarians and Non- vegetarians, it has earned a place in many people's hearts.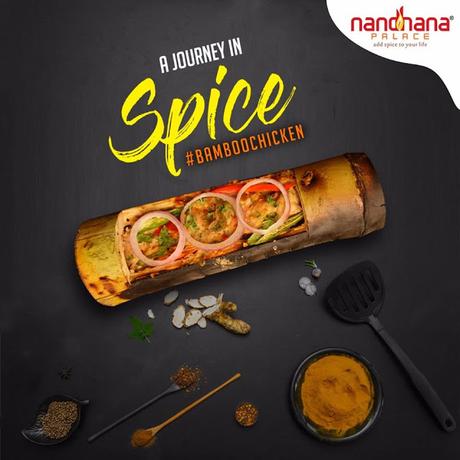 Nandhana is one of the most popular dining spots for lunch and dinner. The clean atmosphere, ample seating and affordable pricing helps it to get the crown of Best Andhra Restaurants in Bangalore city.
Nandhana Palace is known for many special and unique dishes. Let's start with vegetarian Andhra meals, its veg- carrier meals with plantain leaf allows you to enjoy the typical bhojanam style lunch at your office desk itself. Veg starters such us Baby Corn sholay kebab and Gobi pudina dry are signature dishes of Nandhana. Bendakaya French fry, Gobi puvvu, Carrot 65 tops the list of veg delicacies.
Bendakaya French fries are best served hot & crisp that can be eaten as a part of lunch, dinner or by themselves as a snack.
Carrot 65- The sumptuous carrot 65 is deep-fried and it's crunchiness and spicy flavor makes it as a punchy classic dish.
That's not all, it has a wide range of delightful spicy non-vegetarian cuisines like Amravati Chicken fry, Mutton Nalli Roast, Fish Manchurian and Prawn noodles.
Fish Manchurian varies from your usual seafood. They are crispy fish balls sautéed in spicy sauce as per your choice.
Prawn Noodles- one of the popular cuisines made of long noodles that are sautéed with yummy prawn and toppings as per our choice.

Mutton Nalli Roast in Nandhana is specially made of fresh lamb chunks. They are spicy buttered tawa-roasts with traditional Andhra spices.
The highlight of Nandhana Palace is Biryani Thali.  Imagine 5 Biryanis in the same plate, doesn't the thought itself gives you a feel of living in heaven?
To check whether it's true, visit the nearby Nandhana outlet for Andhra cuisine in Koramangalaand dig into their biryani thali. The Thali come stacked with Natu Kodi Biryani, Nellore Biryani, supreme Chicken Biryani, Veg Biryani (is there any such thing in the world?) and last but not the least our favorite Hyderabad Biryani.
Stay biryanified and make this Valentine's Day more special with the best biryani in Bangalore!
Related Articles:
https://www.nandhanarestaurants.com/blog/2019/10/03/everything-you-need-to-know-about-nandhana-restaurants/
https://www.sailusfood.com/categories/andhra_food_recipes_vantakalu/
x