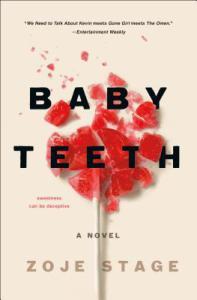 Book Cover Image: Baby Teeth by Zoje Stage

" data-orig-size="263,400" sizes="(max-width: 197px) 100vw, 197px" aperture="aperture" />
BOTTOM LINE: Disturbing AF – which means I loved every minute of it!
Genre: Suspense; Thriller;
Publication Date: 17 July 2018
Source: Publisher via NetGalley
Synopsis from the Publisher:
"Afflicted with a chronic debilitating condition, Suzette Jensen knew having children would wreak havoc on her already fragile body. Nevertheless, she brought Hanna into the world, pleased and proud to start a family with her husband Alex. Estranged from her own mother, Suzette is determined to raise her beautiful daughter with the love, care, and support she was denied.

But Hanna proves to be a difficult child. Now seven-years-old, she has yet to utter a word, despite being able to read and write. Defiant and anti-social, she refuses to behave in kindergarten classes, forcing Suzette to homeschool her. Resentful of her mother's rules and attentions, Hanna lashes out in anger, becoming more aggressive every day. The only time Hanna is truly happy is when she's with her father. To Alex, she's willful and precocious but otherwise the perfect little girl, doing what she's told.

Suzette knows her clever and manipulative daughter doesn't love her. She can see the hatred and jealousy in her eyes. And as Hanna's subtle acts of cruelty threaten to tear her and Alex apart, Suzette fears her very life may be in grave danger…"
My Thoughts: Believe every reaction you have seen because Baby Teeth is one effed-up story. Hanna's thoughts about her mother are just plain disturbing and seemingly justify the fear Suzette feels when alone with her daughter. Plus, Hanna's manipulation of her father is sickening. It would be easy to describe Baby Teeth as the story of a child sociopath. However, to do so leaves out key elements of the story which not only add depth but make you realize that not all is black and white in the Jensen household.
It is as if Ms. Stage took Oprah's long-ago advice of putting yourself and your relationship with your significant other ahead of that of your children and started conjuring various scenarios of how that might work. What she put to paper is inventive if disturbing with no clear right or wrong answer to any situation. Therein lies all of the tension and drama of the story, for it is not just about Hanna's proclivity for manipulation and violence but also the family dynamics wherein the primary caregiver is extremely sick most of the time. I envision book clubs having a field day with the Jensens' marriage.
There is so much within Baby Teeth to discuss and no easy answers that would allow all readers to come to the same conclusions. In fact, I suspect Ms. Stage leaves certain parts deliberately vague specifically to prod discussions. There are some very difficult scenes within the story that may be a trigger for some readers, so one should not open the novel unless prepared to be thoroughly shocked at everyone's behavior at some point in time. For all that though, I was mesmerized by Hanna and Suzette as they battled for Alex's affection. My sympathies varied depending on the scene, and just when I thought I was committed to one particular character, something would happen that would make me question my choice. It is a fascinating study of relationships, sociopathy, and psychology that is akin to watching the train wreck through your fingertips. You cannot look away from the horror before you no matter how much you think you desire it until you resign yourself to having a macabre curiosity and sit back to enjoy the ride.












Related Stories