Even though there is now an official NYFW dedicated only to menswear, during the last installment of New York Fashion Week, which took place this September, there were some men's shows and men's looks featured in the womenswear shows.
The collections showcased during this Fashion Week unveiled designs created for the spring-summer 2016 season. Stylish and wearable, many of the looks we could see down the runway were creative and fun.
Even though New York Fashion Week focused on womenswear designers and labels such as Marc Jacobs or DVF, there are some menswear looks that deserve mentions. Here are a few menswear outfits that you should have on your radar in the S2016 season.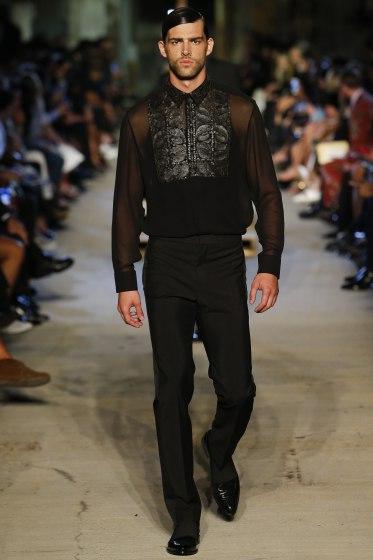 Designer Ricardo Tisci fortified his womenswear collection with 20 men's looks that featured a monochromatic, sleek aesthetic. The black and white looks featured great tailoring and a great play with hard and soft fabrics. Moreover, the intricate details of the clothes were what made looks such as this one so special.
The reason why we love this look so much is because it is extremely well-balanced. It mixes soft and hard fabrics, the sharp lines are balanced out by the lace and because it shows how one can dress in a monochromatic outfit and still look great!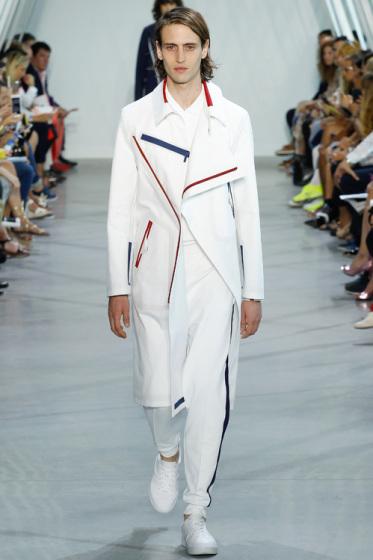 The Lacoste show was, as it has been in the past, one of our favorite shows from such an event. For this collection, Lacoste presented a very French aesthetic that was embellished with a wide variety of motifs and influences. The splashes of red, blue and white (besides offering that French flair we are talking about) showed one how you mix complementary colors (blue and red) with neutrals (in this case, white), for great sartorial results.
Moreover, the designs itself were very special and elaborate, as this look shows.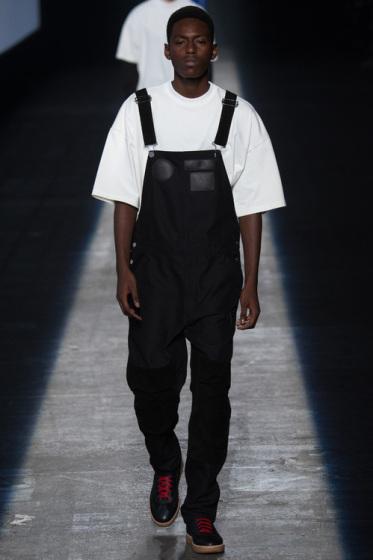 Alexander Wang's casual sportswear collection might be a step back from the direction in which he was going until recently, but it still had a very strong New York vibe to it.
This jumpsuit from his collection for example, is so stylish, it's a dream for guys who like utilitarian clothes but fear they might looks sloppy.
So, there you go - the proof that you can be elegant and good-looking in a piece that is usually not considered very flattering.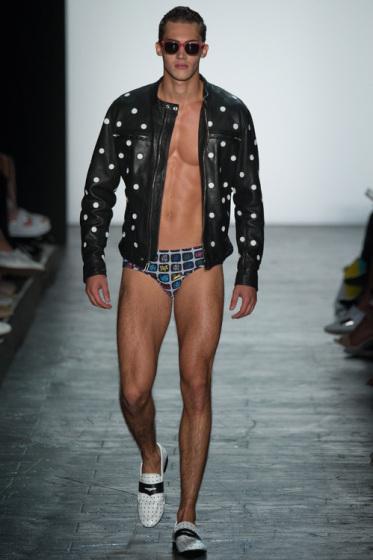 The Jeremy Scott collection was a mix of everything done in a very right way.
We especially loved this look, as it featured a mix of casual and dressy: the underwear and the slip-on shoes; a mix of timeless and trendy: the jacket and the underwear; and a cool mix of patterns and prints. As you can see, once again, mixing prints that are of different sizes can only work in your favor, so that is the way to go. Don't mix prints that are different, but that feature elements of the same impact, you might end up looking like an optical illusion!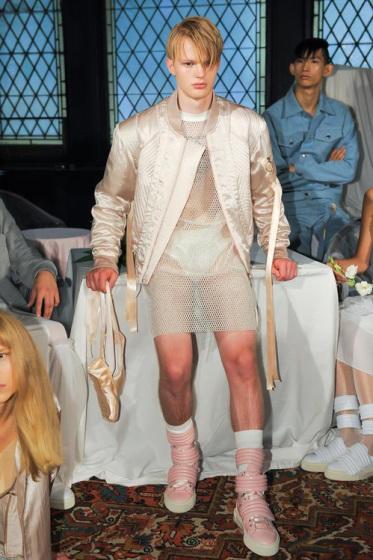 The Nicopanda for Men collection featured a variety of different styles, but we wanted to focus on this look because it was something that raises a lot of questions. Of course, the jacket is great and the underwear is practical, but the see-through shirt got us thinking of whether this type of garment is what you would call wearable or not. And the answer is yes, men can pull off such things, but you need to make sure you wear it in the right context: a club maybe. So, yes, we love the shirt, even though we would have made it a little shorter.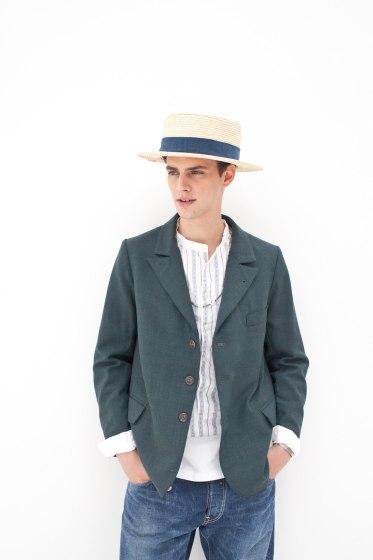 The Visvim spring-summer 2016 collection, created by designer Hiroki Nakamura featured pieces that appear vintage, but are actually not. And, if you look at them closely, you will see that they are actually modern interpretations of vintage pieces. And this is why this Japanese label's collection is so special and actually created a big buzz.
And, besides from loving the proportion of the jacket and the collar and the overall aesthetic of the shirt, we also loved the summer hat.
And, there you have it! As you can see, even though NYFW focuses mostly on womenswear, the menswear looks did not fall short in the Big Apple this time around either. We are looking forward to seeing which of these looks will become trends (not that it really matters, anyone can wear anything) and to what our favorite designers will create next!
Fraquoh and Franchomme
Further reading:
The Best Menswear Looks from New York Fashion Week: Men SS 2016
P.S. What did you think of the menswear looks from this season's New York Fashion Week? Which was your favorite? Share your feedback, questions or thoughts in the comments below! For more articles on style, fashion tips and cultural insights, don't forget to subscribe to Attire Club via e-mail or follow us on Facebook or Twitter!