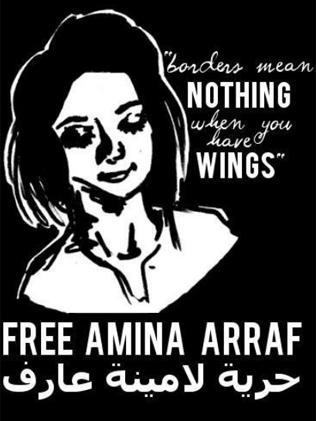 A Gay Girl In Damascus
I had no idea what was going on as I listened to NPR in perilous rush-hour traffic a few days back: I almost drove into the black Suburban in front of me in my perplexed state. I marveled at the mention of both the Middle East and homosexuality in the same byline. Recently with the ironically named Jasmine Revolution, one only heard about the chanting droves in Tahrir Square in Cairo, and the unprecedented outpouring of filial devotion in barricaded hubs of so-called "national telepathy," as a protester interviewed in The New Yorker put it. In the very same article, Wendell Steavenson describes the unique amalgamation of socially and economically disparate people in a famously stratified part of the world:
"On the square, there were workers from the slums with broken shoes; university professors; ex-Army officers; trendy upper-middle-class girls with long black hair and Fendi sunglasses; imams and Coptic priests; National Democratic Party members. Everyone wanted to be heard."
In the midst of feverish gas prices and the entire Middle East attempting to wrest control from Western hegemony, it slipped my mind – my mind: the ever-annoying eighteen year-old who decries his burdensome homosexuality that besets him day-in and day-out – that the treatment of LGBT people had not crossed his mind in light of these volatile uprisings. It had not occurred to many people to consider homosexuality in the Middle East. Beyond simmering rumors about the gay nightlife in Tel Aviv (though geographically contiguous, certainly not ethnically linked to the rest of the boiling Arab World in terms of actual demonstrations against reigning regimes), I had not, and most people had not pursued further knowledge of these social issues.
The British radio host brought on Tom MacMaster, the perpetrator of what a commentator deemed "a gross deception," to talk about his fictitious blog "A Gay Girl in Damascus" (which has just been blocked from public access).
Tom MacMaster is a married American living abroad in Edinburgh, Scotland. When prompted to respond to the acrimonious diatribes sent his way, he simply said: "I just want to say that I'm really sorry."
In response to the vitriolic accusations he faced, MacMaster tried to explain his motivations in a less sinister way. He stated that he had no idea that his blog would become so very popular, even less that it would become a source of inside information about the gay side of political upheaval in the Middle East for the media. He only expected it to be read by about ten or fifteen people; before the blog was closed, he had 2147 followers via Google Connect. He also states that all of the facts in his blog are true, that only the character that embodies this information was a ploy, a means of delivering this information in a compassionate and touching way. He wanted to shed light on the plight of LGBT individuals that had so far been ignored by both their own societies and our own.
Now, for the negative.
To create his eponymous identity, he leafed through photo collections until he found the photo of a woman living in Syria. He said to himself: "This is Amena." Near the end of the blog's run, when it had reached the zenith of its popularity, the woman portrayed in the photo disappeared, leading to the unveiling of the man behind the curtain. When the photographed woman returned, she made it clear that she would be pressing charges against Ted Macmaster. Fair enough. Ted Macmaster endangered this woman, and LGBT people in Syria with his blog.
The media picked up the blog, thinking that it was true. One of the major themes of the radio-debate was the willingness of journalists to dismiss sources as valid without further research: once a source has been confirmed once, it has been confirmed indefinitely. This hoax pointed a finger at the wanton laziness of journalists who will except a source for the story they provide, without sufficiently checking them out. The fact that this turned out to be a faked account of the life of a gay girl in Damascus means that anything published currently is not valid, which could in some ways obscure further what life is like for gay people living in the Middle East.
An expert on literary humbug came on the show, and she discussed moments in history when fictitious personal accounts could be justified. An example she gave was Herman Rosenblat's Angel at The Fence, which Oprah dubbed "the single greatest love story…we've ever told on air," about a married couple that fell in love during the Holocaust. Though Rosenblat did go through Buchenwald, a concetration camp, the tale of enduring love that he spun turned out to be false. Angering Oprah (who is God) aside, she said that since he did in fact have a connection to the tale he was telling since he did experience concentration camps firsthand. Thus his tale is more valid than that of Amena, who was really a gay American living in Scotland with no real connection to the place and people he was writing about. In his apology on his blog, MacMaster said that he had always felt a connection to the conflicts in the Middle East, so he decided to write about it in a firsthand account. His remote (at best) connection to his subject matter makes his blog one of those literary hoaxes that is not acceptable.
Here's your blindfold, and your last cigarette.
Before society adjudicates the fate of MacMaster in an act of untempered fury, I would like to return to my original point about the lack of coverage of LGBT issues in the Middle East. I won't assume the identity of a gay person living in Syria in an attempt to feign expertise about this realm of the world (though in what I saw of MacMaster's blog before it closed shop, it looked as though he was a thorough and meticulous researcher) but the situation is not ideal for my gay brethren. Even in Israel, the focal point of my foreign fantasies of big gay adventures, violent altercations, though nothing like the occasional beating we see in the states, take place in gay youth centers.
Though endangering an innocent woman in order to disguise his true identity, I think that because of what MacMaster did, the media, and the West will be more prone to find these stories about gay people trying to fend off intolerance in their own home countries, places where they are not always welcome, where their own governments aren't necessarily looking out for their rights as human beings. The media will now find the real stories, the real suffering of these people and motivate people to act on it.
LGBT issues are at the forefront of American politics; what to do with gay people who refuse to adhere to traditional gender norms has consumed the legislative chambers of nations all over the Western World. Now that the Middle East yearns to throw off the shackles of myriad stifling regimes, it is extremely important that the media remain vigilant in reporting on the advances of LGBT people in these parts of the world. Gay is not a Western fad – it is a world issue that needs prolonged exposure in the global press in order to find progress for all people everywhere. It is wrong to recriminate Macmaster entirely for what he has done – after all, maybe a gay man was what it took to bring light onto this issue, and how the world has a responsibility to ensure the safety of all people. The Middle East wants freedom, and it is important that this be guaranteed to all walks of life. This is an issue that is just as important to Americans, living abroad and otherwise, as it is to people actually living in the Middle East.
Before the Gay Girl in Damascus blog was shuttered, the masthead, which originally displayed the title of the blog, now has "A Hoax" inked solemnly in the left-corner of the page. Though this story turned out to be false, I can't help but think of all of the people who have to lie about their own lives to live in relative safety in their own homes. It is a hoax to assume that this will get better without the proper exposure in the world theater. It is a hoax to try and ignore how Amena Arraf's story may be real for so many others.