Hi Friends!
Lately I've been running across a myriad of sliding barn door
eye candy
so I thought it would be fun to post about this lasting trend.  Sliding Barn doors on rails have always been a favorite look of mine.  Other than the fact that they very visually stimulating, there are many functional advantages to using a sliding door system instead of a swinging door.  One of those advantages is you can save space by not having to account for the door swing. Plus, you never have to listen to door being slammed again (or is that just something that appeals to me because I have 3 young children around!)
Here are some fantastic examples.
These kitchen pantries are concealed by a sliding barn door.  No need to worry about a door swing that goes right into the walkway.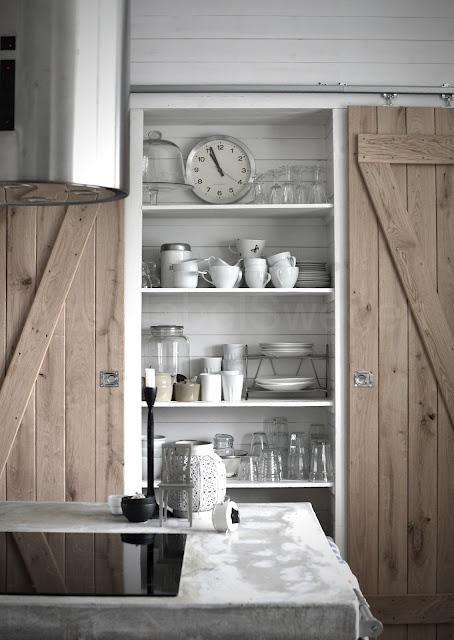 Basic Lab
I LOVE the black iron and decorative brackets they used on this pantry door system!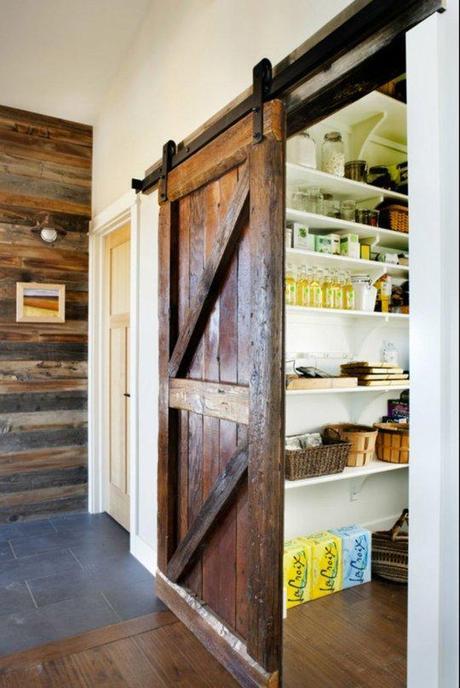 Photo: Lawrence and Gomez Architects / Houzz
In this photo they set the railing off the living room for the guest bathroom.  The character of the door itself is a work of art!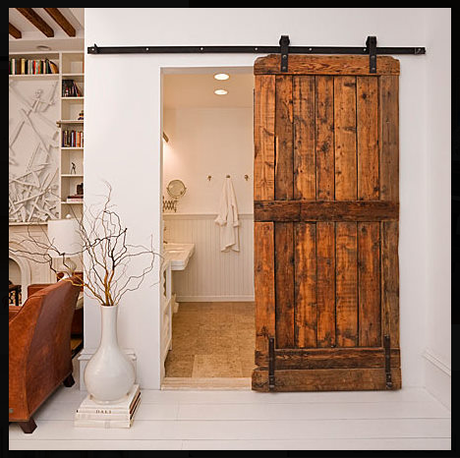 Carla Aston
I have a feeling these sliding doors are located in the master bedroom leading to the master bathroom.  Just SO lovey and makes such a statement!!!!  What do you guys think?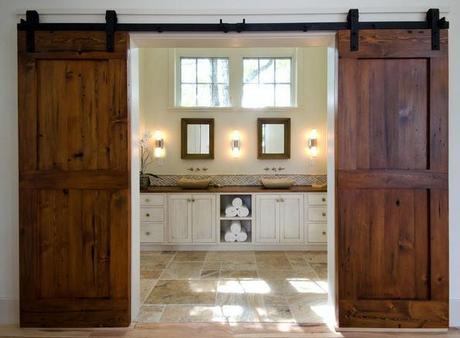 Photo: Bonin Architects & Associates / Houzz
How about these beautiful old reclaimed doors that are used between two rooms.   Sliding decorative doors make great room separators as the are so easy to leave open, partially open, or slide them completely closed.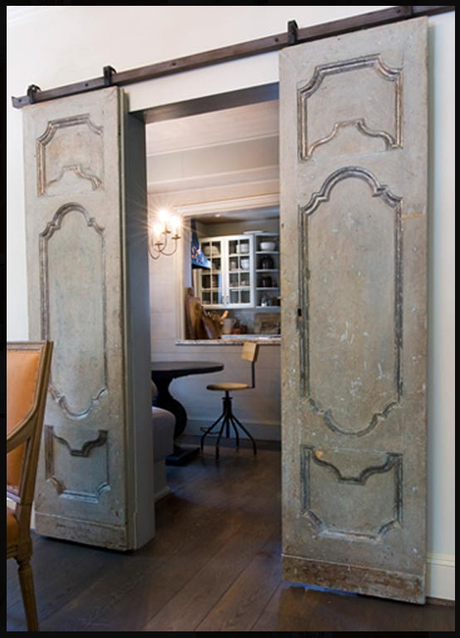 Carla Aston
This is a great example of a more modern feel (not a barn door per se) but still on that sliding rail system.
Designed by the architect this pair of track doors was built of blackened steel, water glass and reclaimed white
oak.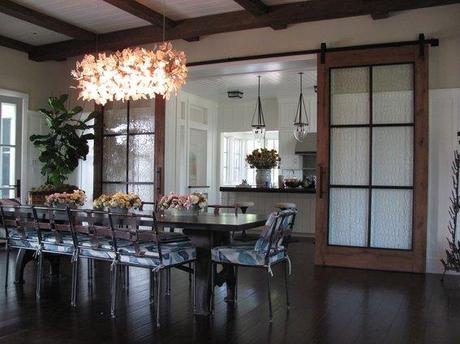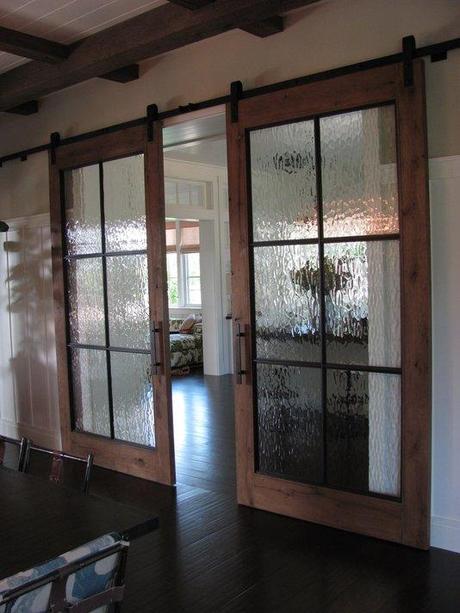 This is another wonderful example of using a reclaimed door to add character to your home.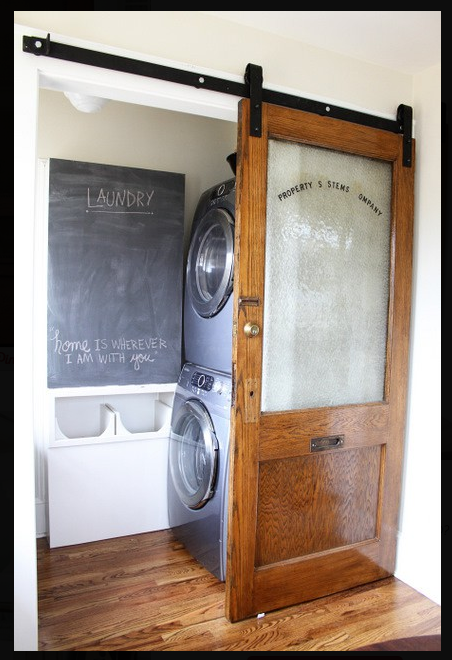 Carla Aston
I love everything about this sliding door....the wood, the glass and the unique iron rail they used.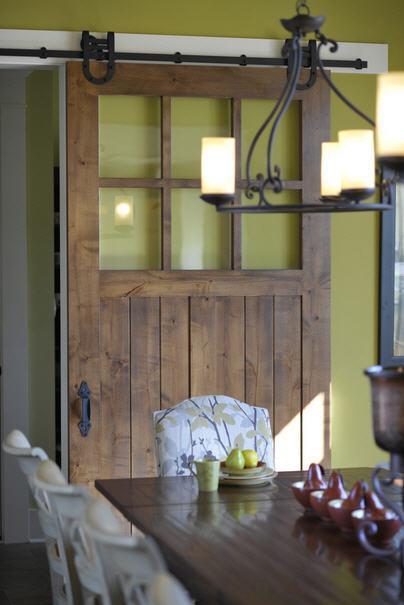 Photo: Weaver Custom Homes / Houzz
I thought this idea was brilliant!  A sliding barn door system that covers the flat screen TV!  What a lovely way to cover up the television.  I also love how it ties in the wooden ceiling beams.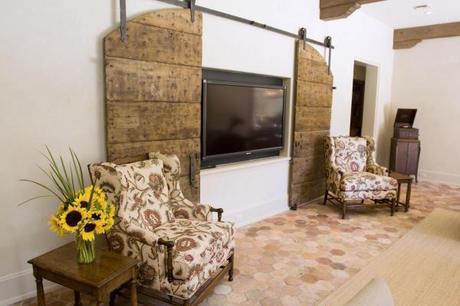 I am sure there are a lot of you thinking, ya, I'd LOVE to put in a cool sliding door in my home but it looks hard (and expensive) and I have no idea how!  Well, Dana from House Tweaking can give you a
full tutorial how to install one of these sliding barn doors
into your own home!  So there is no excuse anymore :-) Go put in that sliding barn door you have always wanted!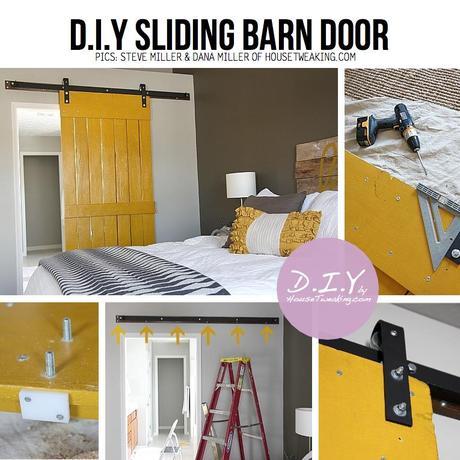 As you can see, there are so many ways to use sliding barn doors in home interiors – where would you put a sliding barn door in your home?