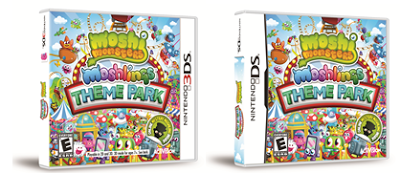 If you're looking for a video game that's suitable for kids in elementary school, look no further than Moshi Monsters: Moshlings Theme Park! This recent release is available for your child's Nintendo DS or Nintendo 3DS, and is a follow-up to the hit game, Moshi Monsters: Moshling Zoo! In this game, kids help to rebuild the Moshlings Theme Park. They'll meet a new character, Furnando, who is one of 60 Moshling characters in the game. Plus, the game comes with a code for free membership for a week at MoshiMonsters.com!
My son, Caleb, who just turned 9, has been playing this game. When I asked for his reaction, he said, "It's fun! You get to play games. You can also buy pets and play with them!" With lots of fun rides and mini-games, Moshlings Theme Park will definitely entertain your child! And at MoshiMonsters.com, players can uncover secret codes that can be used to unlock special areas and content on the Nintendo game. Conversely, high scores in the DS games give them access to exclusive content online! And if they're playing the 3DS version, kids can interact with other players through the StreetPass feature. Check out this video sneak peek at the game:

[Email subscribers, please click on the title of this post to view the video online.]
The video says the game is coming soon, but it is available now! Visit www.MoshlingsThemePark.com to learn more about this game for kids, ages 6-12. You can find Moshi Monsters: Moshlings Theme Park at Amazon, Toys 'R' Us, Best Buy, Target, Walmart, Gamespot, and other places where video games are sold!
MOSHI MONSTERS

A

RE

IN

McDONALD'S HAPPY MEALS!!
Moshi Monsters have just invaded McDonald's restaurants for a Moshi Monsters Happy Meals promotion. Here's your chance to get your hands on exclusive Moshi Monsters toys for four weeks during the holiday season. One of eight different colorful characters from the Moshi Monsters universe will be featured in every McDonald's Happy Meal, including an all-new, top-secret mystery Moshling to be unveiled as part of the month-long promotion. The collectible figures (exclusive to McDonald's) will include fan favorites Katsuma, Poppet and IGGY along with Furi, Jeepers, Shishi and Luvli, while supplies last. Each Happy Meal also comes with a free 3-day membership to MoshiMonsters.com. So, head on over to McDonald's for a Happy Meal today!




This post contains my Amazon affiliate link.