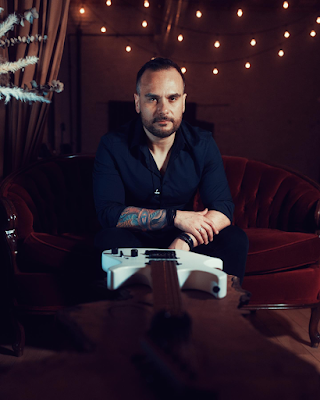 Hired gun.Mr. Clean.Adele aficionado!!Brazilian living in Canada!?This edition of Fistful of Questions goes to guitarist extraordinaire Rodrigo Rodrigues.
My first name is Rodrigo, but since I moved to Canada I realized how hard my name sounds for native English speakers, then I started using a short version of my name, Rod. I have to admit that I got inspired by Rod Stewart... Lol.
I didn't change my last name just because I already had many years of a career in my home country, Brazil. I decided to keep my last name, then from Rodrigo Rodrigues, my artistic name turned to Rod Rodrigues. You guys can still find my first EP "The First Step: Introduction" on all streaming platforms as Rodrigo Rodrigues.
Rod!
What bands are you actively involved with?
I'm focused on my solo career right now, but I also do some freelance work as a hired gun for some bands and artists.
What was the first instrument that you played?
I started playing drums when I was 11. I got the drums from my dad's friend. His son played drums and he wanted to get a new kit for him, then he gave me his son's old drums. I've never had lessons though, I kind of learned by myself. Actually my first time on a stage was playing drums. Unfortunately I don't play it anymore, but I know how the instrument works and it helps me a lot to write my own songs.
Tell me about one of your first musical memories?
When I was around 5 or 6 years old I used to sing some old traditional Brazilian music with my Mom. Once we were at a rodeo festival that happens every year in my hometown, and there was a singer who was kind of popular in the area back then singing at one of the restaurants at that festival, and my mom took me to the stage to sing with him. That was a terrifying experience for me Lol...
What was the name of the first band you were in?
Trendkillers. It was a thrash metal cover band that used to play Metallica, Megadeth, Testament, Slayer, Pantera, etc.
Tell me about the genesis of Rod Rodriques.
I started playing guitar when I was 12. Since then I have been playing with a lot of bands of different styles, from pop, classic rock to metal. I have been a full time musician my whole life and have been teaching for 25 years. I have a bachelor in music and had private lessons with Kiko Loureiro (Megadeth), Mozart Mello (Kiko's teacher) and Greg Howe. In 2010 I released my first solo EP called "The First Step: Introduction", and recently my second one "Tales of a Changing Life Part 1". It's the first part of a conceptual story based on what I have experienced in the last few years since I moved to Canada. In this EP I had the pleasure of having some of my best friends and incredible musicians assist with the instrumentation. For "Woodbine Sunset", Marco Sfogli (James LaBrie, Premiata Forneria Marconi) contributed a guitar solo.
How long did it take you to write and record Tales Of A Changing Life, Part. 1?
A couple of years. Actually "Changing Plans" was supposed to be on my first EP "The First Step: Introduction" released in 2010. It was a completely different version though. "La Premiere Experience" is also pretty old, I started writing that song in 2012 after a trip to Paris. All the other songs were written between 2018 and 2020.
If you could insert yourself into any one band what band would it be and why?
Flying Colors. I'm a big fan of all the members. I know that Steve Morse is irreplaceable, but there's basically everything that I like in that band/project. Great melodies, great lyrics, extraordinary musicians and odd times signatures. I could also say Rush, but... never mind... lol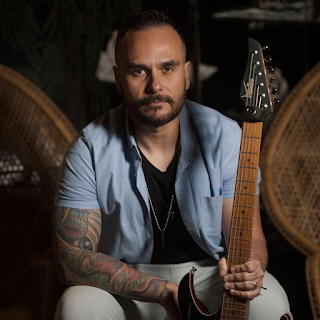 Have you ever heard a song and immediately wished you had written it?If so... What was the song and artist?
A Change of Seasons by Dream Theater. That's my favorite song ever! It's epic, it's very melodic, great lyrics, great riffs, fantastic guitar solo. It's perfect!
Do you have any non-metal musical inspirations?
I have a lot of non metal/rock inspirations. I like soundtracks and classical music. John Williams, Hans Zimmer, Yan Tiersen are some of my favorite soundtrack composers. I also love Bach, Wagner, Beethoven and Stravinsky.
What's a non-metal song that you'd like to do a cover of?
I actually did a few songs already for my Youtube Channel. One of my favorites is my version of Reason by Hoobastank. The band messaged me on my Instagram, they really liked it.
There's a new one coming very soon, but I don't want to ruin the surprise.
What band have you played with that has really impressed you with their live show?
Andre Matos Band. Andre Matos (R.I.P.) was the first Angra's singer. They are all my friends, and his bass player, Bruno Ladislau recorded 2 of my songs: La Premiere Experience and Woodbine Sunset. I also had lessons with his guitar player Andre Zaza Hernandes, we have been great friends for many years. Andre Matos band and my old metal band Enemies of Reality played at the same festival once. They are all incredible musicians. Andre Matos will always be missed.
Do you have a favorite venue to play at?
Bourbon Street, it's a big jazz club in Sao Paulo, Brazil. B.B.King, Steve Vai, John Scofield, and many others have already played there. I've played there a few times. I'd love to play at Massey Hall in Toronto someday.
Do you have a pre-show ritual?
I do at least one hour of warm up exercises and stretching. I think it's very important to feel connected to your instrument to have a good performance.
What is your favorite thing about touring?
The adrenaline and the synergy between audience and artist.
What is your least favorite thing about touring?
Staying far from home.
Is there a city that you love to hit while on tour?
Sao Paulo and Toronto !
What's the weirdest experience you've had on the road?
One time I had a concert and the club was in front of a graveyard. From the stage I could see the graveyard. Ok, that rocks right? But, in the middle of the concert I saw a couple in the audience dancing bolero when we were playing hard rock! A club, in front of the graveyard, playing hard rock for people dancing bolero... Wasn't that weird? LOL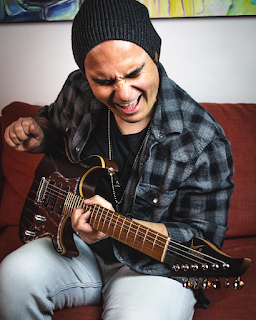 The year is 1995.Where are you at and what are you listening to?
At home doing homework from the school listening to Dream Theater's Awake.
What advice would you give young musicians that are just starting out in the music business?
You don't build a career with only one release. It takes time and a lot of work. Don't give up, enjoy the journey of writing, rehearsing, recording and gigging, love what you do and have fun.
What is an absolute band killer?
Ego.
Have you ever recorded a song that you really didn't like, but somebody else in the band really did?
I wouldn't say a song, but I recorded a guitar solo for a friend who's an incredible musician. His name is Ricardo Parronchi, he recorded the bass of "Physical Distancing" from my new EP "Tales of a Changing Life Part 1". I was doing some warm ups, improvising over his song, and they were actually recording me and I didn't know. He really liked it, but I hated that solo... I've never listened to that solo again Lol.
If you were to start your own music festival what would be the name of that festival and who would be the three headlining bands?
I don't know about the festival's name, but the bands would be Rush, Van Halen, Dream Theater, Symphony X, Extreme, Steve Vai and Leprous.
What's the longest time you've gone without bathing?
12 hours? In summer I usually take at least 2 showers per day, sometimes 3. We brazilians take showers everyday, I know that it could sound weird for people from other countries, but that's how we are.
What's one thing that most people don't know about you?
I do some painting in oil and water color. I haven't been painting for a while though.
Is the Fistful of DOOM show in the top 10 of your favorite music podcasts?
I actually don't listen to a lot of podcasts. I might listen to 5 podcasts and Fistful of Doom is one of them.
Do unicorns sleep standing up?
They don't sleep, they are like zombies Lol
You're driving cross-country and you can only listen to one album the whole time.What album will it be?
That should be a long album, right? Dream Theater's Astonishing
You are writing a book about your life thus far.What is the title of that book?
Tales of a Changing Life
What is your favorite song by Adele?
Turning Tables. I know that this question is a joke but you asked the wrong person because I really like Adele and I have all her albums Lol
Ghost or Mastodon (if you had to choose)?
Mastodon by far!
Doobies or Boobies (if you had to pick one)?
Boobies of course! Lol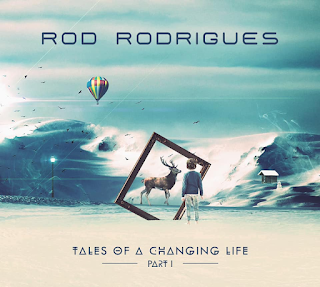 Waffles or Pancakes (if you had to pick one)?
Belgian Waffles
Star Wars or Star Trek (if you had to choose)?
Star Wars, may the force be with you!
Favorite band t-shirt you own?
My first Dream Theater T-Shirt. It's the Awake cover art. I still have it.
Any kind of Italian food.
Lord of the Rings
Lord of the Rings trilogy.
Dream Theater - Images and Words
God of War 3 and Assassin's Creed Origins.
Massive thanks to Rod for taking the time to answer my questions.I appreciate it.Rod's latest release Tales Of A Changing Life, Part. 1 is available for your listening pleasure right now and there's a link to it included in this interview, so you have no excuses.Listen NOW!
Ps-I also enjoy Adele.
~El Pedo Caliente (aka Uncle Jameson from the Fistful of DOOM show)
https://open.spotify.com/album/1NC3jZITTl1hVjNX1qFPDV?si=V6CBSYFxQnOVaDBOCA-JQg