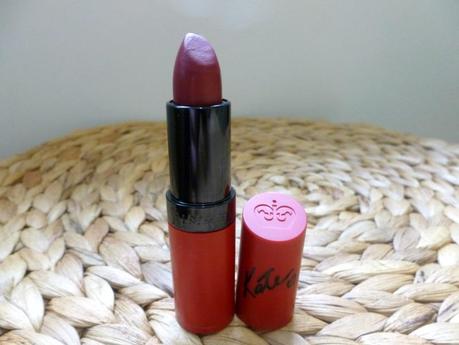 Kate Moss for Rimmel Matte Lipstick 107
After seeing this gorgeous deep red, almost plum lipstick floating around the blogesphere, I knew I had to get my hands on it! It is part of Kate Moss' new(ish) matte lipstick range, which I picked up from Boots for just over five pounds.  
The color really packs a punch, just one sweep over your lips and you are left with a gorgeous opaque color. It also lasts pretty well to; I wore this out in Manchester over the weekend and only had to reapply a couple of times throughout the night.  
Now, I'm not really one to wear a bold lip. I have quite small lips so was hesitant about whether it would suit me, but think it actually looks ok! As it is completely matte there is no shine which can make your lips appear smaller. It does feel pretty matte on your lips however, so had to put some lip balm over the top after a few hours. 
Have you tried any of Kate Moss' Matte Lipsticks?