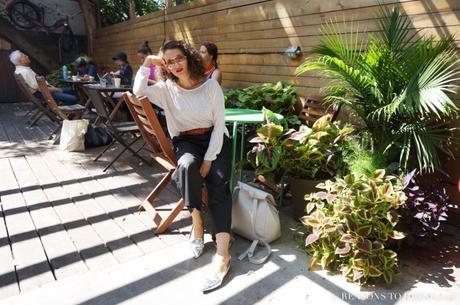 Oh hello friends! Please excuse the silence on my part I've been on vacation in Toronto! To be perfectly honest when I left Italy I had full intentions of sharing via social media daily, but when I got here I realized there is just no time! I've been concentrating on friends, family, being a tourist and enjoying real life as opposed to my digital life.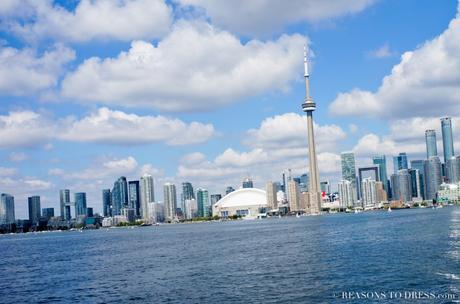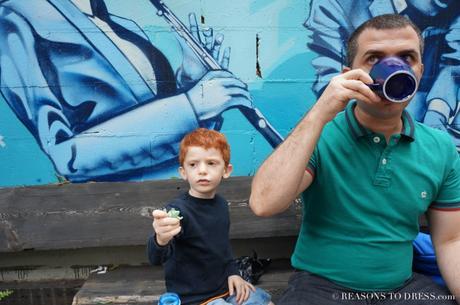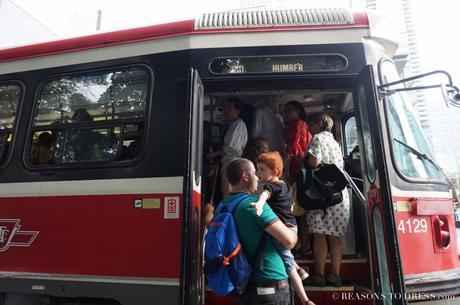 But I digress, today I wanted to tell you a tale, a tale of a fashion blogger who had no clothes for a week and the serious beef I've been picking with KLM airlines (NEVER FLY KLM, I mean unless you love terrible customer service and going on vacation with no clothes!)
We arrived in Toronto after a pretty long flight, and exhausted I discovered that my luggage never arrived at the YYZ Toronto airport. Blah,blah,blah, to make a long story short I had to go one week with no clothes and NO guarantee that KLM would:
a) Find my luggage
b) Reimburse me for purchases
c) Compensate me for a permanently lost luggage
So not only did I need to start a twitter fight with them (check it out here if you want) I had to figure out a plan to clothe myself and fast.
The Case of the Missing FILE REFERENCE NUMBER and Why KLM Sucks
You see, recently an EX-KLM employee published this great post about exactly what customers are entitled to if Delta, KLM or Air France loose your baggage, and since then the airlines have gotten smarter. Meaning that if you claim a lost bag at the airport they will fill-out a "report", and by "fill out" I mean they will hand you a piece of paper with absolutely no information what so ever aside from your name and the color of your bag, but they WILL NOT give Economy customers a File Reference Number!! Without this number you are never entered into the official airline database of lost bags and the airlines have NO RESPONSIBILITY what so ever to reimburse you, file a claim or even send your bag to you if they find it!
The funny thing is that KLM has lost my bag before! 12 Years ago when I was a Business Class Flyer going overseas for work, the same thing happened! But as a Business Class Flyer I was given a special customer service number to call and someone handled the situation immediately! In another post I will go over the exact details of what you should do if KLM ever looses your bag complete with all secret numbers, names and emails to contact and what to do on social media if you need answers! Dear KLM, YOU DO NOT MESS with a fashion blogger's luggage!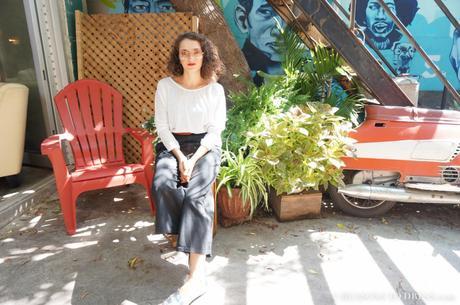 The Thriftanista In The City
As I mentioned, for our first day of sightseeing I wore the same thing I had worn the day before with a change of shoes and underwear (thank God I packed those!). My son needs a special medication that must be refrigerated so most of our carry on luggage was filled with extra clothes for him, medical supplies and needles, a cooler bag for his meds and my documents, papers and computer. Once upon a time I traveled with extra clothes for myself but after becoming a mom my priorities have shifted and all carry-on space gets dedicated to the little man in my life.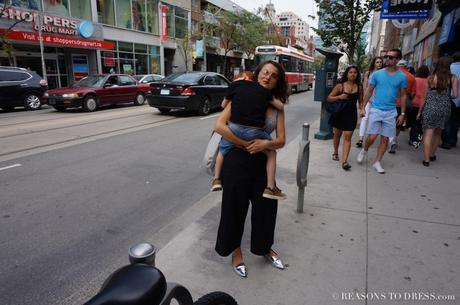 On day 1 I realized pretty quickly that it was going to be a long drawn out affair trying to track my luggage down with KLM and that I had to get tough if I was ever going to receive compensation or even be given the time of day ( I called their customer service number 150 times over a 6 day period according to the history on my phone......the number of times someone ACTUALLY ANSWERED was ONE!!).
Since I didn't want to blow a lot of money on clothes I would never be reimbursed for, I headed to a vintage/thrift store on Queen St. East for their annual 50% off sale!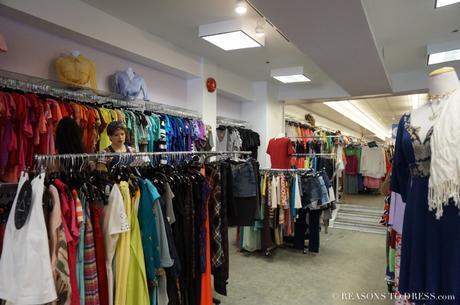 With 90 Canadian bucks (or $61 Euro / $68 US) I bought a dress, pants, skirt, several tops and a sweater. That night I hand washed them all in the sink of our rental apartment and hung them on homemade dry lines on the apartment balcony. I also bought a few new pairs of underwear and I was good to go.
Here I am trying on various outfits...some are better than others.
Going to the thrift store was a good idea since I needed some emergency clothes and fast, plus at this point I didn't have a file reference number so I wasn't sure I would be reimbursed.....but soon I'll share what I bought with the airlines money!
I've REALLY missed blogging while on vacation so I'm going to try and share most of my trip over the next few weeks on the blog and over social media. I will be posting what I wore (including my creative vintage outfits) and my daily Toronto itineraries plus a few Fall trends that I've been sporting like flat metallic shoes, the high/low jean hem and feminine garb - I hope you enjoy and it's good to be back!
See you in September as they say!