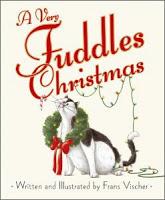 If you're looking for a new classic children's book for Christmas, I've got a recommendation: A Very Fuddles Christmas, written and illustrated by Frans Vischer. You don't have to be a cat fan (like me) to love the antics of "fat, pampered" Fuddles at Christmastime. He upends the turkey dinner on the table, gets tangled up in ribbons and lights, and just can't resist climbing the Christmas tree … "Oh no! Fuddles!" Unfortunately, Fuddles escapes from trouble to the great outdoors, where he is befuddled by "bitter cold and biting wind." He chases some pesky squirrels to the top of the house and accidentally falls down the chimney! Fortunately, the fireplace isn't lit, and Fuddles just makes a very dramatic and dirty entrance. His family cheers him up with a nice bath and a delicious meal. "Merry Christmas, Fuddles!"
Book trailer:

I've always admired children's authors who can both write and draw for children, and Frans Vischer is a master at both. The prose and pictures are lively, perfect for capturing children's attention. As a cat owner since childhood, I can easily relate to Fuddles' troublemaking at Christmas since nearly every cat loves to tackle the tinsel and bite the lights! The whole family will delight in reading A Very Fuddles Christmas during the holiday season -- and the rest of the year, too!
Learn more about the author at www.fransvischer.com and about Fuddles at pamperedfatcat.wordpress.com and www.fuddles.net. And be sure to pick up a copy of A Very Fuddles Christmas for holiday gifts!




This post contains my Amazon affiliate link.