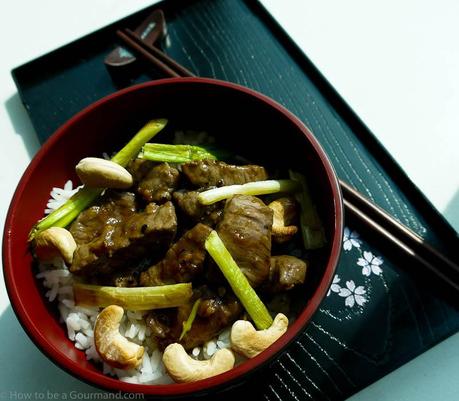 My Interpretation of Sizzling Beef, Ginger and Spring Onion
Ever get the feeling when a cookbook resonates so strongly with you that you can't wait to turn the page to see what delights are up next? Allow me to introduce you to the cookbook "Lemongrass and Ginger – Vibrant Asian Recipes" by the very talented Leemei Tan from My Cooking Hut.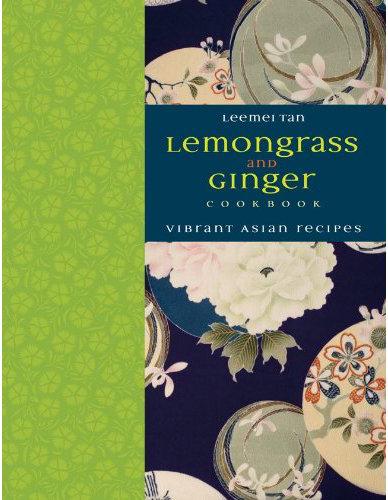 Lemongrass and Ginger – Vibrant Asian Recipes
photo credit – Leemei Tan www.mycookinghut.com
I was introduced to Leemei at Food Blogger Connect in London where she was first up in presenting "Getting Published: Pleasures and Pains of Writing Your First Cookbook". I think she was slightly overwhelmed by the size of the room and being the first presenter on the day. Sadly, I was unable to attend this session but by all accounts it was a very informative, honest and engaging presentation. More of which can be found here.
Spending time between London and Hong Kong means that sometimes you miss out on news so I wasn't too familiar with Leemei's book but when I caught a glimpse of it, I had hoped that this book would promise fragrant, flavourful Asian recipes and I wasn't to be disappointed!  On a personal level, the timing of the book couldn't have been better now that I am spending some of my time in Asia.
The book itself opens with a bit of background on Leemei. She grew up in Kedah, an area commonly known as "The Rice Bowl of Malaysia". She would accompany her mother every day to the markets to source fresh ingredients for the evening meal and became a "willing volunteer" as she prepped in the kitchen. Student life included embracing the street food of Malaysia and then learning to cook simple meals to feed her fellow housemates in Perth, Austrailia.
Leemei relocated to London where she has lived for the past few years. She established her blog in 2007 as a way to capture, share and connect with fellow food lovers. There are charming anecdotes about the people who have inspired Leemei along the way including her mother, her French mother-in-law and a Vietnamese lady who wakes at 4am every day to ensure her soup attains the correct clarity and depth of flavor. Such dedication!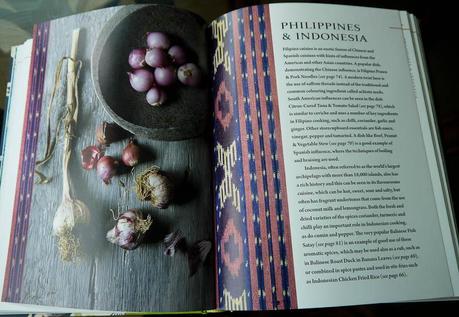 The Philippines and Indonesia chapter of Lemongrass and Ginger by Leemei Tan
The book contains over 100 recipes and is helpfully divided into chapters dedicated to the style and flavours associated with each country:
Japan and Korea
China
Philippines & Indonesia
Malaysia & Singapore
Thailand
Cambodia & Vietnam
India & Sri Lanka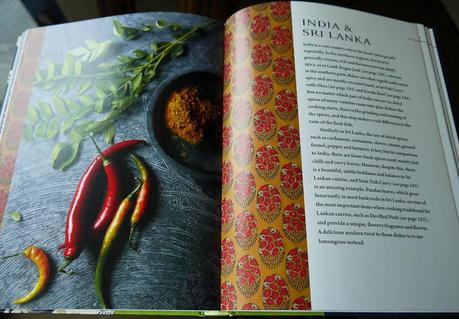 India and Sri Lanka chapter of Lemongrass and Ginger
There is also a section at the back describing basic recipes which are often referered to in the body of the main book such as pastes, condiments and sides as well as useful descriptions of basic techniques.
As you flick through the book, you are met with an array of  mouthwatering dishes captured by the most beautiful, vibrant images.
There are many recipes that I would like to try. Most notably:
Indonesian Chicken Fried Rice
Penang Assam Laksa
Cha Cha La Vong
Coorg-Style Chicken Curry
Sri Lankan Crispy Pancakes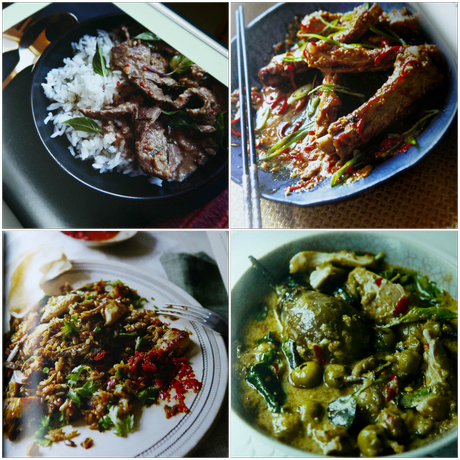 Vibrant images on display in Lemongrass and Ginger
I really like the fact that there are preparation and cooking times indicated with each recipe so you can factor in the total time required for each dish.
I wanted to make a recipe from the book and decided to opt for an easy Sizzling Beef with Ginger and Spring Onions. I have adapted this recipe to my own taste by adding a red chili, sesame oil, soy sauce, lime juice and toasted cashew nuts for garnish. I haven't used cornflour or Shaoxing rice wine.  My marinating time is longer and I haven't used a wok but a sturdy frying pan. This recipe is taken from the China section of the book. An important component in Chinese cuisine is that there is a balance of flavours, textures and colours. A balance of "Yin" and "Yang" ingredients. Yin denotes having a cooling effect on the body while Yang is said to have more warming features. This recipe would certainly fall under the Yang category.
Print Sizzling Beef with Ginger and Spring Onion
Prep Time: 2 hours, 10 minutes
Cook Time: 15 minutes
Total Time: 2 hours, 25 minutes
Serving Size: Serves 2 for Lunch or Dinner
Such a fragrant and delicious recipe for Sizzling Beef, Ginger and Spring Onions. Cooking time is minimal and marinating can be done the night before.
Ingredients
250g of tenderized sirloin beef, cut into 2" x 1'" thick strips
2 tsp of sunflower oil
1 tbsp of freshly grated ginger
2 tbsp of sesame oil
2 tbsp of soy sauce
2 tbsp of oyster sauce
2 garlic cloves, pressed
1 finely sliced red chili (I used a bird's eye chili)
1 tbsp of water (if required)
freshly ground pepper
1 tbsp of lime juice
salt to season
white long grain rice, boiled, for two
3 spring onions, cut lengthways into 2.5"
A handful of cashew nuts, toasted
Instructions
In a bowl, mix together the soy sauce, sesame oil, grated ginger, chilli, pressed garlic and strips of beef.
Ensure that the beef is sufficiently coated in the mixture. Cover the bowl and place in fridge for a minimum of 2 hours.
Take the beef marinade out of the fridge 30 minutes before cooking.
Cook long grain rice according to packet instructions.
Coat the spring onion pieces with some sunflower oil and place on a hot griddle pan. Sprinkle some coarse salt over them.Turning over as soon as they color.
Heat 1 tbsp of sunflower oil in the frying pan over a high heat until smoking hot.
Add the beef with marinade to the pan and listen to the sizzle! Cook for about 1-2 minutes.
Add the oyster sauce and freshly ground pepper to the mixture and toss the beef around in the pan for a further 1.5 minutes. Add some lime juice at the end.
Serve the rice in two bowls.
Spoon the beef and sauce delicately over the rice. Serve the griddled spring onions and toasted cashew nuts on top of the beef.
Notes
Cooking time includes the time to make boiled rice.
Schema/Recipe SEO Data Markup by
ZipList Recipe Plugin
2.0http://howtobeagourmand.com/a-delicious-journey-with-lemongrass-and-ginger-a-book-review/Unless otherwise stated, text and photographs © 2011 How to be Gourmand. All Rights Reserved. Kindly request permission from the author to copy or reproduce elements of this blog.
The dish was packed full of flavor and will be one I will be resorting to time and time again.
If you are interested in learning more about Asian cuisine then Lemongrass and Ginger is certainly a good place to start. It represents a diverse range of cuisine while retaining some of the classic Asian dishes.
I would like to extend my thanks to Duncan Baird Publishers for providing me with a review copy and allowing me to publish a recipe from the book and of course, Leemei for introducing me to such flavourful Asian recipes.
Do you have a favorite type of Asian cuisine? I'd love to hear about it in the comments below.
Like How to be a Gourmand on Facebook