On Friday 28th October LittleT and I joined Mr Tapas on his usual commute down to London in order to go to
The Baby Show
to say hi to some changing bags (sorry, baby brands). Train trouble and the tube's lack of ramps or lifts aside, we had a very good day.
We met Amanda, the fabulous woman behind the
Mummy Manda
website, and her two children (Popsy and Boo) at Kings Cross and together we tackled London, which was no mean feat, neither of us had ever been on an escalator with a buggy but, not only that, Amanda's was a double
Phil and Teds
that she had borrowed and was using for the first time!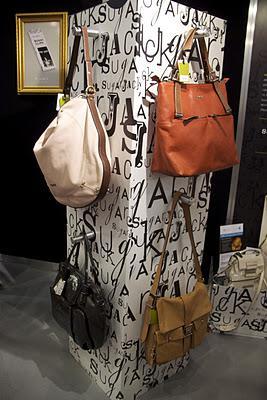 Bag heaven
I went to the Earls Court Baby Show courtesy of
Sugarjack
, after winning the ticket thanks to my ultimate knowledge of their changing bags through a competition ran in their
Facebook
page. Hence my first port of call was their stand, where I met Greer, who I have been corresponding with for my
Sugarjack articles
(you can read the article in Spanish
here
). Finally having a chance to feel the quality of the leather of the bags and meet the likes of Holly, Gabi, Hannah and Lily face to face confirmed that these are timeless bags that are meant to last forever and that could easily be marketed as handbags "with the possibility of using them as changing bags". I may have also got a sneak peek of a prototype bag or two, fantastic!
After my pit stop at the Sugarjack stand I continued through a sea of pregnant women and mums with prams towards the
Mia Tui
stand, I hadn't even stepped into the stand when Charlotte Jamme, the owner of Mia Tui, spotted the cross-body bag I was carrying and immediately looked up and somehow knew it was me. I was in fact carrying the black Grace bag she had sent me for the purpose of writing the articles about her brand (I love that bag, it is so organised). Charlotte is just like I imagined her: beautiful, self-assured and, well, feisty!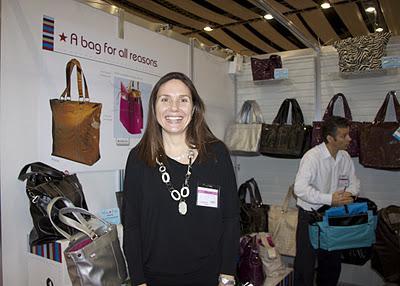 Bag heaven number 2: Mia Tui's own Charlotte Jamme
After chatting to Charlotte and taking a few photos for my next
Mia Tui
article, I walked round The Baby Show in search of
Amanda
, I saw a massage corner and the
British Red Cross
was there to give first aid advice, which I thought was a fantastic idea. I didn't quite understand why npower was there though.
We had an event at 1.30 pm so there was a bit of racing involved, in fact at one point I ran past one appropriately-named stand that caught my eye, the buggy valeting service Buggy PitStop, have a look at their website.
I also had the chance to meet the lovely Linda and Leonora, aka Lin & Leo, who introduced me to their new addition, a fabulous changing bag called Natalie. The bag was so popular at The Baby Show that it sold out but, don't worry, it will be back in stock when they receive their next delivery at the end of November.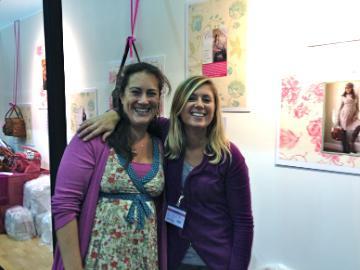 Lin & Leo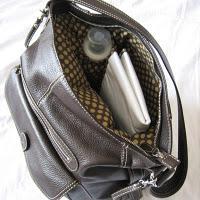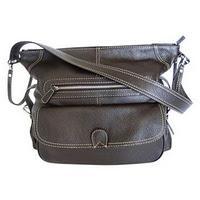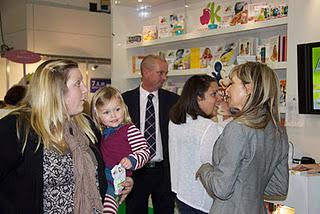 Star-struck Mummy Manda and her daughter Popsy
I finally found Amanda, she was having a chat with
Annabel Karmel
you know, like you casually do chat on a daily basis with the stars. As soon as we walked into The Baby Show, Popsy, Amanda's little girl, was asking for "Annabel from Annabel's Kitchen". Amanda had done some work for the Annabel Karmel brand and is a big fan so she was just as thrilled. I arrived to the stand just as they were finishing their chat and had a chance to take a couple of snapshots as I knew Popsy would love to have a photo with Annabel.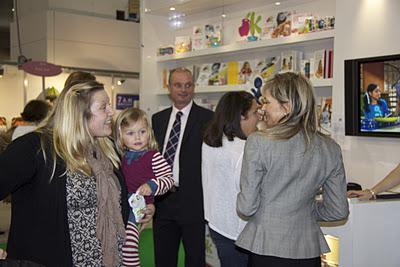 Amanda and Popsy chatting with Annabel Karmel
This was my first
Baby Show
ever and I have to say, had I gone when I was pregnant, I would have found it daunting, so many stands, so many products. It is definitely an event to attend with company. There are fantastic special offers that you probably won't find anywhere else so, if you decide to go to the next one, my advice is: make a list of what you actually need, take one or more people to help you, wear comfortable shoes and take regular breaks (above all if you're pregnant) and make sure you enter any competitions! You never know, you might win some baby essentials or a fabulous bag or treat for you or your partner.
As for the fantastic event I attended at 1.30 pm that day, you can read all about it here.