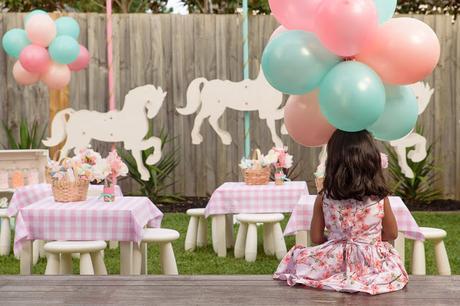 Lucia, from Something Wonderful Happened styled this gorgeous birthday party as told by Lucia:
Allies 5th Birthday Party
Some gorgeous wooden carousel horses and the enchantment of Mary Poppins were the inspiration be-hind the theme for Allie's fifth birthday party.  
"We wanted to create the magic of the 'chalk drawing' scene from the 1960s Mary Poppins where the eponymous nanny and her charges are transported into a chalk, pavement drawing of a country fair," says stylist Lucia Philip of Something Wonderful Happened.  "We really channeled the technicolor pastels from the scene.  I wanted to capture that childlike wonderment, where anything is possible and everyday outings become beautiful adventures."
Mint green, pink, periwinkle blue and 'mango' orange were the basis for a color palette that was bright and sweet.
The menu took its cue from a country fair with gourmet cakes and cupcakes, mango pannacotta topped with fairy floss, handmade biscuits and old fashioned lollies.  Guests sipped homemade lemonade and snacked on home made pies.
The children's tables were set up as if in an outdoor café, complete with pink and white gingham table clothes.  On each table was a gorgeous mini picnic basket that included a drink, cutlery and a stunning pin wheel biscuit for each of the guest.  Guests, young and old, played old-fashioned games such as 'Ring toss' and 'Knock down the tin cans,' with balloons from the balloon stand and fairy floss for prizes.
Vendor List
Styling: Something Wonderful Happened   http://www.somethingwonderfulhappened.com.au/
Photography: Mark Carniato Photography   http://www.markcarniatophotography.com/
Cakes: Cake Ink   https://www.cakeink.com.au/
Pinwheel Biscuits: The Iced Biscuit   https://www.facebook.com/theicedbiscuit/
Cupcakes and Panna Cotta: Treats for Evie   http://treatsforevie.com.au/
Strawberry Mousse: Dessert Station   https://www.facebook.com/Dessert-Station-1435386483368395/?fref=ts
Printables: The Grape Vine Events   https://www.etsy.com/au/shop/TheGrapeVineEvents?ref=ss_profile
Flowers: Fresh Fresh Flowers    https://www.instagram.com/freshfreshflowers/
A special thank you to Pure Baby Australia ( http://www.purebaby.com.au/ ) who kindly made their beautiful carousel horses available to us for repurposing!