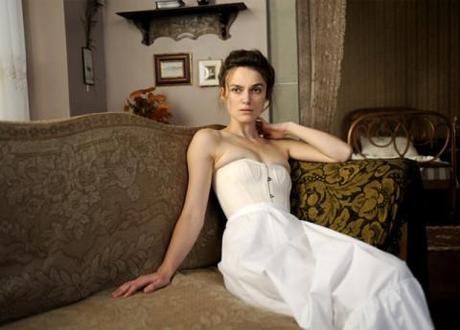 Keira Knightley in A Dangerous Method. Publicity still.
A Dangerous Method is David Cronenberg's new film, and stars Viggo Mortensen, Keira Knightley, Vincent Cassel and man of the moment Michael Fassbender. It's adapted from Christopher Hampton's 2002 play, The Talking Cure, by the man himself. Known for his body horror films, this is somewhat of a departure for Cronenberg; critics are divided between seeing the film as a lush exploration of psychology or as, well, a bit dull really.
The plot concerns the beginning of psychology and psychoanalysis, and centres around the sparring relationship between Carl Jung (Fassbender), Sigmund Freud (Mortensen) and Sabina Spielrein (Knightley). Spielrein is taken to Jung for treatment; he wants to try out Freud's new "talking cure." Jung makes Spielrein his assistant, and the two embark on an affair, with liberal spanking sessions. The aging Freud, meanwhile, looks on as his younger colleague begins to encroach upon his territory. And everybody's really repressed.
Quasi-Oedipal tensions. Peter Bradshaw in The Guardian was impressed, calling it "a cool, measured, loquacious film" with "a droll undercurrent of black comedy."  Knightley contros her face brilliantly and is "highly strung, intensely persuasive and alluring", whilst Fassbender plays Jung with a "clerkly and supercilious manner."  Mortensen's Freud is "bland, tolerant, opaque." Cronenberg shows "quasi-Oedipal tensions" between the men, one a prosperous gentile, the other an impoverished Jew, and perfectly shows a "drama of male hysterics with no interest in diagnosing their own condition."
I prefer him sweaty, myself. It's a "precisely plotted, superficially genteel costume drama," said Tim Robey in The Daily Telegraph, but we're never far from "kinky violence." But the film feels like "an advert for buttoned-down restraint rather than danger or release." Robey prefers it when Cronenberg's a bit "sweaty."
Costumed undead. In fact, said Nigel Andrews in The Financial Times, it's as if Cronenberg's "shut his self in a closet." Hampton's play may have worked – on stage, but here, in "the brutal biosphere for detecting and isolating artifice" that is the cinema, it doesn't convince. Knightley is "the bright spot in the darkness" whilst the "costumed undead close in around her." Andrews even went so far as to ask whether it might be "time to call time on this kind of biographical movie."
The agony and the ecstasy. David Denby in The New Yorker agreed, calling it "mostly a stately dud." The question is "if unlawful desires burst out of us, will they destroy our lives?" But the film itself "might be a commentary" on Cronenberg's other films, in which "what is repressed literally bursts out of us – heads explode, bodies intertwine in the agonized ecstasy of a car crash." But this movie's "tame."