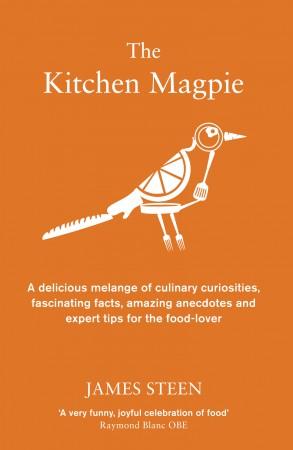 "Black as the devil, hot as hell, pure as an angel, sweet as love."
~Charles Maurice de Talleyrand, 19th century French Diplomat, on how he liked his coffee
If you are a purveyor of facts and witticisms concerning all things to do with the kitchen, eating and cooking have I found the book for you!  I was recently sent this lovely little book, The Kitchen Magpie, written by James Steen, and I have fallen completely in love with it.
As you know I love to cook and eat, but that is not where my fetish for all things food ends . . .  I also have long loved collecting little tidbits of folklore and fascinating facts about the same.   Yes, I am the person that not only wants to know why the chicken crossed the road, but what it did when it got there, and yes . . .  I often sit and have conversations with myself trying to figure out just what it was the inspired the first person to combine eggs, sugar, flour and leavening to create the first cake.
"You crack an egg and some of the shell falls into the mixing bowl.  Don't worry, don't fret and don't dip your fingers in to retrieve the piece of shell.  Simply place the shell in your hand into the bowl and close to the fragment.  Magnetism brings the two back together and the broken piece can be easily removed from the bowl."
If you are playing trivial pursuit and you fall upon questions to do with anything culinary, I'm your man, or woman as it were!
 

And I am not alone . . . in James Steen I have found a kindred spirit as it were.   He's as obsessed with all of this stuff as I am, difference being he had enough forethought to write and compile it all into a wonderfully witty and entertainingly interesting book!!
With 22 chapters covering everything from kitchen First Aid to The Cheese Board, it is a wealth of information, with handy tips and hints, curiosities and scrumptious contributions from Mary Berry, Michel Roux Junior, James Martin, Antonio Carluccio, Marco Pierre White, Ken Hom and many others.
Have you ever wondered why you can eat the blue mold in cheese and not on bread?  How do you cure the Black Death?  Wanted to make Pizza but don't have an oven?  Why the best raspberries come from Scotland?  Who was the reluctant cook who wrote a best seller?  What is the world's best hangover cure?
All these questions and many, many more are answered on the pages of this delightfully entertaining and informing little book.  I just love it!  It IS a delicious melange of culinary curiosities, fascinating facts, amazing anecdotes and expert tips for the food-lover!
The Kitchen Magpie
Author:  James Steen
Published by Icon Books UK
ISBN 978-184831663-8
UK £12.99  Canada $22.99  USA $22.95
Published 15 May, 2014
It is also available as an e-book £7.99
Follow James Steen on twitter @jamesssteen100
James Steen is an award-winning journalist, food writer, author and ghostwriter. He has a deep fascination for both the cook and cooking, and collaborates with great chefs.  He ghosted the autobiographies of Marco Pierre White (The Devil in the Kitchen), Raymond Blanc (A Taste of My Life" and Keith Floyd (Stirred But Not Shaken).  His other books include Marco Made Easy and Kitchen Secrets.  He is a consultant to small-but-pioneering food companies, and contributes to a wide variety of publications.  James lives in London with his wife Louise and their children, Charlie, Billy and Daisy.