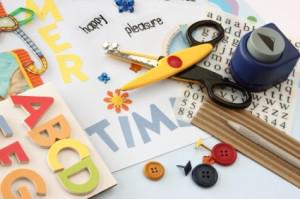 We all know how it feels. You're seeing that close friend whose birthday it is in less than half an hour and you're yet to make them a card. You meant to do it weeks ago, but that epiphany of what to put on it to make it better than last year's hasn't quite arrived just yet. Do you say it's in the post? God forbid you should buy a card from the corner shop. So you frantically search around you for inspiration, scissors, glue, and craft mat at the ready. However, to make it all a little bit easier for you, I have compiled a handy little list for the next time you discover that your creative, artistic approach to getting-things-done has in fact revealed itself as pure disorganisation.
1.   Check what you have in your craft kit
This should only take a few minutes, but it's worth having a look through all the drawers, boxes, bags and jars so that when you're thinking about what to do, you know what you've got to work with.
2.   Consider the present (if you've got one, of course)
The chances are that if you've left it this late, there is no present, unless you bought it well in advance and subsequently forgot about it. However, if you are lucky enough to have one – and you can remember what it is underneath the beautifully-presented wrapping paper – it could help you to decide what to put on the card. For example, if you're treating your friend to a spa day, relaxing pastel colours and curved lines are the way to go, with perhaps a solitary deck chair, a pretty pink parasol and a small table with a tempting cocktail on it. Incidentally, you can buy a pack of those little umbrellas that go in cocktails from the supermarket for not too much money, and they make a lovely addition to homemade cards. Alternatively, if you're treating them to an action-packed, adrenaline-fuelled fun day, sun loungers and cocktails are probably not appropriate.
3.   Consider your friend and the first thing you think of when you do
Whether it's a little English tea shop with scones, jam and cream, or a drunken night out which culminated in the pair of you eating your combined body weight in deep-fried doughnuts, it's bound to give you some sort of inspiration. At times like this, simple is good; a tea cup is an easy enough shape to cut out of card, and can be decorated with a simple-but-sweet line of gems or any shape from your stamper. As for the doughnuts, you can have some fun by cutting out the shape of jam oozing from the doughnuts. If you happen to have some white glitter, it would be perfect for a sugary coating (just remember that it's not really edible…)
4.   Do not use anything that takes too long to dry
This may sound like an insult to your intelligence and crafting expertise, but it can be guaranteed that if you're in a hurry, the glue will take three times longer to dry than it has done before. It may not be an exact science, but it's certainly not worth the risk. The last thing you want is for you friend to open the envelope only to find that she can't pull out the card because your masterpiece has stuck to the envelope. Do not be tempted. Try to use double-sided sticky tape instead, and if that's not available, just use the good old fold-up sellotape technique.
5.   If inspiration fails you, use a photo
It's one of those things which in recent years seems to have gone out of fashion – probably partly thanks to websites doing it for you, but don't be put off. The likelihood is that you have a photo in which your friend either looks lovely or is a pulling a funny face. Either way, it's bound to put a smile on their face. I usually print it in black and white, cut around the face, and then laminate it. The rest is up to you – a stick man is always fun, preferably made from the odds and ends of your craft kit, or just rubbish from around the house. The only downside of this trick as a last-minute solution is that it can be alarmingly time-consuming to find the best photo.
6.   Last, but not least, don't forget to write in it!
I suggest planning what you're going to write on a scrap bit of paper before you end up making a mistake and having to cover it up with a bit of coloured card, trying to make it look like you always intended it to be there. And try to choose a pen that won't smudge, you are in a hurry after all.
Susan Black writes on behalf of Sofas and Sectionals, a leading provider of leather furniture in the US. This original article on handmade cards was written for us at no cost.