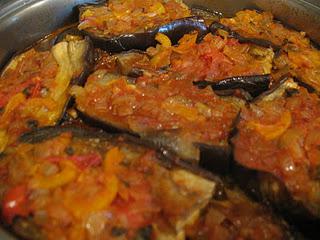 Imam Bayildi is a classic aubergine dish in the Turkish cuisine. A very old legend tells about an Imam, a Moslem priest who marries a woman whose wealthy father earned his money as an olive oil merchant. As part of her dowry, she brought with her 12 jars of olive oil. For 12 nights the Imam's wife presented him with a dish of delicious eggplant cooked in olive oil, but on the thirteenth night there was no eggplant on his plate. Curious, he asked why. When she told him she had run out of olive oil, the Imam fainted. From that time on the stuffed eggplant dish made with onions, tomatoes, and olive oil became known as Imam Fainted or Imam Bayildi that means The Fainting Priest. In another version of this story, the Imam was so overcome with the extraordinary flavor of the eggplant, that he fainted. And in another version the İmam fainted because his wife was using so much olive oil, which is very expensive!!This dish is nicely paired with a rice and a cacik (chilled yoghurt and cucumber dip).
Ingredients: (for 2 )
2 eggplants, as narrow and long as possible
2 onions, halved and chopped into half moons
3 cloves of garlic, chopped
1/2 pepper ,chopped
2 tomatoes, chopped
a bunch of parsley
Salt,pepper to taste
a generous amount of olive oil
1)Cut off the stems of the eggplants and peel them in stripes.
2)Gently fry eggplants in oil until golden brown. Split open eggplants lenghtways leaving both ends uncut. Place them side by side in a single layer open sides up in a shallow and large saucepan.
3)Saute onions in 3 ts of olive oil until they are soft. Add tomatoes, garlic, parsley and salt. Simmer for 15 minutes. Stuff the eggplants with this mixture.
4)Add 1/2 cup olive oil, salt and 1/2 cup of water. Cover and cook over medium heat for about 25 minutes until the eggplants are tender. Can be served hot or cold.
For a lighter version of this dish,instead of frying the aubergines, you can grill them. Simply cut them lengthways, brush with olive oil and put in the oven (190 degrees) for about 15 minutes or until they are nicely browned and tender.
Do you like aubergines? What is you favorite recipe?