I have absolutely no memory of the day Martial Law was declared in the Philippines, except for the news telecast showing Ferdinand Marcos declaring Martial Law, and in the many days after that, the fear. I remember the grown-ups being very afraid, and talking about "curfew" and how people all around are being picked up, imprisoned, tortured and even killed by the police. The shutter doors to my parents' rice store remained closed, save for this narrow gap just wide enough for a person to pass, and it was through which transactions were made. The sacks of rice were pre-measured and repacked into brown bags, and each buyer was only allowed to buy 1 bag.
It seemed people back then always spoke in careful, hushed tones, and children were admonished to behave and keep quiet, or else, "Ipapadampot ka ni Marcos! (Marcos will have you picked up!)".
To my young mind, Marcos was the bogeyman.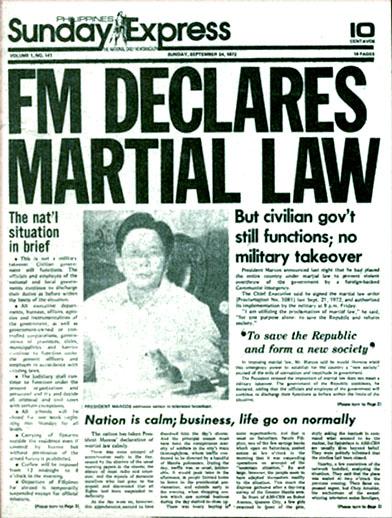 By the time Marcos left Malacanang, I was already in college.  Ferdinand E. Marcos, had been, up to that point, the only Phillipine president I'd ever known.  He was president of the Philippines before I was even born.  His authoritarian rule lasted 21 years, and only because the People Power Revolution ousted him from office and drove him and his family into exile in 1986.
Tama na! Sobra na! Palitan na.  (We've had enough! Things have gone too far! It's time for a change!)  It was the slogan that spurred the Filipinos into action by getting involved in a series of street protests that culminated with Marcos' stepping down from power.
May my country never fall under a dictatorship again.