Over the month of September 2019 I'm re-posting parts of my Cartoon & Comic Book Tour Of London series.
If you'd like to explore the locations that feature in this series, drop me a line to enquire about tour availability – you can book a one-hour tour (ideal for kids) or a two-hour version of the tour. In the meantime, I hope you enjoy these reposts…
NOTE… This post first went out in 2015 before Orbital won the coveted Eisner Award – the Oscars of the comic book world. It's the only comic book store in the UK to have won such an honor. Well done guys!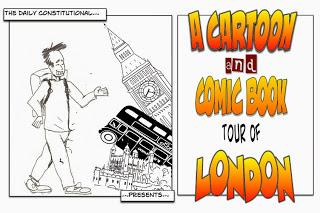 Panel 6: Orbital Comics
Wednesday is new comic book day and before my Rock'n'Roll London Pub walk on a Wednesday evening, I pay a visit to Orbital Comics on Great Newport Street.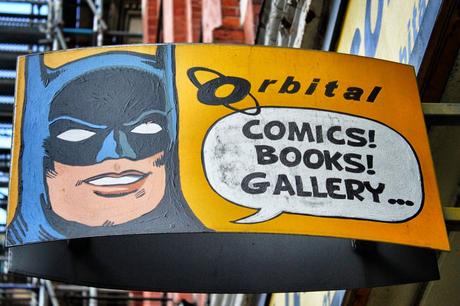 In terms of 20th century culture, Great Newport Street, for all its brevity, has its fair share of cultural landmarks.


Ken Colyer's jazz club once stood at No.11-12. The club – Studio 51 – had connections not only with the world of trad jazz, but also with the Rolling Stones. For postwar Brits in thrall to Americana, Studio 51 was a little bit of New Orleans in London.




The Arts Theatre in Great Newport Street was where Samuel Beckett's Waiting For Godot enjoyed its English language premiere in 1955. In the 40s and 50s it was a club theater where more radical themes could be explored outwith the jurisdiction of the censor, the Lord Chamberlain.




The memorial to crime writer Agatha Christie is situated at the eastern end of Great Newport Street.




Number 8, where you can find Orbital Comics today, was once the home of The Photographer's Gallery, the world's first gallery dedicated entirely to photography. The street has long been associated with art and artists – Sir Joshua Reynolds and the portrait painter George Romney among them.




Add up the elements and, both historically and thematically, it's the perfect location for a comic book store; it has a long association with artists; it's been a place of pilgrimage for those of us who love American culture; a much-loved writer, whose low standing among literary critics is at odds with her popularity, is commemorated here; Great Newport Street has been home to creatives who wish to push the boundaries of their art but have often struggled to work under censorship.




All of these things ring true in the world of comic books and their creators.




So Great Newport Street is where you'll find me of a Wednesday – new comic book day.




It's a lot easier for comic book fans to get their fix these days. Back in the 50s new, gloriously lurid American comic books arrived in this country as ballast on ships.




The staff at Orbital are both friendly and knowledgeable. Don't hesitate to ask for help – I've had a number of great pointers and recommendations from the folks at Orbital, many of which have become favorite reads. They also select their faves of the week for the Orbital email newsletter. And they have a gallery space, showcasing the best in comic book art with an ever-changing programme of exhibitions. 




Their podcast – The Orbiting Pod – is a cracker, too. Visit their website to hear, among other things, a fascinating talk on the history of the infamous comics code regulation of 60 years ago, brought in by comic books in the face of a so-called moral panic regarding "unsavoury" and gruesome illustrations. Listen here: www.orbitalcomics.com/podcast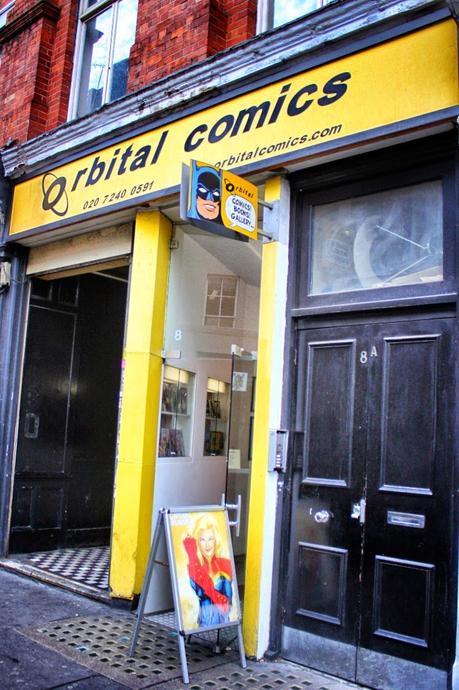 All year round there are events at Orbital, such as raising money for charity on Free Comic Books Day (first Saturday in May)…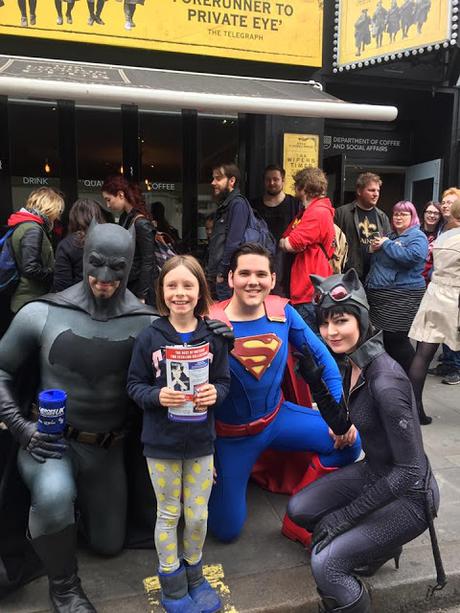 …and there are evening drawing classes, as well as signings and launches so keep an eye out –  they're on Twitter as @orbitalcomics.


Find Orbital Comics at 8 Great Newport Street WC2…


Next post goes out on Tuesday… WWII Alt-history Über

•••
If you'd like to explore cartoon and comic book locations in London, book me as your guide for a Cartoon & Comic Book Tour of Westminster  – available in both one and two hour versions. Click the email button at the foot of this post to enquire.
If you'd like to catch up with entire series of posts in this series (38 in number as of September 2019) then click here: cartoonandcomicbooklondon.blogspot.com

Keep In Touch…