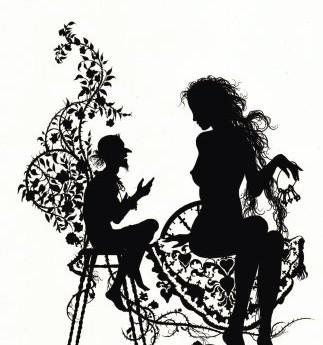 The cover of Grimms' Fairytales, published by Vintage.
You thought there were only a limited amount of fairy tales in the world? Well you'd be wrong. A whopping 500 new ones have been discovered, hauled from the archive where they'd been languishing for over 150 years. And they weren't collected by the Brothers Grimm, or even Hans Christian Andersen. So we can all look forward to more gory tales of women cutting their toes off, people turning into animals, and general slaughter and mayhem. Yay!
What? Who collected them? A chap called Franz Xaver von Schönwerth, reported The Guardian, (1810-1886), who hung out in Bavaria around the same time as the Brothers Grimm. He spent decades of his life asking local country people about their habits and stories and recording things on paper, reported The Guardian. Though his book was printed in three volumes from 1857, it faded into obscurity.
What kind of stories are they? There are many that don't appear in other collections. There's the turnip princess. There's the miserly famer who discovers a money mill. There's the girl who flees a witch by turning into a pond (naturally). Clever, eh? You'd think – but then the witch drinks the girl. Oh no! But don't worry, the girl then cuts her way out with a knife. There are also other versions of such classic tales as Rumpelstiltskin and Cinderella. Erika Eichenseer, the cultural curator who last year published a selection of fairytales from the collection, says that the stories are intended to guide young people into adulthood. Danger can be overcome through prudence and courage.
What did people think about Schönwerth? Jacob Grimm said that he collected fairy tales "accurately, thoroughly and with such a sensitive ear," quoted on the New York Daily News.
So why did they pass into obscurity? Well, Eichenseer, quoted on Forbes, said that Schönwerth had recorded the stories verbatim, without applying the literary glosesse that the Grimm brothers did. But, she argues that this makes them even more charming.
Can we read one? Oh yes – The Guardian has published "The Turnip Princess" online. Some are available in print in German; English translations are due soon.
Are people pleased? Hell yes. The Publishedinayear blog said, "Holy cow, dude." The Times children's critic Amanda Craig was "delighted,"  she said on Facebook. Finebooksmagazine said: "While Schönwerth's significant contribution to German history is being restored, I'm looking forward to the illustrated edition of the pond-girl and the witch story."