I'm cheesy I know, I really do. But it's not every year you turn 33, hubby. And add that to the fact that I seem to enjoy "bragging" about you on the internet. LOL. So are you ready for a really extremely tremendously long article this time? Yes? Okay, here we go. 
In honor of your 33rd birthday, I decided to list down 33 reasons on why I'm so in love with you. (Please don't tickle-punish me when your friends read this and laugh at you!)
1. Suprisingly, I actually love that you tickle-punish me. Well, maybe not, yes, wait, oh I don't know. It's kind of a bittersweet feeling, like I really want to punch you in the gut for torturing me like that, but it's nice because I know you do it because you love me. Does that even make sense? 
2. You love cooking supper for me. Who doesn't love a man who actually enjoys seeing his wife gobbles down food (that he cooks) at 2am in the morning?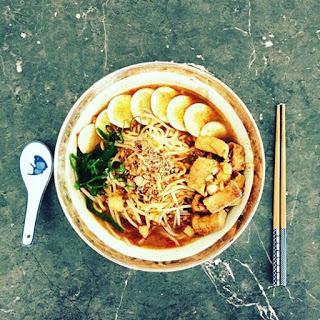 3. You willingly change smelly diapers and bathe the kids just so that I can have a breather from being a mom 24/7. I don't say thank you enough, but seriously, being able to let my ears rest for that 15 minutes from all the constant questions asked by a nearly 4-year-old, is absolutely heaven. 
4. I love it that we literally have no boundaries when it comes to communication. There seems to be endless possibilities as to what we talk about, when we talk, and where we choose to hold our conversations. I especially love it that you feel comfortable enough to have a chat with me when you're in the middle of settling some, ahem, "big businesses". After all, love knows no boundaries, right? 
5. You let me make a mess out of the kitchen trying to "burn" stuff in the oven. Almost everyone knows I suck at baking, but you just smile silently and let me go about burning more stuff. 
6. You make a kick-ass impersonation of the pink panther dance from the Pink Panther movie.... naked. 

7. You let me ask you annoying questions everytime I sofa-crash your movie shows. 
8. I love that you try explaining politics to this little pea brain of mine, or what's left of it. I have to confess, that even though I nod my head most of the time, I don't actually understand you more than half those times. Sorry. 
9. You let me be worry-free, and even encourage me to indulge in my collection of fantasy and fictional romance books. You even brave through the crowded book fairs for me just so I can fill up my bookshelf. And no, I'm not referring to 50 shades of gray kind of fantasy, I meant the genre of books that cover myth, magic and the supernatural, you colourful minded people. 
10. You think of me even when you're out and about with your friends, and you'd even walk into a girly shop and play tug-a-war with your friend's girlfriend just because you think that that top might look nice on me.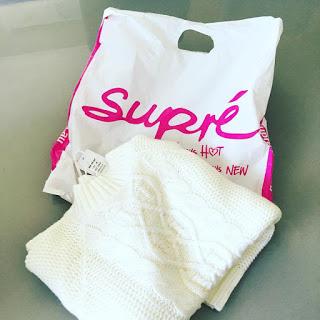 11. You willingly take the kids off my hands, and encourage me to go enjoy a nice cuppa and some red velvet cake at the mall, just so that I can have some "me" time and recharge my batteries.
12. I love it that you are such a loving father to both our daughters. They clearly and absolutely adore you. :)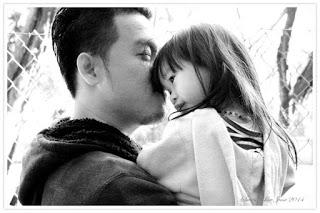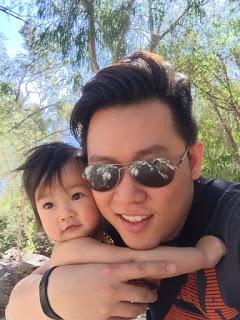 13. I love it that you take care of me, in and out. ;)
14. I secretly love it that you watch me sleep sometimes. It sounds freaky and disturbing, but I do enjoy the unusual attention. 
15. You kiss me on my favorite spot(s), and give the best cuddles. 
16. You still try and steal in some "us" moments at random times. Sometimes, it's the little pecks here and there that takes my breath away and makes me fall in love with you more everyday. 
17. You always leave the best bits of everything for me - crispy chicken skin, the last few bits of crunchy pork lard, etc. 
18. You have an extremely big heart, even if you don't admit it. You always think of others, and how to help them discreetly. Those who truly know you, will appreciate you. Those who don't appreciate you, well, screw them. Don't let them tell you otherwise. They don't deserve your time and love anyway. 
19. You willingly give without asking anything in return. You like doing things or donating anonymously. Your sincerity comes genuinely from the heart. What's more amazing about you is that you constantly encourage your daughters to do the same, reminding them to be kind to everyone and to give willingly.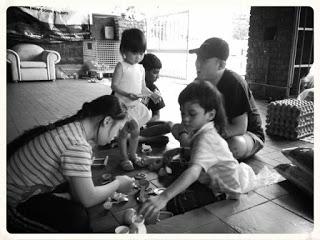 20. You still koala carry me even though I'm no longer that girlfriend you were trying to "pursue". 
21. You let me have my backne-squeezing fix whenever my fingers get itchy. You never complain even when I leave injury marks all over your back. 
22. You aren't afraid of being honest with me even if it hurts me to hear the truth. You keep me grounded and pull me back to earth when I get to emotional and unreasonable. 
23. You eat burnt toast (and rice sometimes) without batting an eyelid, or complaining, just because you know I multi-task too much sometimes during dinner time. I appreciate that honey, I really do. And I'm so so sorry you have to endure failed meals at times. Thank you for not complaining. 
24. I love it that even when you complain about how I mess up the kitchen for a simple meal, you'd actually clean it for me while I continue to make more mess, preparing for more dishes. 
25. You're constantly exploring more business opportunities to make more money to support me and the kids. You willingly shoulder all the burden so that I don't have to. 
26. I love that you answer my random questions with silly answers, and yet I still fall for it, only to figure it out later and then feeling like an idiot. Seriously? After 10 years of falling for those crazy answers, one would think I'd get smarter. I'm sorry, but I guess you're stuck with a pea-brained wife for the rest of your life. 
27. You let the kids fall asleep on your chest, and our bed all the time. I think it's perhaps time for us to get one more king-sized bed in our bedroom so that it will fit all of us. Poor Ashy keeps falling off the bed (and on to the mattress next to the bed). Please don't call Child Protection on us. 
28. I love that you still want to have more kids with me, even though I think I've had enough for now. I'm worried if I have one more kid, my brain cells would be reduced to literally nothing. And I really really want to have enough brain cells to spend the rest of my life loving you. 
29. You actually went through 2 births with me, held my hands and my heart both times. You let me squeeze your fingers blue black, and let me screamed against your chest while I pushed the watermelons out. 
30. Despite all those superstitions that say it's bad luck to watch a woman birth and bleed, you were there to hold our babies the moment they were born. Straight out from my torn vajayjay. You even watched me birth my placenta, both times. And cut the cords, both times. And stayed in the birthing pool that was filled with bloody water with me.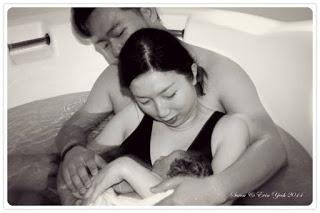 31. You cried both times upon welcoming our daughters into the world. 
32. You woke up at 2am to drive out to the nearest convenient store to get me chocolate cake, just because I was craving for it. 
33. And lastly, you still put me as your priority even after all these years. Well, I hope anyway. I guess it's a close call between the girls and I, but I'm going to be thick-skinned and assume that I'm still no.1 to you. So, yeah...
Happy birthday, my gummy bear. I love you to the moon and back, and looking forward to celebrating more birthdays with you. 
Your little wife xoxo