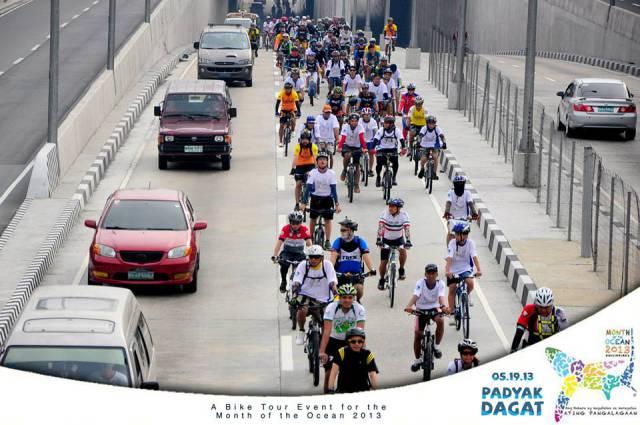 Me and Roie is at the middle of the Peleton. Photo grabbed from Month of the Ocean Facebook page.
The Department of Environment and Natural Resources through the Protected Areas and Wildlife Bureau – Costal and Marine Management Office or DENR PAWB-CMMO. They made an announcement that May is the Month of the Ocean and it is celebrated annually by virtue of Presidential Proclamation No 57 issued in 1999.
During this month long celebration, activities highlight conservation, protection and sustainable management of the country's coastal and ocean resources with this year's theme "Ang Bahura ay Kagubatan ng Karagatan, Ating Pangalagaan!" – The Coral Reefs are the Forrest in the Seas, Lets Protect Them.
The friendly volunteers in charge of registration.
Pre-registered and walk-in participants are accommodated here at the registration booth, the first 500 riders gets a dri fit event shirt, then the next 500 riders will get eco bags, etc. and oh food/snack is included with free water from Maynilad we just need to bring water bottles. Me and Roie registered online so we are guaranteed a shirt but we had to come before 6:30am so that shirts will not run out of stock because some will be given to walk ins.
Free Food/Snacks courtesy of the Organizers. It's a pair hot hard boiled eggs and banana.
Roie is devouring on his hard boiled egg. In fairness, it's still hot and yum yum!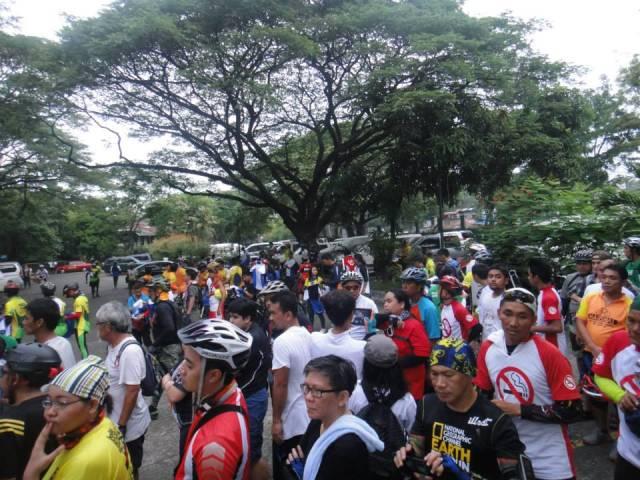 More than 700 participants arrived at the Ninoy Aquino Parks and Wildlife Center early that morning [05.12.2013] for the Month of the Ocean's Bike Tour event – Padyak Dagat!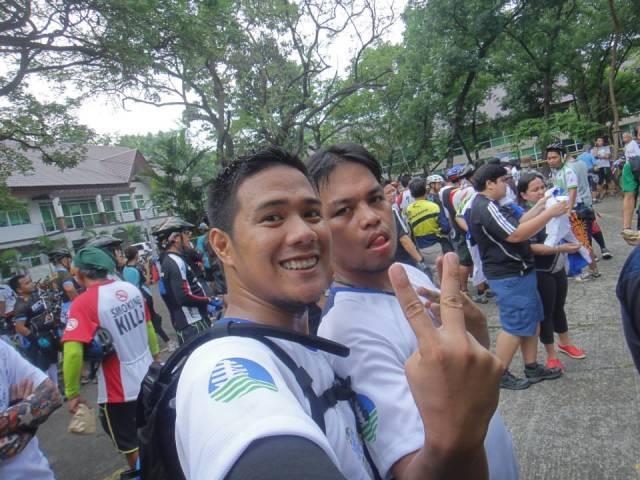 It's our 2nd bike event together, is what the hand sign signifies. First time was the Freedom Ride where we also get a event shirt. From now on, we will encourage others to join this cause and other causes that will be beneficial to others and to our country.
Me and Roie proudly wears Month of the Ocean 2013 Event Dri-Fit Shirt. I love it!
This Bike is a monster. Don't belittle this because it is already a small. Mini folding bike rules.
Of course, while we are waiting, we took some pictures of ourselves and meet new friends. If you know what I mean, haha, meet Manong in yellow shirt and Manang in white.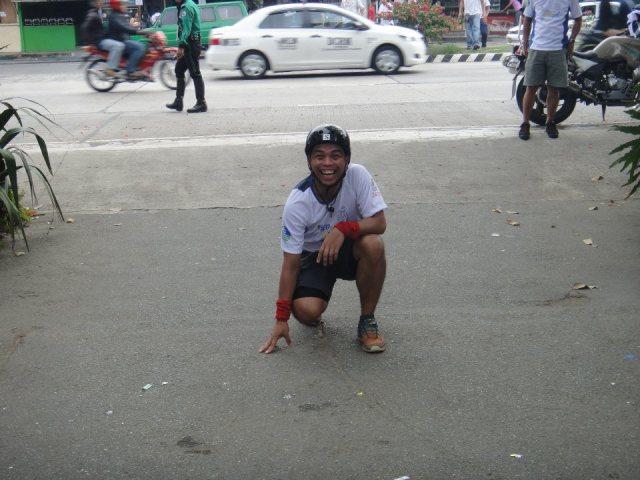 As one of the activities, a bike tour was launched as a way to showcase the coral reef ecosystem through bike parade. Different bike groups from all over manila including yours truly whom I represented the L.O.S.T. Bikers, a sub team of my mountaineering group League of Summiteers and Trailblazers where I initiated the initiative to try biking or cycling aside from hiking, climbing, running and trail running.
Me and Roie joined this activity by signing up on a preregistration online though Month of the Ocean's Facebook page and biking from Ninoy Aquino Parks and Wildlife in QC to Roxas Boulevard, Manila Bay in the city of Manila.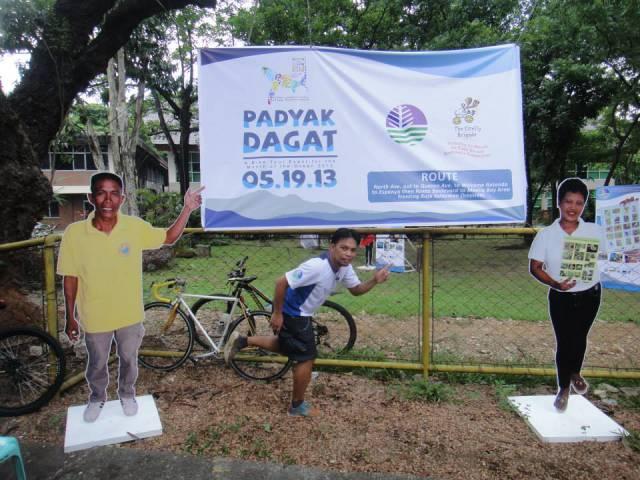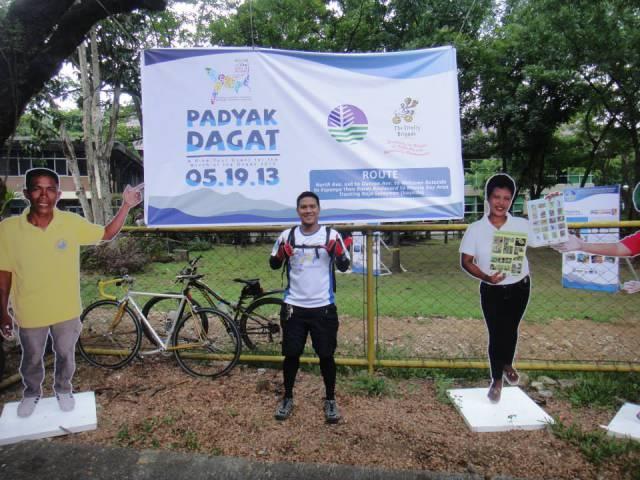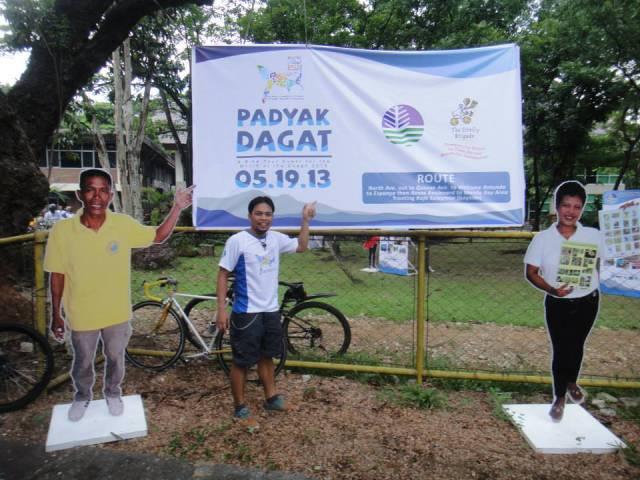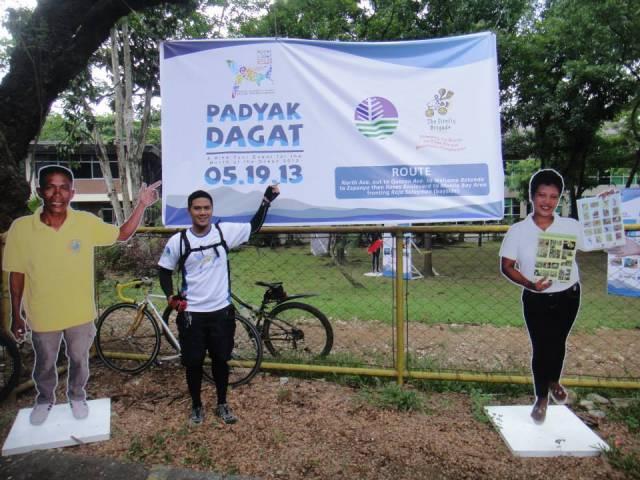 Let's the bike ride begins in 1… 2… 3… 4… 5… Prrrt! The race leader whistles and it's a go, go, go! This ride is under the under the supervision of the "Tour of the Fireflies" veteran martials wearing an orange jersey. They are responsible in the peacefulness and smooth traffic along the way and making sure the safety of the bikers.
Note: There are some, not wearing helmet though we understand that they are taking the risk and some are not following the martials but they are old enough to know what they are doing so I just enjoyed spinning and didn't bother check on the bad habits after all we all do mistakes, by habit or not. 

  It's an habit that we keep on doing but can be avoided.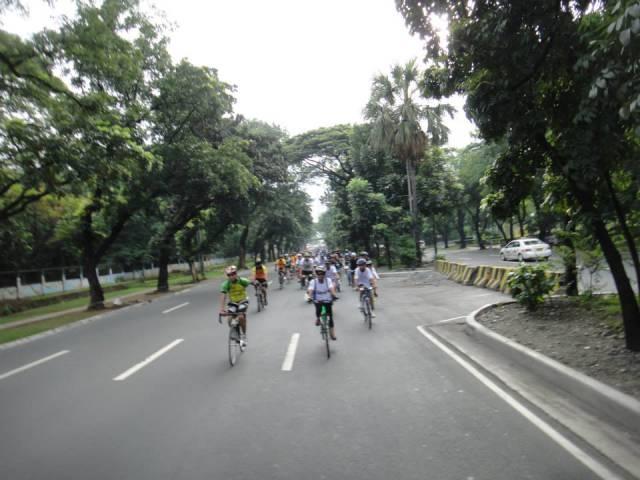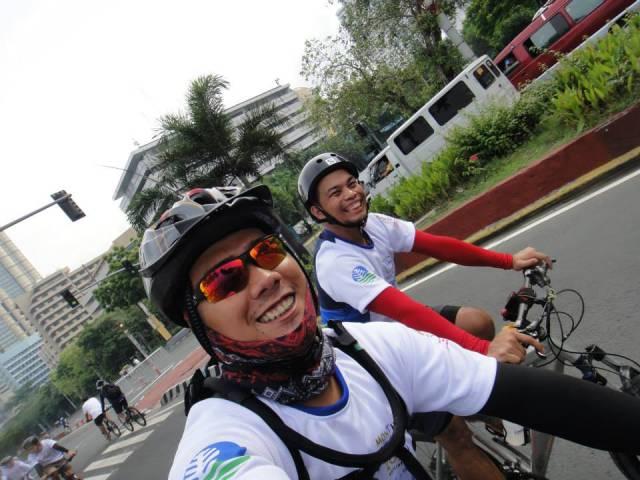 A look back shot. Scary cause I tried to strike a pose looking back on full speed. Joke!
Finally, we arrived at Roxas Boulevard commonly known as Baywalk.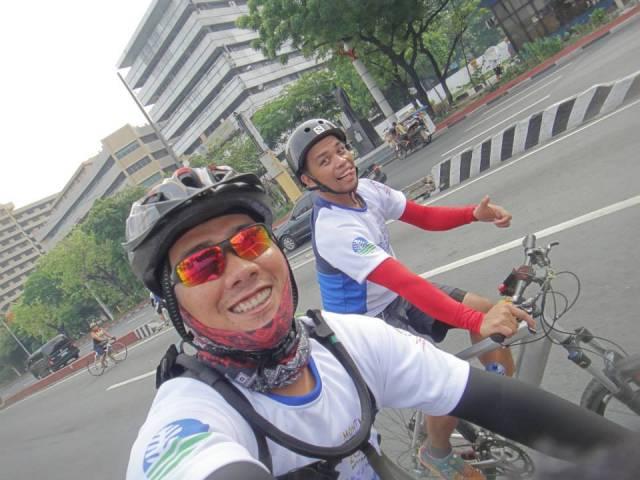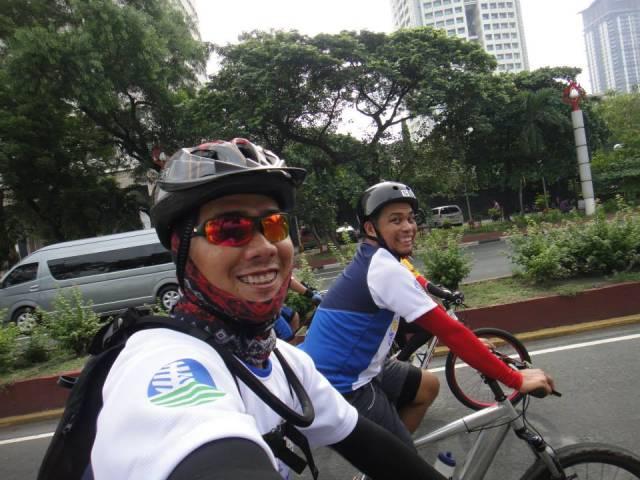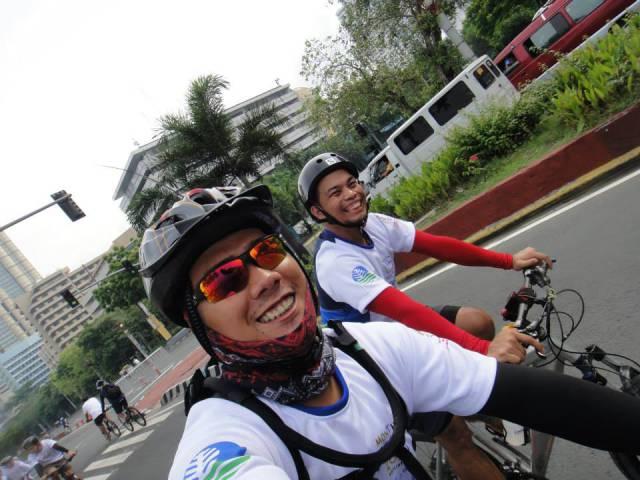 When me and Roie reached the final destination, in Manila Bay, we breakaway from the group to have a quick visit in SM MOA (SM Mall of Asia) to where bike enthusiasts go and eat breakfast, our mission is to buy a bike jersey that we can use together, think of it as a uniform jersey. We bought a black, white and neon green jersey with Nike and Specialized emblems. I choose this neon green jersey so that it is bright enough to see while we are on the road. They always say wear something bright when riding so I hope this is a good choice.

We are showing our new bike jerseys, we can now call this a team jersey. L.O.S.T. Bikers represent.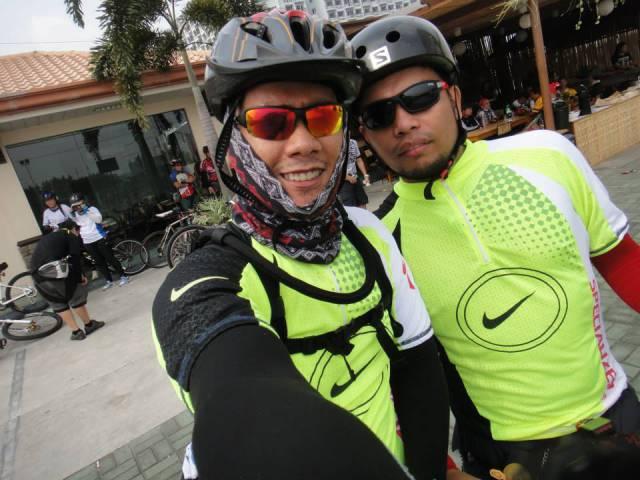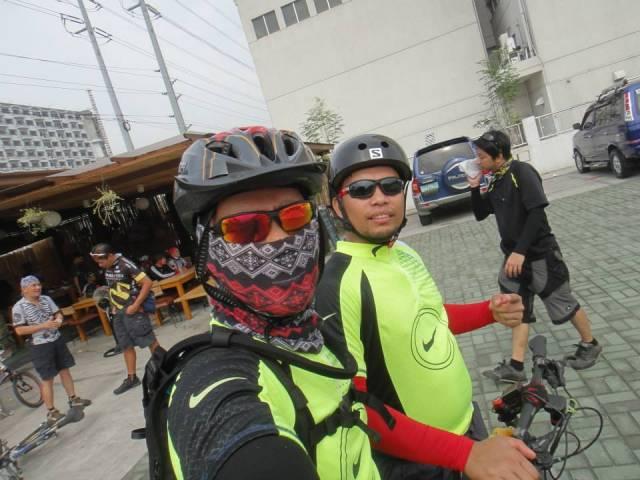 After eating our breakfast we hid back to Makati City into Roie's crib. We eat our lunch and whola after a full meal we lie in bed for an afternoon siesta but for me it is a well deserve sleep because before the bike ride I was on shift from 8pm to 5am so I kinda have no sleep during the ride. Good thing, I was all awake during the ride because of adrenaline and no dull moments with Roie. When we are together, expect that we make fun, laughing, dancing and finding more ways to put the fun between our legs. Thanks my man for the company.
At the rail road crossing, it's my first time to see PNR in motion. It's look great and wanting to try riding it.
A short stop at Ayala Edsa, we are waiting for the Green Go Signal before we pass EDSA road going to BGC.

Finally, we arrived at Exconde's residence and we hid at roof top to grasp some fresh air as we are still sweating when the building catches my attention and asked to have a picture of me pointing the said building.
Me pointing at the newly built mall called SM Aura at BGC near Market-Market!
   Roie wants it too so he made his version of pointing towards the rainbow. Haha!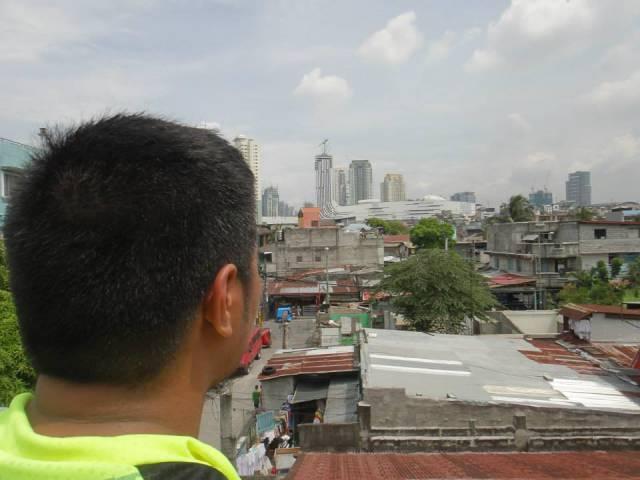 This is my artwork, a closer look at SM Aura. The future is in his thinking. At SM, they got it all for you, including iMax Theaters. Cool isn't it but I heard there is a controversy of the building permit and it was built illegally according to a news that I read from Interaksyon.
To wrap up all the things that we did on this day, I will call it fun, another memorable and meaningful bike ride with a purpose. To be aware of our oceans, seas or any body of Philippine waters. We should clean it, care for it and protect it.
And for that, we encourage you to join us in the future bike events whether you have a bike or not. You can loan a bike from a friend if you really want to join causes such as this, I'm sure you do. Do you accept the challenge?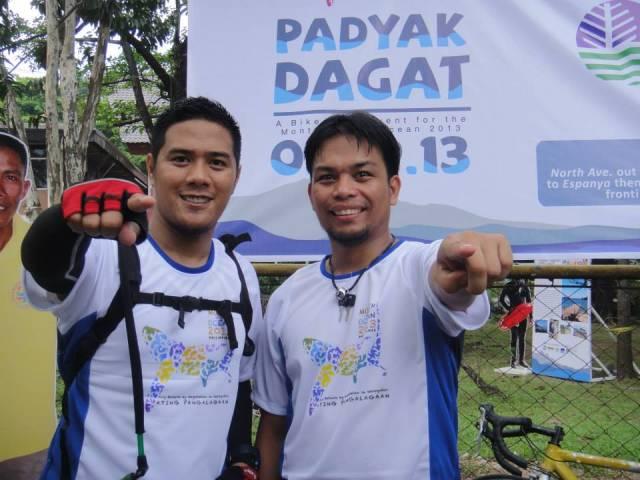 We are counting on you, challenge you and hopefully you can join us in our bike adventures. SEE YOU on the next bike ride event soon! Cheers!
Photo Credits: Roie Klystron Exconde