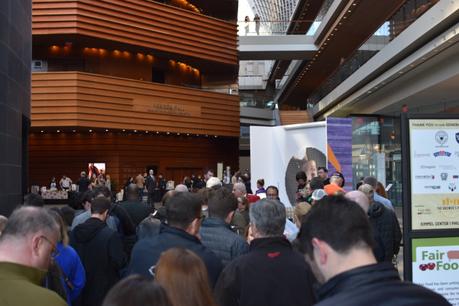 In years past, Limpd and I have had a few quibbles with the annual Philadelphia food and drink fest called The Brewer's Plate that happens every March (this year's event went down on March 5th) at the Kimmel Center for the Performing Arts...
"The band was too loud. I can barely hear myself think!"
"What's with all the stairs? I hope they paid up on the liability insurance."
"The food is delicious, but oh so messy. And there are never enough napkins for Messy Marvins such as myself!"
"Why does it take place on a Sunday night? I can't be the only one that has to go to work in the morning!"
Now I don't know if we're mellowing in our old age (highly doubtful!), or if we've just gotten used to the venue and the event's format, but we just couldn't think of anything to quibble about with regards to Brewer's Plate XIII. From the wide array of food and beverage options to the wide open feel of the venue, the 13th running of The Brewer's Plate was a relaxed, groovy, and delicious night out. Let's walk you through a few of the highlights...
__________________________________________________
With just under 50 breweries and cideries in attendance at this year's event, there was no shortage of drink options on hand for the thirsty masses. With so much food and drink to choose from, we had to stick with our "The Brewer's Plate is a marathon, not a sprint!" mantra or run the risk of making the same mistake that we've made in years past, i.e. eating and drinking way too much, way too quickly which made us uncomfortably full way too early in the night.
The downside to our uncharacteristically adult behavior of eating and drinking in moderation is that we may have missed something incredibly delicious along the way, but such is the life of a grown-up! Although we may not have tasted every single beer on offer, we definitely sampled more than our fair share. Here are a few of our favorites of the night:
__________________________________________________
Beer and cider is delightful stuff, but it's also incredibly filling, so if you're looking to "get your drink on" without the bloat, booze is what you need, and there was plenty of that on hand.
While most of our evening was spent sampling the lower ABV options (the aforementioned beers and ciders), we did make a brief stop at the Boardroom Spirits table on the 2nd floor. Vodka isn't usually our thing, but since we were intrigued by the sound of a Fresh Citrus and Fresh Ginger Vodka, we decided to give them a taste. Although this isn't something that we would normally drink, there is no denying that both spirits were actually quite tasty, i.e. they actually had a taste and that taste was very very good.
In addition to the Boardroom Spirits Vodka expressions, we also sampled whiskies from Bluebird Distilling and Manatawny Still Works. I wish that I could give you detailed tasting notes about these whiskies, but the truth is that we were treating these spirits as intermezzos (think boozy sorbet!) which helped to cleanse our palates as we moved from vendor to vendor.
__________________________________________________
For those of you that aren't familiar with The Brewer's Plate, this event matches local brewers with local food purveyors so that they can create "a bevy of inspired pairings, delightful bites and perfected brews". Inspired, delightful, and perfected. Three words which succinctly describe all of the food/beer pairings that we got to sample throughout the night. Here are just a few of the gustatorial delights that we had the pleasure of scarfing down...
Seared Pork Belly Pierogi by City Tap House
Beer Smoked Pork Sammie w/ Beer-Brined Pickles by Tap Room on 19th
Dubbel Chocolate Ice Cream Sandwiches by The Bent Spoon
Yard's Golden Opportunity Beef Bulgogi Lettuce Cups by Good Dog
House-cured, Applewood Smoked Pastrami Reuben Sliders (my personal favorite!) by Butcher Bar
Truffles, Caramels, and Chocolates by Eclat
Hoisin Braised Short Ribs w/ Wasabi Tobiko and Togarashi Cream by The Industry
Foie Gras in Profiteroles by London Grill
__________________________________________________
__________________________________________________
Many thanks to the good people at Rolling Barrel Events for providing us with media passes to this outstanding event!
Categories: Booze Banter, Booze Review, Brew Review
Tagged as: Beer, Beertography, Craft Beer, Drinkwire, Events, Food, Philly Food, Photography, Photos, Review, Reviews, The Brewer's Plate, the Kimmel Center