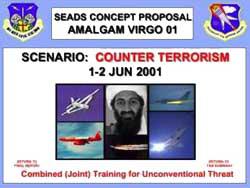 I ask, "Is the AMALGAM VIRGO 1-2 June 2001 wargame cover a fake?" because on the day of 9-11 we were informed by the mass mediea that, "We must look to Osama Bin Laden," as being responsible for the Twin Towers and Pentagon (and Anthrax*?) attack.
I'D NEVER HEARD OF OSAMA BIN LADEN, and neither had almost everyone who was watching their TVs.
And Bush and Rice et al are on TV confessing no one at Corporate Head Office USA has ever envisaged flying a commercial plane into the Pentagon or elsewhere.
Osama Bin Laden also made it as the poster boy of the Global Guardian (Canad vs USA) wargame that was actually taking place on the day of 9-11, just like the private wargame that was taking place in London (mimicking the exact same tube-station-bombing scenario that went LIVE) on the day of July 7th 2005.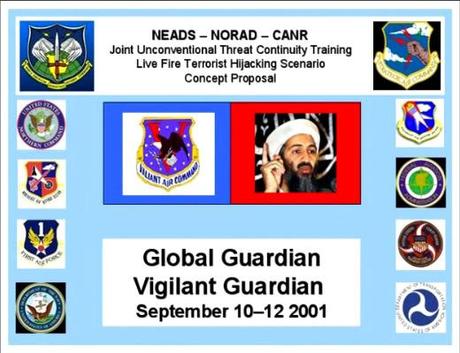 Of course, I have no summary: only shock and disgust at THE GAME.