If you could only visit one city in Canada, visit Vancouver! It's my favourite city in the country. Nature and outdoor lovers will find so many points of interest.
Yes, I feel like a wee bit of a traitor when I say that. I was born and raised in Alberta after all and lived much of my adult life in Calgary. But it's hard to compete with Vancouver. It's a coastal city bound by the English Bay and Burrard Inlet to the north and the Fraser River in the south. It offers something for mountain, water, nature and wildlife lovers. You could start your morning with a refreshing swim in the sea while observing seals, hit the ski slopes by midday and maybe even see a bear on your way!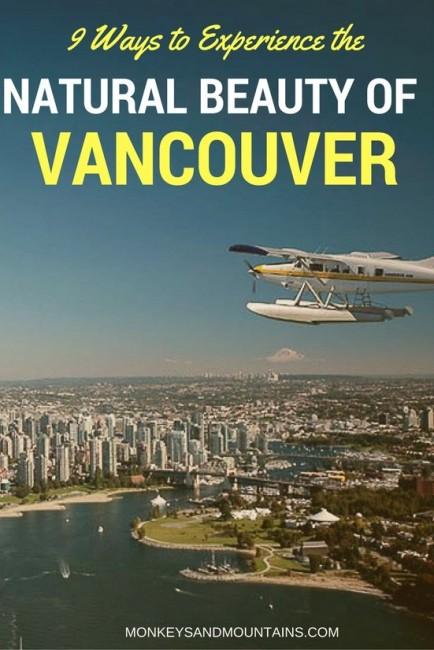 When Is the Best Time to Visit Vancouver?
Vancouver has some of the mildest weather in Canada. The trade-off is that it can be rainy and grey, especially in winter. Fortunately, it rarely gets below freezing or just a few degrees below when it does. My favourite time to visit Vancouver is in summer or fall. You're more likely to have long sunny days then. It's a perfect for exploring the natural beauty of Vancouver and the surrounding area.
How Long to Stay in Vancouver?
I'd recommend staying at least three days to discover the city itself. You could easily stay for a week if you want to use Vancouver as a base for exploring Vancouver Island, the Gulf Islands, the Sunshine Coast or Whistler.
Here are my top nine activities for exploring the natural beauty of Vancouver and Nearby Points of Interest:
Classic Vancouver Panorama Tour by Seaplane: This is one of the most popular tours of Vancouver and the North Shore Mountains and for good reason! The 30-minute flight is an ideal introduction to seaplane aviation. You'll get aerial views of the city, parks and beaches. The spray of water during takeoff and landing is exhilarating. It's a tour that you'll never forget.

Vancouver Whale Watching Safari: You'll take a speedboat safari in search of orcas (sometimes referred to as Killer Whales) where you have an incredible 85% chance of a sighting! Besides orcas, you also have a good chance of seeing seals, sea lions and bald eagles.

Vancouver: Stanley Park 2-Hour Photography Tour: You'll get some of your most incredible photos ever with tips from a professional photographer. You'll stroll along the seawall practising your snaps. Your subjects couldn't be more beautiful; Vancouver, Stanley Park, Totem Poles and the North Shore Mountains. You'll leave with inspiring photos and tips that you can use on your future travels.

Indian Arm Half-Day Lunch Cruise from Vancouver: Cruise the calm inland waters of Indian Arm as you enjoy a buffet lunch and the majestic vistas that surround you. Choose the island that you dream of living on. It could become a reality as many of them are privately owned. Keep your eyes peeled for black bears, seals and bald eagles.

The Gulf Islands: Kayak Outing with Seaplane Experience: You'll fly in a seaplane to Saltspring Island, discovering this island paradise between continental Canada and Vancouver Island. You'll kayak in the calm coastal waters. Be sure to keep an eye out for bald eagles, seals, dolphins and otters. This tour is an excellent way to immerse yourself in the world of wildlife found along the West Coast.
Grouse Mountain and Capilano Suspension Bridge - This tour includes three of Vancouver's most iconic outdoor attractions. You'll climb Grouse Mountain for breathtaking views of the surrounding towns and mountains. You'll also visit Stanley Park, a 1000 acre urban rainforest. Then, an exhilarating walk along the Capilano Suspension Bridge where you'll get a bird's eye view of old growth forests and the Capilano River.

Fly & Dine to Bowen Island from Vancouver: You'll be whisked off in style in a seaplane from Coal Harbour to the tranquil Bowen Island. Here, you'll enjoy a seaside meal at Doc Morgan's, famous for their fish and chips. Enjoy the ocean views before boarding a ferry back. You'll then hop in a limousine to return to downtown Vancouver for a truly unforgettable evening.
Victoria and Butchart Gardens: You'll take the ferry across the Strait of Georgia. Keep watch for whales, seals and bald eagles. Then you're off to visit Butchart Gardens, considered to be one of the most beautiful public gardens in all of Canada. In addition, you'll explore Victoria with a tour of some of the city's most beautiful heritage buildings and a visit to Beacon Hill Park. There is plenty of time to enjoy one of the many cozy cafes that add to the character of this beautiful city.
Whistler and Shannon Falls: This is one of the most scenic road trips you'll ever take. You'll start at Howe Sound making your way to the Coast Mountains along the Sea to Sky Highway. You'll stop and revel in the majestic Shannon Falls before reaching Whistler, home to many events of the 2010 Olympics. Here you can explore eclectic shops, artisan cafes or explore one of the many hikes. Marvel at the incredible Mount Tantalus Glacier before returning to Vancouver.
In addition to exploring on your own, these are what I'd consider some of the highlights of Vancouver. You can find more tours here.
Where to Stay in Vancouver
You'll find no shortage of accommodation in Vancouver, but the good places do fill up, so once you know your travel dates book a hotel or an Airbnb. I book almost all my accommodation through Booking.com as I find they offer both great rates and a great selection of properties. In addition, you'll find a flexible cancellation policy on many properties.
Downtown Vancouver: stay here if you want to be in the middle of the action. You'll find mainly boutique and luxury hotels here.
Gastown: This district offers a young, cool hip vibe.
Yaletown: This is a popular yuppie hangout with lots of restaurants. It's located close to the water, making it a great location for a seaside walk after dinner.
Financial District: This district is very convenient if you're travelling for business and is quieter than the others listed above. It offers fantastic views of the harbour and the North Shore Mountains.
Granville: This area is gritty and full of life. You'll find a good selection of budget hotels here.
How much does an average hotel in Vancouver cost?
According to Statista, the average price of a hotel room was $201 Canadian dollars in the second quarter of 2016.
Another alternative to staying in a hotel in Vancouver is to stay in an Airbnb. This is almost always my preferred option for stays of two or more days. You'll find more than 300 properties ranging from penthouses, to private cottages, to cool studios and lofts. Use this link to receive a $30 credit on your Airbnb stay.
Travel to Vancouver
If you're travelling to Vancouver from abroad, the easiest way to reach Vancouver is to fly into Vancouver International Airport which is well connected. From the airport, you can take a hotel shuttle or the rapid transit rail which brings you to downtown in less than 30 minutes. I find the best deals on Skyscanner and book the majority of my flights through them.