Leh- A cult among the wanderlusts and the Mecca of adventure enthusiasts who are seeking their dose of adrenaline rush.
But now it's not just limited to thrill seekers, travellers from all walks of life wish to visit this magical land once in their lifetime.
During our visit to Leh, we had seen travellers in all age groups from toddlers to grannies. Many travellers preferred to stay and explore Leh city and didn't visit higher altitude places like Nubra valley, Shyok valley, Pangong, etc.
Leh has its own charm and is known for its rustic & enticing locales, serene monasteries, and pristine environment. You can see a lot of wonderful places, enjoy shopping and eat local delicacies

Also, no mountain dangerous rides. So you can get gradually acclimatize, relax and relish the Leh city laid-back vibes.
We have decided that next time we will visit only Leh and enjoy it to the fullest because there is so much to see, shop & eat in this main city nestled in the great Himalayan & Ladakh ranges.
I am sharing below the places we visited during our trip to Leh Ladakh. This post includes tourist places in Leh city which we had covered.
1. Shanti Stupa
Shanti Stupa is one of the major tourist attractions in Leh. Built on a steep hilltop, it is a magnificent white-domed Buddhist monument built by a Japanese Buddhist Bhikshu Gyomyo Nakamura.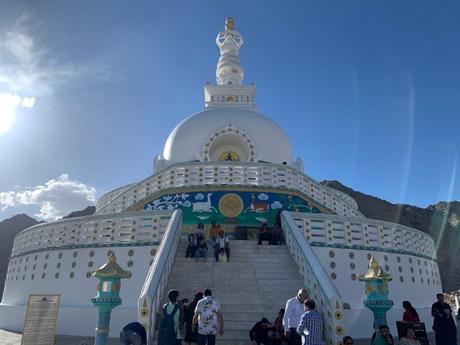 This place gives a panoramic view of Leh town surrounded by snow-capped mountains.
We visited it during day time, but it is suggested to visit here during sunset to capture its real beauty. Nevertheless, during day time also we could see the mesmerizing view of Shanti stupa and Leh city.
We could see this monument from our hotel balcony as it is located at a dizzying height of 11,841 feet.
Timings: 5-9pm
Ticket charges: Rs 25/-
View from the top
---
2. Leh Palace
The Leh Palace, an ancient and former royal palace built in the 17th century is one of the popular tourist attractions in Leh.
This majestic palace is now managed by the Archaeological Survey of India and turned into a museum for visitors.
From the top, visitors get a sweeping view of the Leh and Ladakh mountain ranges.
We visited this place on Day 1. Our driver stopped the vehicle quite far and we were tired to walk so much. A few members of our group were exhausted and were not keen to visit it.
Thankfully, we made it and it was indeed worth the time. The view from the top is simply breathtaking.
Kindly make sure that you tell your driver to drop you near the palace.
Timings: 7-7 pm
Ticket charges: Rs 25/-
---
3. Sangam point
Nestled between the mind-boggling mountains of the cold desert, there is a Sangam point where the Indus river meets with the Zanskar river.
You can get a view of two different rivers.
The sheer visual beauty of Sangam attracts a large number of tourists. We enjoyed sitting here and listening to the wave's sounds.
Leh Ladakh Trip in 7 days: All about our Epic Itinerary
---
4. Hall of fame
Independence!

It's not free. It costs soldiers.

– BRO LADAKH
The hall of fame is a museum run by the Indian army and built-in memory of all the brave soldiers of India for their great sacrifices.
An important visit that encapsulates the essence of patriotism, and displays the bravery of the Indian army, different kinds of weapons, and unseen stories of war.
View this post on Instagram

A post shared by Jenifer $ayyed (@shaandaar_jenie)
We spend here more than 1 hour and my love for our country & respect for our brave soldiers increased manifold. The army people explained to us very pleasingly about Kargil War.
Please do not miss visiting the Hall of Fame on your Leh tour.
Timings: 9-7 pm
Ticket charges:  Rs 325/-. The ticket is valid for 1 week and includes entry to Hall of fame, light & sound show at museum, visit to Zorawar fort, light & sound show at fort.
We only wanted to visit hall of fame, but had to buy this ticket.  So kindly enquire before buying the tickets when you visit here.
---
5. Magnetic Hill
The Magnetic Hill road is located between Sangam point & Gurudwara Pathar Sahib, so we visited it before going to Gurudwara.
This road is known for the phenomenon that defies gravity and hence tourists throng here to experience this gravity that takes a backseat.
In simple terms, when you park your vehicle or put it in neutral gear, it still runs and that too moves upwards on the road. Yes, we experienced it and were fascinated.
Also, it's a great spot to click some Insta-worthy photos like sitting the sideways on the road or middle and you get a stunning photo ( Kindly be attentive while you do so, after all its an open road and vehicles keep passing)
---
6. Gurudwara Pathar Sahib
This historic and religious shrine is one of the must-see places in Leh.  We had delicious langar served by the army people.
I would suggest you visit here during lunchtime and have sumptuous langar like us. I took dry Prasad for my Sir in Delhi who had requested me to bring it.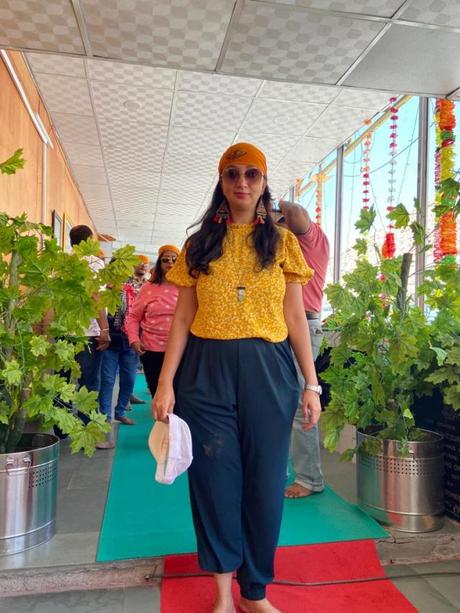 It is believed that the rock was thrown by the demon toward Guru Nanakji, but it did not harm him ( Jako Rakhe Saiyan, Maar Sake Na koi) Seeing this miracle, the demon realized that the Guruji is a holy man and asked for forgiveness. 
You can read in detail about this place on Google.
Don't forget to donate some amount here.
---
7. Leh Market
Leh market is the heart of Leh city. It is the most vibrant & fascinating place to eat, shop & hop. We felt as if we are in another country because this bazaar is so different & unique from other tourist markets in India.
View this post on Instagram

A post shared by Jenifer $ayyed (@shaandaar_jenie)
 I totally loved the vibes and could spend hours over here just by glancing at the vivacious markets, the cacophony of tourists, and the zestfulness.
We visited the market three times during our entire Ladakh trip and I still wanted more. So now you can imagine how alluring this market must be.
---
There are 2 more places you must visit in Leh:
Rancho School

Thiksey & Hemis Monasteries
These places we had visited while coming back to Leh from Pangong Lake. In my next post, I will share my experience and photos of these tourists places.
Hope you enjoyed reading this post

If you have any query, kindly comment them down below!
Where to Eat and Shop in Leh Ladakh? My Recommendations and Experience!