Veeba presents Asian Hawkers Market (read about AHM 1 and AHM 2) comes out with their third edition this year, taking place from 21st-23rd October, 2016. There are several reasons why you should attend this coveted food festival, with food being the primary one. See why you should attend Asian Hawkers Market and experience the feel of a food festival put together in the form of stalls and carts (21 stalls and 14 carts to be precise). A place where you get your chilli on and immerse yourself in the beautiful aroma of Asian food, with no less than 31 restaurants all set to treat your taste buds!! 
1. Exclusively Asian!
It's India's first food festival dedicated exclusively to Asian food. Asian food that ranges from Chinese, Japanese and Pan-Asian, to Korean, Burmese and Thai, everything from the Far East to South East Asia is covered under this festival. There's no confusion of whether you should order that pizza, pasta, Paneer Tikka and Mutton Curry or a plate of Chhole Bhature with Chicken Schnitzel, Hot Dog and Pav Bhaji. No, you don't get carried away by the complexities of a hundred different cuisines. You only devote your attention and energy to Asian food. Good old delicious comfort Asian food.
2. You can trust the makers blindly
Sourish Bhattacharya, Atul Sikand, Tanveer Kwatra and Sid Mathur are industry names that need no introduction. You have experts bringing to you something that's never been done before, and you need to trust their wide knowledge, their instincts, their experience, and their love for food to know that when they get their hands dirty into something, it creates a chatter like never before. You know you can trust the founders of Asian Hawkers Market blindly to know that the festival will be a hit.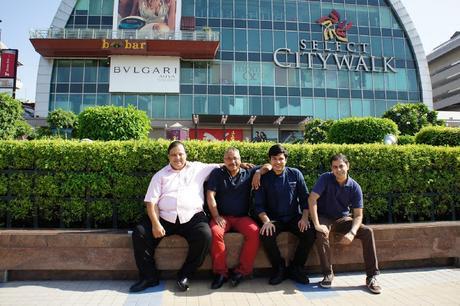 3. All categories of restaurants under one roof
You have five star restaurants replicating the same taste and quality that you receive at their hotel, here at AHM. You have stand-alones giving you a taste of dining in at a festival in the open. You have home-delivery stellars showing you the face of their brand and the people behind it at this festival. You have a nationwide restaurant chain showcasing their offerings here. All of them working in harmony, displaying the best of the best from their menus, and coming together so effortlessly, irrespective of what their establishment is. You get the experience of everything under one roof!
4. There's a bar too!
Lord Of The Drinks, that currently has three outlets in Delhi and is the most famous among the youth for its drinks and energy, will be present at Asian Hawker's Market to quench your thirst with their cocktails and drinks. The excitement level goes a notch higher with this!
5. Enjoy the entertainment that comes with the food
It's not just about food; you have stand-up comedy acts, flashmobs, some kickass music, and other live entertainment gigs planned for these three days. You won't go home only with your tummy and heart full of contentment, but also with your share of entertainment.
6. No entry fee
It doesn't get better than this! Simply put- you enter without paying any fee, and spend that 300-500 bucks that you would have otherwise spent on your ticket, on trying an extra few dishes inside.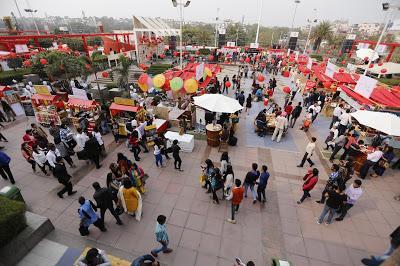 7. The food offerings
Takoyaki, Japanese Pizza, Dimsums, Khow Suey, Teppanyaki Grills, Sushi, Meal-In-A-Bowls, Chicken Satay, Baos, Salads, Soups, Thai Curry, Pork Belly, Sashimi, Chinese and Oriental curries, a variety of noodles and rice, Katsu Curry, Sandwiches, Hot Pot, Clay Pot, and the list goes on. I've only named the umbrella dishes, the variety under each of these is to watch out for. One visit to the festival can just not do justice to all this food. In addition to this, you also have hot coffees and cold coffees from Bomhomia, a range of teas and iced teas from Chai Point, and some splendid desserts from Bombaykery.
8. Kickass location
Centrally located, easily accessible by the crowd, no hassle of parking- this is what dominates the ease and convenience at Asian Hawkers Market. Select Citywalk is the place to be this weekend!
9. The differentiating factor
There's a certain zeal and energy this festival holds that I have personally never witnessed at any other festival. People who have attended the last two editions of Asian Hawkers Market feel so passionately about it. There are only good words coming from them, there are only praises by them. The variety that you see at this festival is something else altogether, but it's focused at the same time. They've created a niche for themselves with the offerings, they bring value to people each year with new additions to the list of restaurants. They bring excitement by getting restaurants that have still not been launched yet and are showcasing their food at AHM first (there are several of these this time too). All these factors make AHM stand out, and that's reason enough for me to attend it. Stay tuned on my social media platforms (given below) to see live updates about the festival!
Here's a list of all 31 restaurants participating this time:
1. Bigfatsandwich
2. Bonhomia
3. Chi
4. Yum Yum Cha
5. Jom Malay
6. Yum Yum Cha
7. Hahn's Kitchen
8. Benihana
9. Dimcha
10. Thai House
11. WOW Momos
12. Wok Me
13. Fatty Bao
14. Latest Recipe
15. Neung Roi
16. Pa Pa Ya
17. Mamagoto
18. Burma Burma
19. Veeba
20. EEST
21. Honk
22. Asian Haus & Sushi Haus
23. Thai Crate
24. Jade
25. Pings Cafe Orient
26. Asia 7
27. En
28. Bombakery
29. WoK Tok
When: 21st - 23rd October 2016
Where: Select Citywalk, Saket
What time: 12PM to 11PM on all days
Connect with me on:
Twitter: @sahibagursahane
Instagram: 
@thetastingfork
Facebook: 

www.facebook.com/thetastingfork
Snapchat: @thetastingfork
Roposo: www.roposo.com/@thetastingfork