I loved, and I mean LOVED my recent stay at the Alpenresort Schwarz in Tyrol.
It's located just 2 hours from Munich in a lush green valley lined with snow-capped peaks.  Here's why I loved it so much:
1) The Scenery:  I already mentioned the "lush green valley and snow-capped peaks".  Let me tell you that it's a tough view to beat while soaking in the scenery from the hotel's lake pool: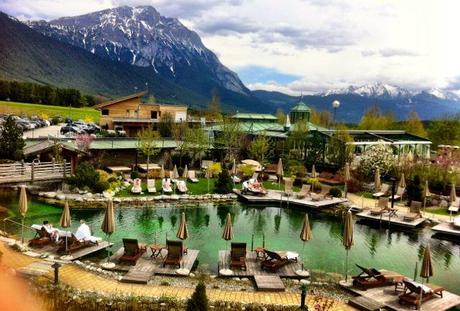 Inside Travel Tip:
  Visit the Stöttlalm, a nice easy walk with views over the valley.  Be sure to try a shot of Zirbenschnaps, a local speciality made from pine cones.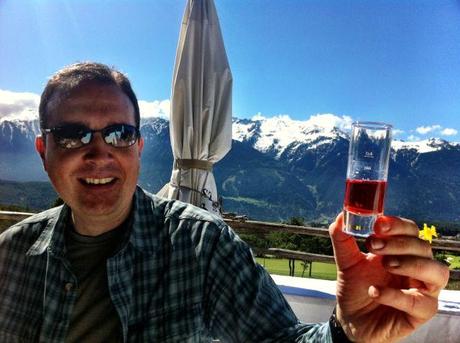 J.P. (my husband) enjoying Zirbenschanpps (a local speciality made from pine cones) at the Stöttlam near the Alpenresort Schwarz in Tyrol
2) Choice of Activities: The Alpenresort Schwarz's Tyrolean location guarantees adventure.  In summer you can choose from hiking, climbing, mountain biking, horse back riding, golf, or tennis.  Insider Travel Tip:  Our guide highly recommended a guided sunrise hike for glorious views over the entire valley.  In winter guests can choose from down hill or cross-country skiing, snowshoeing.  The hotel's extensive fitness program and gym are also available all year-long.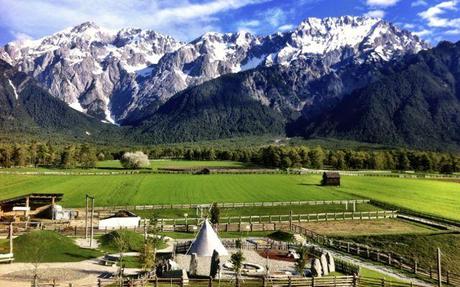 View from the Stöttlalm, our rest stop on our guided morning hike.
3) Suites with Butler service:  The suites offered mountain views, a huge jacuzzi tub and walk-in closet.  Despite all that, my favorite feature was the ceiling over the bed.  Turn off the lights and it transforms into a night sky with stars.  So cool.  Also incredible?  There is a butler for each floor! Yes a butler! Insider Travel Tip:  Go to bed before you are tired so you can enjoy the night "sky".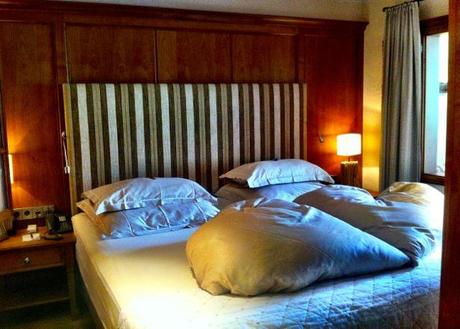 The bedroom of our suite. I watched the night "sky" for hours.
4) Family owned:  I'm a big fan of family owned properties and the Pirktl family is very involved in the day-to-day running of the Alpenresort Schwarz.  Martha Pirktl manages the entire garden area herself complete with 60,000 tulips with just one other gardener and occasional helpers!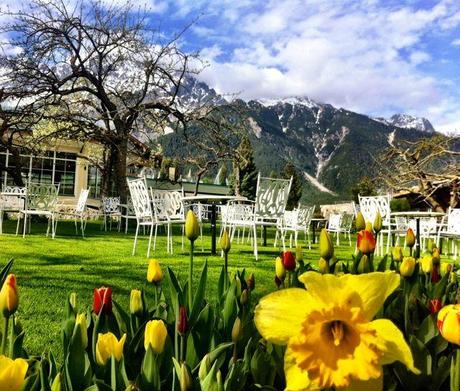 A few of the 60,000 tulips/daffodils planted each year at the wellness hotel.
5) World Class Service: The service my husband and I received at the Alpenresort Schwarz was incredible!  Everyone was very warm and professional, but it went much further than that. The first evening we had dinner I was brought a gluten-free menu without even asking (I have a gluten allergy). The next day I went to the spa for a treatment and they too knew about my gluten-allergy.  The coordination of guest information was one of the best guest experiences I have ever had at any hotel!  It made me feel important and valued – not to mention set the bar very high for other hotels.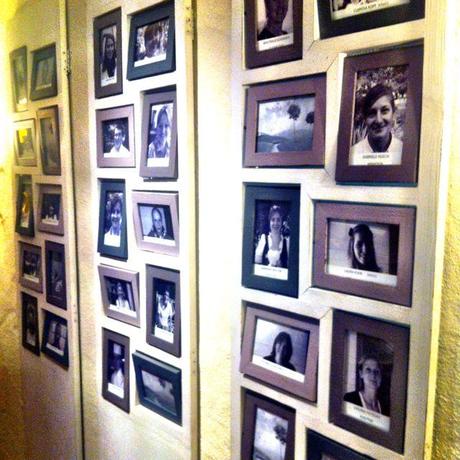 Employee photos hang in the hallway.
6) The Spa:  The spa was SO incredible that I wrote an entire post about it – the first time I've ever dedicated an entire post to a spa. Seriously, it's that amazing. You can here it here.
7) Separate Adult and Children Areas: A newly built children's area has just been created so that kids can be kids, leaving adults to relax and enjoy the pool area in relaxation.  I LOVED this feature.  Insider Travel Tip: Be sure to check out the 92m long water slide in the children's area.  It's a blast!  Then head back to the adult area. Insider Travel Tip:  Also check out the petting zoo if you have kids, or just love animals, like I do.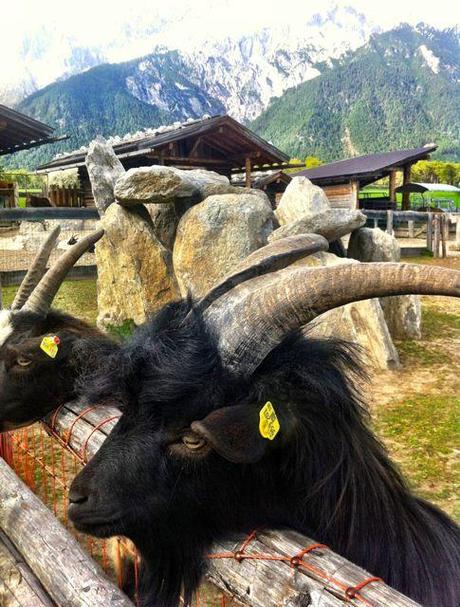 A goat who was my new BFF – as long as I kept feeding him. Fickle goat!
8) Gardens:  The gardens at Alpenresort Schwarz are personally tended by Martha Pirktl.  Many of the 60,000 tulips are hand planted by her and she takes pride in making sure everything is up to par.  On our tour of the gardens, she stopped several times to pick out a weed or two who had managed to escape her careful attention.  Insider Travel Tip:  Many of the herbs used in the restaurant are hand-picked directly from the hotel's gardens, so try a choose herb-infused dishes.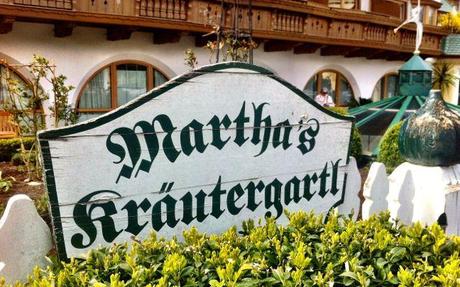 Martha's herb garden, the source of  many of the restaurant's herbs.
9) The Restaurant:  The food was exquisite.  A large breakfast buffet and lunch is served everyday.  A selection of coffee and cakes are served throughout the afternoon.  For dinner there is a salad bar and then you have a choice of main courses.  But  it was this that stole my heart: