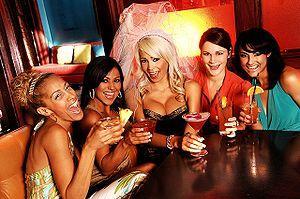 Bride-to-be (center) and friends share a toast at a bachelorette party 
Some people have parties because they love having parties. There are others who have parties because they want to see and be seen, shoot lots of party pictures, and visit with everyone they love that they've invited. I'm sharing 9 Fall party fashion-inspired ideas for fashionista's that give new meaning to the word, "options".
Kick off the Fall season by having a party. And make it fun by asking your party guests to participate when you create a fashionista-inspired Fall party. Get your guests to "fashion it up", by having a contest for the Most Outrageous Outfit, Best Single Outfit (person who attends your party alone, looking like a million dollars), and the Top Couples Attire. You're crafty. I'm sure that there are plenty of other contest categories that you can come up with (that will be even better than mine!).

Set no rules or boundaries, except... don't show up naked. 
 Other than that, anything goes. This party could turn out to be really fun, if your guests are inspired and are willing to join you and get into it.
As the host, be inspired and greet your guests wearing something showing your
inner-party
frock wearin' fashionista. Ask your guests to do the same, setting the limit that everyone has to make their choices from something that they already own. Not buying a new outfit, use the money that you'd spend to shop for something new to buy one cool thing you've always wanted for your party arsenal.
Here are 9 ideas to help you host your First Annual Fall Fashionista Affair

1.) Love leather (yes, for your party) - Of course, wearing leather will usually get you noticed. Get wear it and add it to your food buffet table too. Huh? What? Stop by JoAnn Fabrics and find faux leather in a color that will add just the perfect complimentary touch to your party color scheme. Drape it, indiscriminately, over your buffet table food risers to disguise them. And the less asymmetrically shaped, organic look can sometimes can be better. But if you must, cut triangles or circles. Use your "leatherette" accents under sauces to rid that nice tablecloth you have of drippy stains. See, it's doable and worth it. Practicality comes in all forms, shapes, and sizes.
Serve food you've never served before. Set "leather" place mats  as the base for your table settings on your dining room dinner table. If you can work it out, use dishware of two or more different patterns on purpose (that don't match, each one unique from the next). Could be interesting... definitely a conversation starter.
2.) Feather it up - Feathers decor is fun and can be sexy for a bridal shower (Vamp it up, y'all!) or a bachelorette party. And certainly, that little girly-girl of yours and her little friends will get into rockin' big girl feather boas, baby! When you're serving your party fare buffet-style, if it's not over doing it, you can even use a few feather boas on your food table or guest dinner tables. No, this idea isn't for everyone or every occasion, but for the "right" occasion -- feathers can be your best choice. Don't rule them out.
3.) Pump it up - Shoe theme parties are a riot! There are a gazillion things you can incorporate... from actual shoe displays around the party site area, to a specialty-made dessert "shoe cake", to guest shoe inspired contests of all kinds imaginable. Have fun with this one...
4.) Wrist watch time action - I bet no one you know has ever been invited to a wrist watch fashion party. Un huh.. I thought so. Me, either. But being the watch freak that I am, I'd love to stand trying to figure out, which watch will be the one I'll wear. Or, trying out the idea of wearing more than one at a time. Which reminds me of the time some loser broke into my home and stole my prized possession; my mom's high school graduation present wrist watch that she got from her parents that has a rose colored hue crystal. Thinking about it still bums me out. And like with a shoe focused party, think of the contests you could create. This party, based on "time", is gonna be different. I wonder what ideas you'll come up with?
5.) Out of the box - This is an androgynous "gift theme gala" that can be so much fun, as you and your guests try to guess who got what, from whom. Every guest arrives with a gift-boxed, gift-wrapped "gift"... for someone else. Who? No one knows until everyone has pulled a box out of the big, surprise gift bag.
You arrive and your gift receives a gift ticket number placed upon it. the other part of the ticket goes into a big glass bowl. After everyone has eaten and is sipping on their coffee or after dinner cordial, you announce... "Hey everybody... it's gift time!". Or, better still, when each of your guests arrive -- tell them to listen for the sound of them gift bell and to head toward whatever room you designate to be your gift room. Everyone draws a number that corresponds with a gift. Everyone leaves with something. And you never know, that omelet pan you've been meaning to buy just might be inside the box you're gifted with. I love this kind of party. Have fun!

Serve a fashionable party cocktail

Dare to be different. Serve a fashion theme inspired signature drink. Serve a Scotchsicle.
Truly a fashionable statement, this "fashion-ail" was created in honor of a fashion exhibit shown in 2011 featuring the innovative Scottish theme from the late Alexander McQueen. A drink made to saddle up next to any one of the party themes listed here, this drink was created by Glenrothes. It's a delicious "must-serve".
The Scotchsicle
(Printable Recipe)
Ingredients
2 oz. Glenrothes Select Reserve
1 oz. Combier Orange Liqueur
3/4 oz. vanilla syrup (Torani or Monin)
3/4 oz. orange juice
Instructions
1.) Fill a cocktail shaker with ice and add all ingredients.
2.) Shake and strain neat ("up", with no ice) into a stemmed cocktail glass.
3.) Garnish with a light dusting of powdered cinnamon and an orange twist if desired.
4. ) Salut!
6.) Get fabulous - This party will be loved (and become annual) by "spotlight hogs" who love, love, love getting attention. This is about outrageous... everything. Food. Attire. Decor. Beverages. Floral. This is an intentional, over-the-top soiree for the fab few who will and can go there. Why not? Someone has gotta do it. Mightaswell be you!
7.) Sleek and simple... the Black & White Classic - Go psycho decorating black and white style. From what you (and every guest) wear, to black and white invitations, food, black and white cocktails, black and white floral arrangements... you name it. You can even throw in the wrist watch and pump (shoe) element to give your party more "flava".
8.) Party "Shine" - This inclusive special event is for the glitz maven of love who would wear rhinestones and silver and gold lame everyday, if you could get away with it. Mirrors should line your food stations (check out your local rental company for mirror place mats, even!). This is another one of those "scene stealers" whereby you dress to the nine's, looking like a disco ball if you want -- because that's appropriate. And of course, this is a weekend night time party... of dancing the night away sequin good times, great guests (who live to dress fancy!) as you eat good, drink good, and party the night away.
9.) Super Star attraction - Hey now... that's what I'm talkin' about. Stars, stars, and more stars! From real stars on your party host/hostess outfit, to stars -- as in celebrities, to star-shaped ice cubes in the punch, "star" Jello shots, to a ceiling full of star patterned balloons... go star-raving crazy with stars. You get my gist. Star fruit on your dessert buffet. Background "star"lyric theme music.
You know how I roll. I can go on and on, and on.  But hey, that's what party themes are all about about... creating a great party atmosphere and having a wonderful time, with those you deem to be the "best guests".
Leave the killjoys out. Add your fashionable, funky get-down friends in. You want people who aren't terribly self-conscious, who like to meet new people, and talk -- keeping the conversation interesting.
Have fun, guys!
As always, I'd love to hear from you.
Do you have any advice to Fall party share? I wanted to come up with something less "traditional", hence this post.
What are some of your 9 Fall party fashion-inspired ideas for fashionista's tips that you'd create for an attention-getting Fall?
Leave a comment. Share your best tips and tricks below. And, remember... be as specific as possible in your comment explanation because what you have to say can help us all.
I appreciate you more than you'll ever know!
You inspire me.
With love... be encouraged and encouraging,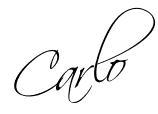 "Skepticism doesn't help you hear." - Seth Godin
 Image source: Wikipedia