From routine physicals to prescription drugs, medical expenses add up faster than you can say "Ahhh." So before you swipe that credit card, make sure you're following these money-saving rules to cut back on medical expenses.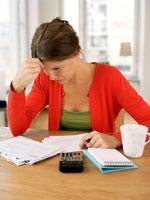 From routine physicals to prescription drugs, medical expenses add up faster than you can say "Ahhh." In fact, more than half of women surveyed by the nonprofit research foundation the Commonwealth Fund said the rising costs of health care were keeping them from getting the procedures and medications they need.
Receiving quality care costs quite the pretty penny, whether you're insured or not. And while doctors may know what's best for your health, they may not be as concerned with your wallet. So before you swipe that credit card, make sure you're following these money-saving rules to cut back on medical expenses.
1. Choose lifestyle changes over new medication.
Don't feel like adding to costs by filling a new prescription? Before your doctor signs the script, ask if there are any lifestyle changes that might have the same effect.
For example, losing weight can sometimes make diabetes or cholesterol drugs unnecessary, relaxation techniques often work better than
sleeping pills
, and keeping your home free of dust and mold might just liberate you from
allergy meds
.
2. Reevaluate your vitamins.
Taking a
daily multivitamin
may not be worth it in the long run—if your diet covers all the recommended daily nutritional bases. (This requires a diverse mix of fruit and veggies, lean meats, legumes, and whole grains, so if you're a picky eater, a vegetarian, or have a food allergy, you may need a daily pill.)
Don't bother with extra supplements, such as calcium, vitamin C, or vitamin D, unless your doctor recommends them for a specific reason. And you can ditch the
vitamin-infused waters
and beverages: They're usually high in calories and chemicals, and can do more harm than good.
3. Ask your doctor: Do I really need that test?
A 2006 study in the
American Journal of Preventive Medicine
found that 43% of patients underwent unnecessary tests at simple, routine checkups. If your doctor orders an MRI, CT scan, or other medical exam, speak up: Besides the medical concerns of unnecessary testing, like
additional exposure to harmful radiation
, you could be billed for these extra procedures. Ask why it's being ordered, whether it will cost you extra money, and what will be done afterward if the results are positive (or negative). If the answer is simply "
routine screening
," the test may be unnecessary.
4. Get your regular meds on the cheap.
Continuously shelling out for a regular prescription (we're lookin' at you, birth control) can be a real drag. Find out if there are cheaper options, like ordering from legitimate, safe online vendors, or thriftier pharmacies with low-price plans. You can also try money-saving strategies such as buying the generic version of the medication, buying pills in bulk, and splitting higher-dose pills.
5. Don't procrastinate.
If you plan to get the Gardasil vaccine to protect yourself against cervical cancer and HPV, make sure you have time to get all three doses of the vaccine before you turn 27. Administered over an eight-month span, the vaccine has only been approved by the FDA for women up to 26 years of age, so insurance will not cover any shots needed once you're past the cutoff (even if you start the process before your birthday). Out-of-pocket, these jabs can cost up to $200 each, not counting administration fees tacked on by your doctor's office.
6. Feel free to bargain.
Unlike the price tag on those fabulous (and completely out of your budget) new fall boots, medical costs aren't always set in stone. If you're uninsured and paying out-of-pocket for hospital or doctor services, don't be afraid to try these proven ways to negotiate medical bills. Disclosing your income may knock off a chunk of the bill, as will offering to pay with cash on the spot—you could get as much as a 20% discount. If your doc wants you to try a new medication, ask if he or she has samples for you to try first, or check the drug's website for coupons to use at the pharmacy.
7. Take a trip.
Consider planning your next vacation around your next medical procedure.
Medical tourism
could save you anywhere from 40% to 85% on health-care costs, although it does have its risks. If you're fully insured, staying at home will be your best bet. But for things that aren't covered (such as cosmetic surgery or dental procedures), or for patients without insurance, a trip to Mexico, Costa Rica, or even Thailand or India could add up to huge savings.
Just be sure to research the doctor, facility, and country extensively beforehand to avoid insurance and malpractice issues; check out the nonprofit Joint Commission International's list of accredited hospitals and labs.
8. Get back to basics.
The best way to keep your medical costs down? Don't get sick. Easier said than done, we know, but if money is tight, focus on the little things within your control—exercise more, drink less alcohol, wear sunscreen, floss your teeth, and wash your hands. Covering these basics will keep you out of the doctor's office, plain and simple. Oh, and now is a perfect time to stop smoking too: Kicking that habit alone could save you thousands of dollars a year.


Sarah Klein