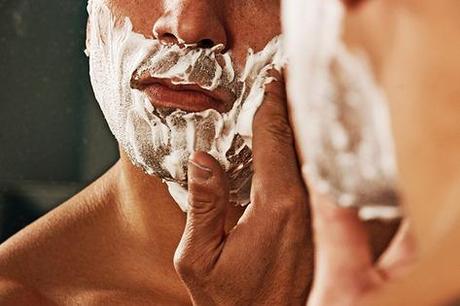 With the buzz surrounding Morgan Spurlock's new documentary Mansome, it got me thinking about the grooming rituals men go through every morning and night. While male grooming's not a new topic, it's somehow overlooked in natural and organic personal care. My own husband likes my natural beauty products, such as eye cream, face wash and body wash, and doesn't give a hoot about the packaging – just the outcome. What man doesn't want to smell good and have soft skin, too?
So what choice do they have if they too want a more greener alternative with their grooming and personal care, without having to swipe their wife or girlfriend's stuff? Several companies have realized this untapped niche has serious potential and have created lines and products that are geared specifically for a dude's needs and preferred spicy, musky and manly scents.
Guys, you can now go get your own products – just leave room in the bathroom for us!
According to NYR, "Men's skin is different to women's; it's naturally thicker, has more collagen, less hydration, yet more sebum (skin's natural oils). Which is why men's skin needs its own, dedicated skin care. NYR Men has been designed with organic herbs, extracts and oils to give men fantastic results, from head to toe." The line includes shaving creams and balms, colognes, face wash, and even eye gel to start.
 

Aubrey Organics - Men's Stock
Aubrey Organics has a very comprehensive men's line with hair, skin and shaving care, all in attractive, sleek black packaging. The Hair Care line is a simple 3-step system with a hair gel, and includes Chinese herbal he shou wu to nourish the scalp. Biotin and Ginseng formulas add fullness to the hair. The Skin Care line includes a basic cleansing bar with 85% organic ingredients, a lightweight moisturizer to help prevent razor bumps, and even an anti-aging eye cream. Finally, the shaving system includes a Face Scrub, Shave Cream, After Shave Balm and Aftershave and comes in 3 fresh scents.
Burt's Bees also has a line for men, and also in fancy black packaging. These all-natural products are scented with an uplifting citrus aroma, and are available in a soap bar, shave cream, aftershave, body wash, and deodorant – all a guy needs to stay clean. With skin-friendly ingredients like Rosemary extract, Vitamin E and Chamomile, all these products should be gentle, yet masculine enough for any man. They also have a lot of high ratings, averaging 4 out of 5 stars.
Living Nature for Men
Living Nature, a New Zealand natural brand, offers their male fans a large array of skin care and shaving supplies just for their unique, delicate skin. :)  The variety rivals many skin care lines dedicated to women, complete with a clay mask, exfoliants, facial cleansers, moisturizers, lip balm, eye gels, and shave creams. Some of their products contain a plant unique to New Zealand called Harakeke Flax Gel, which is apparently more hydrating and beneficial than aloe vera.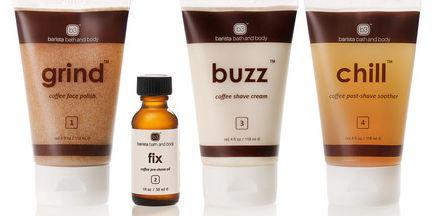 b3 Shave Coffee-Based Products for Men
Now this is very interesting to me! (I have a huge coffee bias and love nearly anything involving that addictive bean, so forgive me if I start to ramble.) b3 (Barista Bath & Body) has a 4-step shaving system for men using coffee-based products that will help make the shaving process smoother, easier and result in soft, healthy skin. Step one involves a gentle exolfiation, step two is a pre-shave that uses an oil, step three requires the rich shave cream, and step 4 finishes the routine with a soothing, cooling post-shave formula appropriately named "Chill". I'm liking this brand already, and will be eagerly awaiting the opportunity to try out their other girlier items. :D
 Bulldog Natural Skincare
This isn't just a line from a company that mainly caters to women, but a whole brand of skin care made just for guys! According to Bulldog, "There are hundreds of male grooming products out there, but for us they just weren't cutting the mustard. All we wanted were natural products that got the job done hassle free. Bulldog skincare has been specifically formulated and designed for men. At last there's a range that you can be proud to call your own." The company, complete with their adorable eponymous mascot, has products that cover a guy's hygiene needs with body care, skin care and a simple shaving system.
Lavera for Men
Lavera Skin Care offers an award winning men's personal care line (this time with dark blue packaging!) and it's straightforward and concise. You can find after shave balm, face wash, shaving cream, shampoo and a moisturizing face cream. Good prices and from a reliable natural skin care company, one can't go wrong with using them as staples in any man's personal care regime.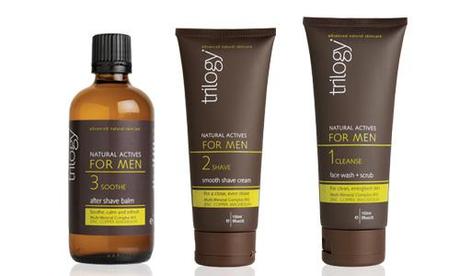 Trilogy Products for Men
With 3 easy steps and unique brown packaging, Trilogy's gentle shaving system fits the brand's name and idea that simplicity is best. Cleanse and exfoliate with the Face Wash + Scrub, then use the smooth shave cream for close, clean shave that nourishes the skin. Top off the routine with a soothing after shave balm, fortified with cooling and calming Aloe Vera and Green Tea, skin brightening Licorice extract and a combination of softening extracts from Olive Marula, Wheat Germ and Avocado oils.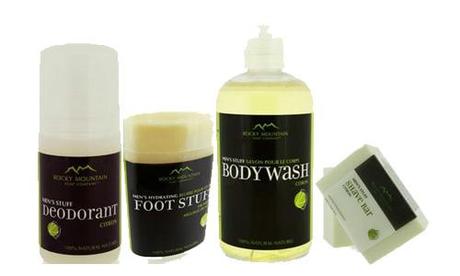 Rocky Mountain Soap Company – Men's Stuff
"Smell clean, not pretty." That's Rocky Mountain Soap Company's tagline for their men's line, "Men's Stuff".  Lemon, clary sage and other citrus scents are the base of these products, and coconut oil also makes a constant appearance for its many beneficial properties for skin and hair. This line is unique in that the shampoo and shave foam comes in easy to use soap bars, and also comes with portable hand, body and foot butters. Can't get any easier than this!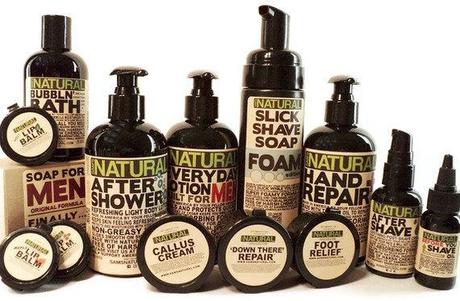 BONUS!
Lots of indie bath and beauty companies on Etsy are catering to a guy's increasing demands for natural personal care and grooming products. Check out the links below for more natural brands and lines for men.
Sam's Natural HEAD-TO-TOE Hygiene Kit for Men – $99.95