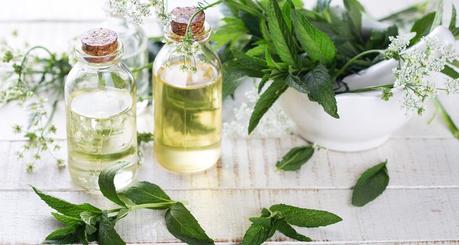 Peppermint is a cross between spearmint and watermint, and is native to Europe. The herb has long been known for its' numerous medicinal and health promoting properties. Because peppermint contains menthol, menthyl and menthone esters, it's used in a wide range of applications including the manufacture of soaps, shampoos, ointments, lotions and numerous skincare and hair products.
Peppermint and peppermint essential oils offer numerous health benefits thanks to their anti inflammatory, antimicrobial, anti fungal and antiseptic properties. Peppermint oil contains numerous nutrients and minerals including; iron, manganese, magnesium, copper, calcium, folate, and potassium. It also contains Vitamin A, Vitamin C and omega-3 fatty acids. Due to the aforementioned properties, peppermint oil can be utilized to address many health ailments, both externally and internally. Here are some of the uses and benefits of peppermint oil .
Use and Benefits of Peppermint Oil
1.Peppermint Essential Oil is Good For Your Hair
Peppermint oil has antiseptic and antimicrobial properties, meaning it can be used to get rid of dandruff and lice when massaged into your entire scalp. It has regenerative and stimulating effects, and contributes in hair growth, relives scalp irritation, and improves frizzy hair. Studies have revealed that peppermint essential oil for natural hair assists in hair growth by stimulating hair growth. The oil penetrates through the scalp surface and stimulates the follicles. In addition, it promotes blood circulation and makes your hair roots much stronger by providing them with the much needed nourishment.
2. Great For Your Skin
Peppermint essential oil contains menthol, which works to brighten up dull skin and at the same time creates a calm and cooling sensation. It nourishes dry skin and improves the tone and texture of greasy or oily skin. Since It has antimicrobial and antiseptic properties, it helps keep the skin blemish free, and keeps the pimples away. Peppermint oil helps in oil secretion in the skin, which helps prevent acne. It also helps heal cracked lips, which is reason why it is usually one of the ingredients in lip balms.
3. Excellent Nail Care
Peppermint essential oil has anti fungal properties. This means that it can help treat or prevent parasitic nail disease, which usually affects many people all over the world. Research has proven that when externally applied, peppermint oil can help lower the risk of having a fungal nail infection.
4. Suits Every Scalp Type
Whether you've an oily scalp or a dry scalp, peppermint essential oil will work for you. Since this essential oil is known to have great astringent properties, it will help normalize sebum secretion and will cool your scalp. With peppermint oil, your scalp will never feel dry or oily anymore. It has moisturizing properties which will also help in treating dandruff and dry scalp, so that you enjoy beautiful hair and problem free scalp. It will heal the scalp and even prevent itching. It is actually one of the best essential oils for dry scalp.
5. Ideal Moisturizer
Since peppermint oil has great moisturizing properties, you can simply mix it with any of your favorite carrier oils like olive oil or almond oil, and then apply the mix onto your hair. Alternatively, you can use peppermint oil in combination with some other essential oils such as lavender or jasmine. It will help nourish and moisturize your hair.
6. Relieves Headaches and Migraines
Peppermint oil is a great natural remedy for headaches and migraines. Its' anti inflammatory and cooling properties are part of the reasons why it's so effective at relieving headaches and migraines. According to research studies, peppermint oil can actually reduce the pain of migraines in some patients within 10-15 minutes after a topical application. To quickly relive headache or migraine, you can simply apply the peppermint oil in diluted form directly onto your temples and forehead. You can also try dabbing a few drops of the oil on your wrist, and then inhale the sweet aroma.
7. Eases Digestion
Peppermint oil is very helpful in treating indigestion. Since its' carminative in nature, it helps in removing the excess gas in the stomach. It is also a great tonic for people who have low appetite, and helps in treating nausea, motion sickness, and stomach upsets. When combined with the caraway oil, peppermint oil can also be used to treat heartburn. You simply need to put a few drops of the peppermint oil in a cup of water, and then drink it after the meal.
8. Great for Respiratory System
Peppermint essential oil contains menthol which helps clear the respiratory tract. It's a great expectorant which gives instant relief from cough, colds, sinusitis, bronchitis and even asthma. You can use the oil as a cold rub on your chest, or you can inhale it to treat nasal congestion.
Other Benefits of Peppermint Oil
-Helps in alleviating stress.
-It is a great muscle relaxant.
-It is very useful in dental care.
-Improves mental clarity and raises energy levels.
-Helps in treating urinary tract infections.
-Helps boost the body's immune system.
The following two tabs change content below.