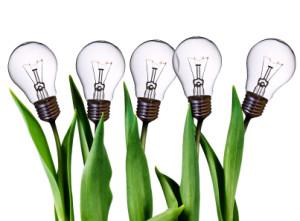 It doesn't matter if your motivation is economical or environmental; being green is good for your budget and for the earth. If you think going green is too much trouble, think again. Here are 8 easy ways to make your home more eco-friendly and put some green in your pocket while you're at it.
1.   Plug your electronics into a power strip and shut them off when not in use. Your television, stereo, computer and other modern electronic devices continue to draw "phantom power" even when not in use; in some cases nearly half of the energy they gobble when being operated. Plugging several devices into one power strip makes it easy to turn things off and on as their needed and lowers your energy costs.
2.   Use only eco-friendly cleansers and detergents in your home. Yes, environmentally products can be more expensive than traditional products but you can offset the costs by making some basic cleaners yourself. For example, mix equal parts of water and white vinegar and add a few drops of dishwashing detergent for an all-purpose cleaner that works on windows, countertops, walls and just about every other hard surface. For that clean citrus smell add a few drops of lemon or orange essential oil to the mixture.
3.   Be less disposable. Get in the habit of carrying refillable coffee cups and water bottles and use canvas bags for groceries and shopping.
4.   Check your home for wasted water. Replace washers in dripping sinks and don't let the water run while brushing teeth or soaping up your hands. Allowing water to run for just two minutes can use up to five gallons of water. Your lawn and garden can be a source for some of the biggest waste. A leaky hose can waste hundreds of gallons a year and be the cause of an unevenly watered lawn. Make sure automatic sprinkler systems are in good repair and programmed to run in the early morning. A two-inch layer of mulch around trees and landscape plants will help retain moisture and reduce the amount of water required to keep your yard looking green and lush.
5.   Replace outdated appliances with efficient Energy Star appliances. If your appliances are more than 10 years old they may be wasting energy and costing you money.
6.   Use compact fluorescent light bulbs (CFLs) throughout your home. They do cost more than incandescent bulbs on the outset, but CFLs save about 35 dollars per the life of the bulb in comparison. Besides using less energy CFLs produce less carbon; for every 30 incandescent bulbs that are replaced with CFLs more than 6 tons of carbon is eliminated. That's about the same as eliminating two small cars!
7.   Setting your thermostat just two or three degrees lower in the winter and higher in the summer can add up to a big savings of energy and money.
8.   Enjoy meatless Mondays. Eating just one vegetarian meal a week will stretch your food budget and may even make you feel better.
Doing your part for the environment doesn't have to mean investing in solar power or starting a backyard compost bin so you can grow your own vegetables – but those are two more great ideas! Small steps everyday can add up to a big savings, a healthier home and a healthier planet.
Holly is an Indianapolis native with a passion for sustainable living. In her spare time, she enjoys baking and blogging on behalf of Sears and other brands she loves.