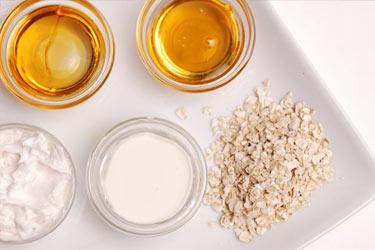 While Spring is just around the corner, most of us are still dealing with harsh, cold winter climates and lower temperatures. Stay indoors today and head to your kitchen for some organic oats, milk, bananas and honey to create gentle, nourishing face masks to pamper dry facial skin (then make a hot bowl of oatmeal afterwards!). These 4 foods are commonly mentioned in such homemade face mask recipes, and for good reason.
So why do these 4 ingredients work so well for dry skin?
Oatmeal is known to soothe all skin types, especially dry, and also works well against acne. Whole, regular or old-fashioned oats, ground into a fine powder in a food processor, work best for DIY beauty treatments. It also makes a gentle, abrasive base for scrubs, masks, and bath products. Great for the bath as well.
Milk's lactic acid is a mild exfoliant, and can break down dead skin cells. It's fats can soften skin, and adds a luxurious touch to baths for all skin types. Full fat milk is best for DIY beauty products.
Bananas are naturally nourishing, brightening and moisturizing, and provides gentle, nonabrasive exfoliation as well as mild skin-tightening. Great for all skin types.
Honey is a natural antibacterial and works well to fight acne. As a face wash, honey absorbs impurities from the pores. It also acts as a humectant to draw moisture from the air onto the skin to hydrate dry skin.
DIY Beauty Face Mask Recipes
Here are a few DIY homemade beauty masks with oatmeal, milk, bananas and honey. After you're done with your spa treatment, make yourself a bowl of the same ingredients and veg out!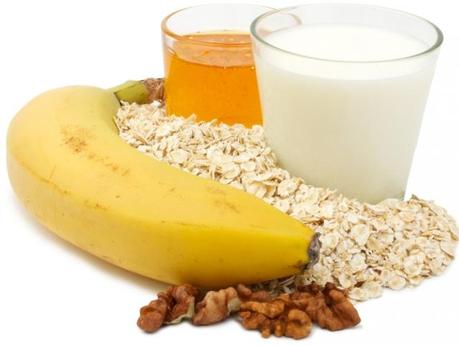 Oatmeal Honey Face Mask
(Source: facemaskrecipes.org)
Ingredients:
1 serving of oatmeal
2 teaspoons of honey
Water
Combine the oats and water per serving instructions. Cook, based on the instructions on the pack (just as if you were going to eat it for breakfast). Remove from the stove or microwave and allow to cool. Mix in the honey. Apply the oatmeal and honey mixture to your face and allow to dry (approximately 15 minutes). Remove with warm water – removing it in the shower is usually better to avoid a mess.
Banana and Oatmeal Face Mask
(Source: facemaskrecipes.org)
Ingredients:
Medium banana
1/4 cup oatmeal
Mix the banana with the oatmeal. It may be easier to ground the oatmeal before combining, but that step is optional. Continue mixing until the oats are thoroughly moistened by the fruit. Put the mixture on the skin for 15-20 minutes, while lying down. Remove the mask with warm water and a clean washcloth.
Oatmeal and Milk Face Mask
(Source: facemaskrecipes.org)
Ingredients:
1 cup whole milk
2 tablespoons oatmeal
2 teaspoons of olive oil
Add the milk and oatmeal to a small pot. Heat the ingredients on medium heat until the concoction is thick. Add the olive oil and allow the facial mask to cool just a bit. Apply the oatmeal and milk face mask while it is still warm (but not too hot to burn your skin). Allow to dry, which takes about 30 minutes. Rinse with warm water. Add a moisturizer if your face appears to be red or possibly irritated – note that this is a rare reaction to this mask.
Simple Banana Facial
Ingredients:
1 medium banana
1 cup oatmeal, finely ground
1/4 cup whole milk to start, more if needed
Combine all ingredients to create a paste. Adjust milk as desired (add a little or a lot depending on paste consistency). Apply to your face and leave on for 10 to 15 minutes. Rinse well with lukewarm water, then splash with cool water.
Banana Facial Mask for Dry Skin
(Source: Natural Health)
Ingredients:
½ ripe and peeled banana (eat the other half)
1 teaspoon honey
1 teaspoon water
2 tablespoons finely powdered oats
½ teaspoon sweet almond oil (or other vegetable oil)
1 drop rose oil (optional)
Blend banana in food processor until smooth and mix in remaining ingredients. Apply to clean skin and leave on for 15 minutes. Rinse with warm water to remove mask. Pat skin dry and apply a moisturizer. Refrigerate leftovers in an airtight plastic container for up to one day.
Banana Oatmeal Face Mask
(Source: I Love Natural Skincare)
1/2 cup oatmeal, cooked
1 tsp honey
1 egg yolk
1/2 banana, mashed
Combine ingredients. Apply mixture to your face. Leave on for 15 minutes. Rinse off with cool water.
Honey Oats Face Scrub
(Source: Benefits of Honey)
Ingredients:
1 tablespoon honey
1 tablespoon finely-ground almonds
2 tablespoons dry oatmeal
Some lemon juice or yogurt
Combine all ingredients to a luxurious and exfoliating facial scrub. Massage mixture gently onto face, then rinse with warm water. This blend gives a deeply emollient cleansing to the pores of your face. Almonds and oats are superb softening exfoliants.
Calming, Clearing Oatmeal Mask
(Source: Crunchy Betty)
Ingredients:
3 tablespoons finely ground oats (take whole, organic oats and grind them into a
powder in a food processor, coffee grinder, or blender)
1‐2 teaspoon honey
2 tablespoons whole (full fat) milk
Combine all ingredients until you have a thick paste. Apply all over a clean face and lie down and let dry for about 15 minutes. Rinse well with tepid water and a washcloth.
So, how'd it go? Which recipe did you make, or what DIY beauty recipe do you use for your face (or body, or hair)? I personally tried the simple banana facial, applied just honey to my face and also tried a banana + honey mask, and all felt fantastic (if a little messy)! It smelled great, too. :)
If you liked these recipes, share them on Twitter, Facebook, or pin them up on Pinterest!