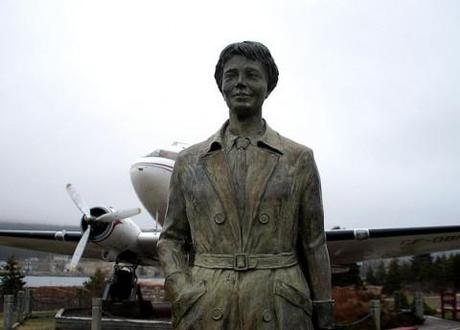 The Amelia Earhart memorial. Photocredit: joannapoe
It's 75 years since aviator Amelia Earhart and her navigator Fred Noonan disappeared over the Pacific in a Puck-like attempt to put a girdle round the earth. Hillary Clinton, US Secretary of State, has announced that new evidence might help to solve the mystery of where her remains lie, as a photograph taken by a British soldier in October 1937 seems to indicate parts of a plane sticking out of the water just by a little Pacific island called Nikumaroro, reported The Daily Beast. The general belief is that Earhart ran out of fuel and crashed.
The International Group for Historic Aircraft Recovery (yes! it exists! and its acronym is TIGHAR! Hear them ROAR!) will be carrying out the search in July, which will cost $500,000.
So what's Hillary Clinton got to do with it? Well, said The Washington Post, she's a big fan of Earhart, who "embodied the spirit of an America coming of age and increasingly confident, ready to lead in a quite uncertain and dangerous world. She gave people hope and she inspired them to dream bigger and bolder. When she took off on that historic journey, she carried the aspirations of our entire country with her," said Clinton, adding, "Wow. This is an exciting day. We haven't had an event quite like this one before and that's what I love about it." Gawker advised Hillary to "Play it cool."  Vanity Fair added that Clinton "really should be too busy for this," adding that in any case they'd recently bumped into Earhart as she was lost outside "one of several dozen interchangeable and protean West Village Marc Jacobs stores."
So what happened to her? Come off it, she's with Lord Lucan and Shergar, says Periscope. But The Daily Beast ran through some of the best theories about what happened to Earhart: that she was a spy, used as a Trojan horse by the US. That she was captured and imprisoned by the Japanese. That she lived under the alias of banker Irene Bolam until her death in 1982. That she was stranded (a skeleton was found on Nikumaroro), and her remains carried off by "giant coconut crabs." That she was abducted by aliens. More prosaically, that Fred Noonan was drunk and couldn't operate the controls. She also might have been forced to broadcast Japanese propaganda under the name "Tokyo Rose", as well as possibly eloping with Noonan to escape her fane. So which was it? Will we ever know?
What are the chances? Some weren't so optimistic about the whole thing. Fred McClellan, owner of McClellan Aircraft Maintenance, was quoted on Mlive: "Well, I'm not sure they're going to find anything. I think it's premature. There's a lot of ocean out there and a lot of things that happened. It's been so many years."