Dr. Eowyn:
The Secret Service, an elite corps of men and women sworn to take a bullet for the president, is in disarray.

Reportedly, the Department of Homeland Security, too, is in disarray. (See Washington Post.)

The latest is a survey of active military service members which found that a majority (more than 70%) oppose combat "boots on the ground" in Iraq, not because they don't want to fight, but because they have grave doubts about their commander in chief.

All signs of an administration that is falling apart at the seams.

Originally posted on Consortium of Defense Analysts:
A fascinating survey by Military Times shows that as many as 70% of the military's rank and file are opposed to deploying U.S. combat troops to Iraq and Syria to combat the scourge of the Islamic State (IS) or ISIL (Islamic State of Iraq and Levant) — in spite of recommendations by top military leaders, including Gen. Martin Dempsey, the chairman of the Joint Chiefs of Staff. (See "U.S. military does not support Commander-In-Chief Barack Obama")
That is not because active members of the U.S. military are shirking their duty. Rather, their opposition to "boots on the ground" in Iraq is due to their doubts about their commander in chief, President Barack Obama.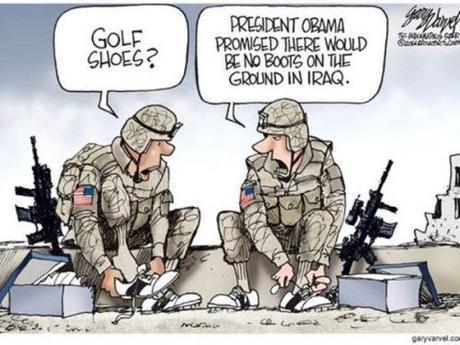 Andrew Tilghman, et al., report for Military Times, Sept. 29, 2014, that as the tide of war rises again in the Middle East, the military's rank and file are mostly opposed to expanding…
View original 1,421 more words