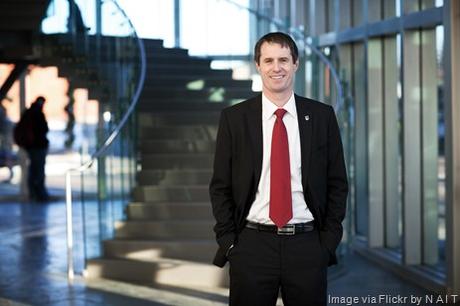 We are living in a new generation of business, where customers drive the experience, and highly engaged employees are required to keep up with customer expectations. Traditional business leadership practices, including autocratic, reactive, and narcissistic, aren't good enough. Over 16 percent of workers are still actively disengaged, and half have left at least one job because they hated their boss.
We have all heard the examples of the great new company cultures, popularized by Google, Zappos, and Facebook, which seem to imply that company perks are the secret to success. Of course, these are great, but they don't happen without enlightened leadership coming first. I believe that business cultures are a function of people and leadership, more than programs.
As a business advisor, I'm always looking for guidance on leadership practices that work, and I was impressed with the classic book, "The Leadership Mind Switch," by D. A. Benton and Kylie Wright-Ford. Their experience as executive coaches and entrepreneurs gives real credibility to their assessment of some new leadership approaches that are required in business today.
In my view, every aspiring business leader and entrepreneur needs to understand their seven leadership initiatives, as summarized and paraphrased here:
True blue: stay trustworthy beyond reproach. Trust is still at the top of the required list in a leader. New leaders need to remember that trust works two ways – you need to be trusted so people will choose to follow you, and you need to be able to trust people you work with. "True blue" is a step beyond trust, adding authenticity and transparency.
Kindly confident: project and inspire confidence. Leaders today must always project confidence and help others develop confidence, courage, and curiosity. Everyone needs to take the necessary action, despite their fears, to continuously explore new ideas. Combining courage and curiosity creates a confident unstoppable leader and team.
Enlightened: open your mind and constantly learn. Enlightenment refers to an interest in staying informed and approaching every interaction free of prejudice. An effective leader is intellectually curious, constantly learning, and genuinely in pursuit of wisdom about people, places, technologies, scientific advances, economies and cultures.
Tenacious: be persistent in your pursuits. True leaders are tenacious, determined, and self-starting. They can take a tough situation and fix it. They might retrench, reiterate, reconvene, or pivot more often than others, but they keep at it, instead of stalling when something becomes difficult. They know that nothing significant happens with little effort.
Be uber-communicative: use all channels to connect. Effective communication is critically important for a leader – for two purposes; to deliver the right message, and to establish a common understanding of the message by everyone. Assuring mindshare and connection is the new challenge is this world of distractions and multitasking.
Be dynamic: enable change in yourself and others. Dynamic leadership refers to an energy or force that is spirited and magnetic. Leaders must continuously change and advance, with behaviors that require substance as well as style. More importantly, dynamic leaders always support individuals, and enable others to reach their goals.
Be playful: have fun and try new things. Increasingly, as your work and personal lives blend into each other, it is important to bring levity into the workplace, while making it enjoyable for others to be around you. Learning to be more flexible in your thought processes and actions will get you one step closer to a full leadership mind switch.
Compared to what I most often see today, these approaches represent a "leadership mind switch" in the way entrepreneurs need to think about their behaviors to generate the level of employee engagement required to keep up with rapid market changes and customer demands.