Sparkling beaches, majestic national parks, dramatic mountains – summer brings out nature's glory and takes it to a stunning new level! Make the most of this amazing season and look stylish while you're at it with these seven must-have fine jewelry pieces.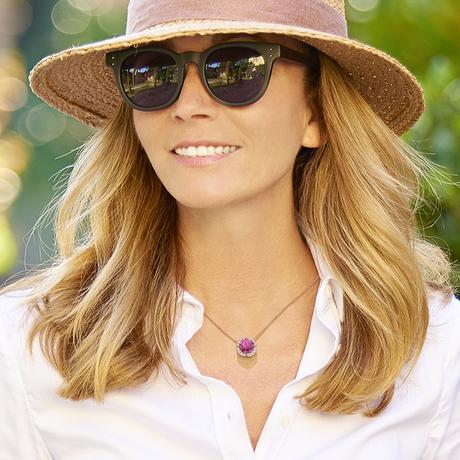 Citrine Grapevine Earrings

With winter comes the snow, and of course clothes in dark and muted tones. But summer is a great time to pack away the boring and bring out some vibrancy. We think these Citrine earrings do the job fabulously well, thanks to their honey-yellow brilliance. The grapevine pattern adds charm and movement, while coffee diamonds seamlessly blend in to create a fun-n-flirty piece perfect to soak up the summer sun.

Peridot Tennis Bracelet

Now that your hands are out of the leather gloves, why not treat them to the freshness of an earthy green beauty? Peridots also have a golden undertone which makes them visually enticing, and their combination with diamonds looks resplendent. With this classic tennis bracelet, you get to flaunt a statement jewelry piece that's perfectly in sync with the lush nature that surrounds you.

Golden & White South Sea Pearl Drop Earrings

Summer always brings to mind images of oversized hats, chic sunglasses and the vast ocean under a clear blue sky. So it only makes sense to sport a gem that comes from the sea, right? The jewel you're looking at is famed for being the largest saltwater cultured pearl available today. It also has a satiny luster that's sought-after across the word. With these drop earrings you get to make the most of South Sea pearls in two colors – golden and white, embedded in a design that's chic and breezy.

Vintage Style Aquamarine Cocktail Ring

Since we're speaking of the cool blue vibes of the sea that is synonymous with summertime fun, we couldn't possibly have missed out on the very enticing Aquamarine. To showcase its charm this season, we suggest you opt for a piece that's bold and uncluttered, just like this cocktail ring. The design puts the spotlight on the magnificence of the gem, while the dainty metal detailing on the gallery infuses an old-world charm. Its liveliness perfectly complements the weather.

Pink Tourmaline Clover Pendant

Looking as fresh as a blooming flower is absolutely easy when you own the very pretty tourmaline. Here it is set in a lovely clover frame and is surrounded by a halo of glittering diamonds. Whether you're out exploring nature or having fun at a music festival, this pendant will match your mood with its vivacity. So move over dull coats, mittens and woolen socks, it's time to go vivid pink.

Dancing Ruby Solitaire Earrings

What's better than rubies? Rubies that dance! Well, almost : ) This gorgeous pair has always been popular thanks to its beautiful design that makes the gems look like they are floating in the center of the open tulip frames. So if you want to brighten and liven up your look this summer (and all other days of the year), we reckon you should definitely get your hands on these precious earrings.

Cushion Amethyst Crossover Ring

Just like purple orchids, an amethyst always catches the eye with its sheer beauty and intense purple hue. And if you believe that summer is all about making the most of vibrant colors, then you simply can't go wrong with this crossover ring. The GIA certified amethyst is bold and sparkling, and will draw attention even when you wear it for a romantic dinner date. Be it day or night, this dramatic piece will always make you shine.