Howdy to all of our faithful readers! We realize that our Weekly Round Up is long over-due so we've put together something very special for you this time. In this week's Round Up, we will show you everything you missed out on! The Bathroom industry has been extremely exciting lately and we'd like to show you why! Read on to learn about the latest trends, new styles, and also something to give you a laugh! After all it is Friday the 13th! Lighten up!
Watch 7 of the most hilarious bathroom videos from across the World Wide Web! There's a video of a Bengal Tiger walking into a public restroom. The reaction of these individuals is priceless! Also, check out a spooky prank that has bathroom goers wondering what is inside of a suitcase that moves on its own!
Click on the title link above to jump to our blog post and watch all of these 7 Pranks. We guarantee you will be laughing your socks off! Share a good laugh with a friend!

What the Heck Are Transitional Bathroom Vanities, Anyway?
In case you haven't caught wind of this developing trend, we're to fill you in. Many individuals prefer Antique sensibilities while others tend to favor contemporary designs. We'll what about all of those who are in between? Transitional Bathroom Vanities fill in the void that has been evident in the industry for years! Find out how you can update your master bathroom without having to feel like you're living in the Jetson's cartoon!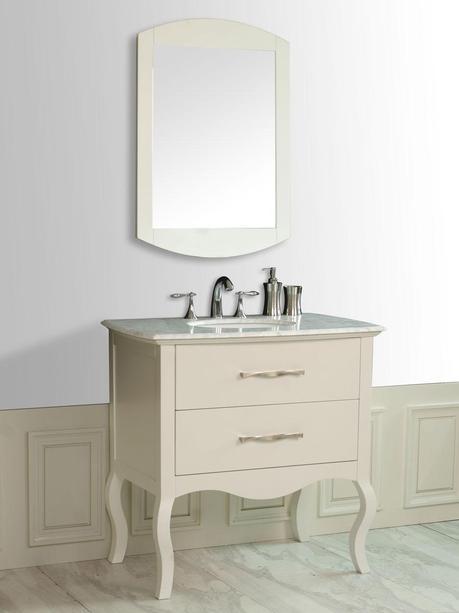 The Elizabeth Single Vanity welds Vintage and Contemporary aesthetics. Click here for More Info.
Transitional bathrooms are an emerging style that will give you a whole new option when approaching a home remodeling project. Become a trend setter in your neighborhood by learning all of the details of this innovative category. Don't know the difference between Modern & Vintage anyway? Don't worry, we'll catch you up on those terms too so that you can become a design expert! Click on the title link above to read this post!
Bathroom Design Trends Reveal a Shift toward Sophisticated Neutrals
Choosing the right color for your bathroom layout can be an irksome task that can cause you to lose sleep. "Should I go with a loud vibrant color or something more subtle and natural?" Homeowners have begun to show a tendency to elect soft neutrals for their bathrooms as a result of an interesting change in real estate behavior. Find out what is leading homeowners to opt for natural hues in lieu of an interesting development related to the National Economy & the Real Estate Market. Read the full post by clicking on link above!
Simple yet sophisticated. (via: Wikipedia)
Be sure to check out our End of Summer Sale as we make room for next season! Hurry, because these prices won't last long! Click here to view our Bathroom Vanities.
About this Post
Cheryl Khan is an interior designer and freelancer who wrote this Weekly Round Up on behalf of Tradewinds Imports. Cheryl believes that staying at the cusp of innovation is the key to creating amazing personal spaces for clients. Reading and researching about the latest new products and designs is what keeps her well-informed, making her a qualified consultant for your next home remodeling project!