Dan Harmon was supposed to rescue Community this season.  He was fired after the third season, and the guys NBC and Sony Pictures Television brought in from Happy Endings to replace him ended up doing a very poor impression of him.  So, star Joel McHale rallied the cast to lobby the network to bring Harmon back.  The network caved, but possibly regretted it immediately since in a cover page story in THR detailing the behind the scenes drama Harmon admitted that as they prepared to shoot the season 5 premiere he had already fallen behind schedule and pretty much hadn't changed.  Plus, he was in the middle of some mild controversy due to his less-than-kind description of the season 4 episodes.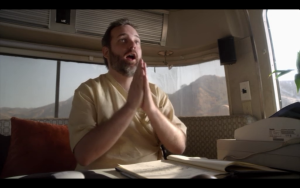 Harmon was like a child parents punish by sending him to his room, but then his dad sneaks in to give him that candy bar he really wanted (don't tell mom!) thus teaching the kid nothing, really.
NBC has finally decided the headache simply isn't worth it since although Harmon's return did spur a definite creative rebound for the show this season the ratings were actually worse than season 4, even after you account for DVR viewing.  If you want specifics, season 5 "averaged a 1.1 in the adults 18-49 demo and 3 million total viewers, both off slightly vs. season four. With DVR, the series modestly grew to a 1.5 and 3.7 million total viewers."
The hope was that a syndication deal with Comedy Central as well as an exclusive streaming pact with Hulu would boost ratings for new episodes, similar to what the TBS re-runs have done for Big Bang Theory.  Instead, Comedy Central seemed to go out of their way to bury the fact that they were now airing re-runs of Community (usually late at night on Fridays), and who the heck knows about Hulu since they, like Netflix, do not release viewing figures.
Yet everyone involved with Community, having been improbably renewed so many times when everyone assumed they would be canceled, gave off the impression they felt invincible, fated to fulfill their #6SeasonsAndAMovie mantra.  In March, TVGuide even cited the standard unnamed insider sources who claimed that NBC and Sony were so confident the show would return for a 6th season they were starting to consider potential directors for a wrap-up film.  At the time, they said if NBC canceled Community Sony would aggressively shop a sixth and presumably final season to anyone who'd listen, particularly Hulu since they have the digital rights.
Well, NBC has canceled the show now.  It seems fitting the final scene we might ever see is Dan Harmon using the season 5 finale closing credits stinger to flip a giant, smug middle finger at NBC by enlisting some all-star friends to cameo for a sizzle reel of (fake) new shows and assuring Communtiy fans the show would be back after NBC's batch of new comedies inevitably failed:
That's not to suggest NBC executives are so thin-skinned as to be offended by a show mocking the hand that feeds it.  The Simpsons have done that for literal decades with their mockery of Fox, John Stewart frequently takes swipes at Comedy Central shows he doesn't like (or maybe that was just specific to Mind of Mencia), and 30 Rock's entire premise was tied to frequent satirization of NBC, GE, and whatever other corporate overlords came into play over the course of the show.  It's just that it really helps if your show is a ratings and/or critical hit.
Now begins the inevitable fan campaigns to save the show as well as various stories spread across the internet about Sony Pictures Television approaching new media companies like Netflix and Hulu for another season.  Right now, Community has fallen 3 episodes short of reaching the 100 plateau, but they have exceeded the coveted 88 minimum.  Remember, though, Donald Glover already left to set up his own show at FX, Chevy Chase's replacement Jonathan Banks probably wouldn't be back for a 6th season either way due to his role on the Breaking Bad spin-off Better Cal Saul, John Oliver is likely similarly unavailable due to his new HBO show, and Allison Brie is now producing a single-camera sitcom about elementary school teachers for TV Land.
That's not to say there's no hope, but there are barriers and serious questions as to how much story is left to tell about a group of students who have now completed 5 years at a community college.  If this is the end, then be thankful Community just happened to come along at such a low point in NBC's history that it was willing to keep bringing it back because what the heck else did they have that was so hot.  That hasn't completely changed since not a single one of the new comedies they launched last fall has survived to a second season, though mid-season replacement comedy About a Boy has.  But we got 5 seasons of an impossibly wacky show which gave us paintball (maybe even too much paintball), clip shows that weren't actually clip shows, a musical parody of Glee, a twisted homage to stop-go animation Christmas specials, a similarly twisted homage to G.I. Joe, and introduced us to future comedy all-stars like Allison Brie, Donald Glover, and Gillian Jacobs.  Plus, this happened:
It was cool.  Cool, cool, cool.
Source: THR