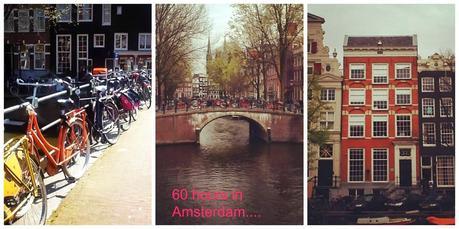 In April my family & I took a short break in Amsterdam....I shared some photos here & promised to write more about our trip. Fast forward to July & I still haven't done that! So here goes....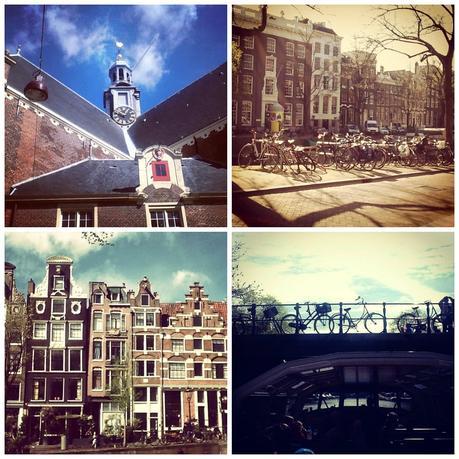 We flew

....from London Luton via Easyjet to Amsterdam Schiphol Airport, the flight cost just under £200 for 2 adults & 2 children and took only 45 minutes. We took the train from the airport into Amsterdam which took around 20 minutes....trains go regularly & we bought our tickets from the ticket machine at Schiphol, all very straightforward.
We stayed.... at The Keizersgracht apartment via Kid and Coe....
this was a fabulous & perfect location, a short walk (no more than 10 mins) from Centraal Station, very central but also very quiet at night.
The apartment occupies the 3rd & 4th floors of an 18th century canal house....I cannot recommend it highly enough, the apartment was comfortable as well as beautiful. It is just one street & about 5 minutes away from Anne Frank's House.


We visited

....
The Rijksmuseum....fabulous, recently refurbished, we all loved it. My children are 8 & 13....I could have spent longer there but we chose specific artists & areas to see & probably took 2 hours in all, just about the right time with my children. If you are traveling with children, you must visit the electronic fountains in the rose garden outside the museum, this would be even more fun on a hot summer's day!
We visited in school holidays & it was busy but we hadn't pre-booked our tickets & still got in immediately.
The Van Gogh Museum....I will be honest & didn't enjoy this quite as much as the Rijksmuseum, I was glad we went but it was extremely busy and I felt as though we had to keep moving the whole time we were there, there are always people waiting to view behind you, you certainly can't sit & enjoy the paintings.
We pre-booked our tickets on the morning of our visit, there were only a couple of time-slots available - that suited us but I would advising pre-booking before you arrive if you are traveling over the summer.
Both the above museums are located on Museumplein, it takes 5-10 minutes to walk from one to another & it's a good place to stop for lunch, there are cafes there. There are also the most beautiful cherry blossom trees & the huge IAmsterdam letters which are very popular for photo opportunities.
The Anne Frank House & Museum....I had visited before on a school trip some years ago but this was the one place that I would have been disappointed not to get into & so I booked the tickets a few weeks before our visit - it is very popular, there is literally a queue here all day long. If you pre-book, you get to go in through a seperate entrance, there is no queuing. We had evening tickets but as the windows are blacked out, it makes no difference what time of day you go.
We all felt this was our favorite place in Amsterdam, the exhibition is brilliantly done & it is an educational, interesting & emotional visit.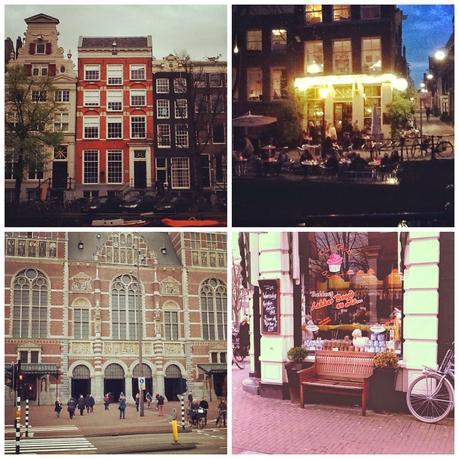 Getting around

....we bought a 24 hour canal boat pass which lasted from lunchtime one day until lunchtime the next....it's a lovely way to travel, a good way to see the city & get your bearings & it is an efficient & cheap way to get from one tourist spot to another. There are several routes which cover all the main tourist sites between them - just make sure you are on the right color line. We did use the tram once - you buy tickets on board & it is not expensive at all.
We also walked a lot, I have a pretty good sense of direction & central Amsterdam is easy to negotiate, it's fairly compact.


Eating

....we love to shop at local markets/bakeries etc and our Keizersgracht location was perfect for this. We had a great bakery at the corner of our street & at the other end was Haarlemmerstraat which we had been told was great for foodies. We went to our local organic supermarket Marqt which was fabulous....it wasn't cheap but the quality, freshness & choice was fantastic. We bought ingredients for dinner one night from here & lunch on another day.
We had been told that we had to eat apple pie whilst in Amsterdam & had been informed that the best pie in the city was at Winkel....luckily for us, Winkel was to be found a stone's throw away, just behind our apartment. And the pie was sooooo good! It's popular but we visited for both an early lunch & a late night post-dinner piece of pie & got a table straightaway.


Map

....we used Family Travel Delights City Treasure Map and found it very handy, especially if you are traveling with children.


My advice....


1. Everyone was super-friendly, Amsterdam has a very welcoming atmosphere, we loved it.
2. There are cafes everywhere....lots of very good coffee.
3. Try the apple pie, especially at Winkel.
4. If you don't have time to visit anywhere else, go to the Anne Frank House....it's a really special experience.
5. Walk as much as you can & remember to look up, the houses are gorgeous & the architecture quite unique.
6. The city is interesting, cosmopolitan, vibrant & fun....we all said we couldn't wait to go back.
I think I worked out we had 60 hours in the city....we were in need of a break & Amsterdam gave us just what we needed, time to relax & plenty to see. We wanted to sightsee but also to be able to take time to sit, eat & have coffee etc....and we managed to do all of that.