Have you read our post on the healthy alternatives for the unhealthy foods? In today's post I bring to you the simple ways by which you can offer junk foods to your little one – but in our way.
We often find ourselves reaching for unhealthy food. Simplicity of preparation and addictive taste make junk food irresistible. Children love it and so do adults.
If you and your family is used to eating unhealthy food, it won't be easy to suddenly start eating healthy. But you can convert unhealthy food to healthy food with a little knowledge and very little efforts.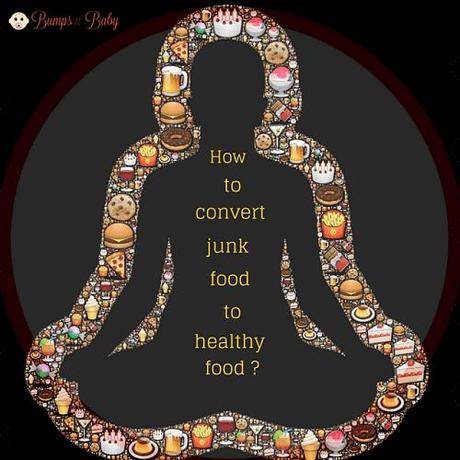 6 Junk foods for your child in a healthy way:
Healthy eating habits ensure adequate nutrition and health besides reducing your risk of many chronic diseases.
Here are a few ways to convert unhealthy food to healthy food that your family will enjoy and relish along with welcoming good health.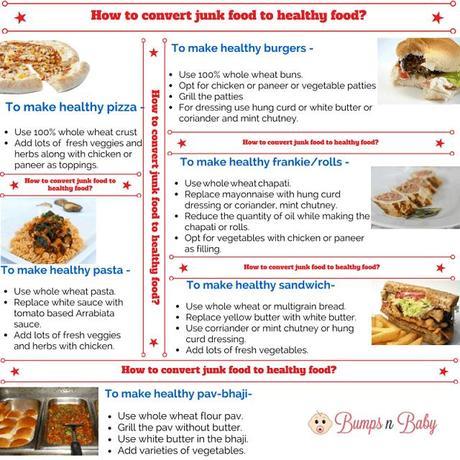 #1. Pizza
Almost everyone loves pizza. It's a winner in parties and treats and I like it too.
Pizza is considered unhealthy because it's crust is made of white flour, which is not at all healthy as it is highly processed.
However we can transform not so healthy pizza into a super healthy pizza by:
Replace the white flour crust with 100% whole wheat crust
Adding lots of fresh veggies and herbs along with chicken or paneer as toppings
#2.  Burgers
Whenever we think of burgers, our mouth starts watering. A few of my friends find it iirresistible due to its amazing taste with all the mayonnaise.
However burgers are extremely unhealthy owing to the buns made of white flour. The fried patty and mayonnaise makes it overloaded with saturated fats.
We can make it super healthy without compromising on taste by:
Replacing the white flour buns with 100% whole wheat buns
Grilling the patties instead of frying them and opt for chicken, paneer or vegetable patties
Replacing mayonnaise with hung curd dressing, white butter or coriander and mint chutney.
#3. Pasta
Pasta is my all-time favorite. But as we know it is not on a very healthy side as it made of white flour. And the cheesy white sauce, which I love, is again made of white flour.
However this does not stop me from enjoying it as I choose to make it healthy and nutritious by:
Replacing pasta made of white flour with whole wheat pasta
Replacing white sauce with tomato based Arrabiata sauce
Adding lots of fresh veggies and herbs with chicken
#4. White bread sandwich
Sandwiches are easy to make and common breakfast in most of the houses. There are varieties of sandwiches available.
Most of the people like white bread sandwich with yummy but not so healthy yellow butter which is high in fats and salt.
However we can make these sandwiches super healthy and mouth-watering by:
Replacing white bread with whole wheat or multigrain bread
Replacing yellow butter with white butter
Replacing mayonnaise or fat rich sandwich spread with coriander, mint chutney or hung curd dressing
Adding lots of fresh vegetables
#5. Frankies or Rolls
 Frankies or rolls are available in almost every market street. They are superb while you are shopping and feel hungry 
They taste really yummy but again the quantity of oil and mayonnaise that goes into it makes it super rich in unhealthy fats. To top it all, the roll base or chapatti used is again made of white flour.
But making these frankies or rolls healthy is super easy without compromising on taste :
Replace white flour chapatti with whole wheat chapatti
Replace mayonnaise with hung curd dressing or coriander, mint chutney
Reduce the quantity of oil used while making the chapatti or roll base
Opt for vegetables with chicken or paneer filling
#6. Pav Bhaji
 Yes, you read it right!
Ask any Mumbaikar and they will vouch for Juhu chaupati's pav bhaji with lots of butter. My husband likes it too
Though pav bhaji is not unhealthy, we can make it healthier by:
Replacing white flour pav with whole wheat flour pav
Grilling the pav without butter instead of shallow frying them with lots of butter
Reducing the quantity of yellow butter or replacing it with white butter in the bhaji
Adding varieties of vegetables while making bhaji
These are a few ways in which I try to make my family eat healthy without giving upon their favorite food and taste.
Do try the above mentioned ways of making your family eat healthy too. You never know, they might like the healthier version of their favorite food more
How do you give junk foods to your toddler or kid? Please share with me in comments.