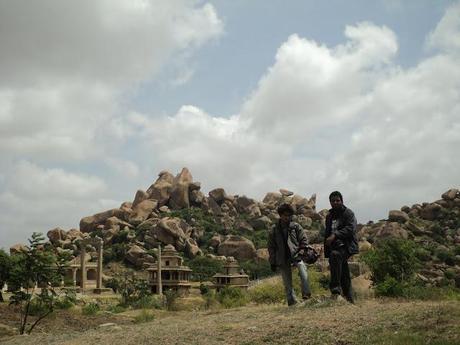 Place:
Vani vilas Sagar Dam & Chitradurga fort.
Distance:
(220+ 20) x 2 = 500kms.
Directions:
Bengaluru – Tumkur – Sira – Hiruyur – Chitradurga..
Particiapants:
Chetan(Zethu) > Karthik (Sp).
Bikes:
Avenger > Pulsar 150.
Previous visit:
Yelagiri.
Facebook Page:
Marikanive& Chitradurga Album.
IN LESS THAN 50 WORDS:
This was another excellent cruise to the ancient fort of Chitradurga & to the beautiful Vanivilas Dam. The cool weather made the fort tour a pleasant one. And Marikanive dam, well as usual like last time nothing short of heaven.
INTRO & PLAN:
Well as far as the planning goes, Zethu wanted to join us during the last visit but couldn't. So it was him who initiated this run and I gladly joined him. As the monsoons had begun, riding in the heavy rains is something we both wanted to do badly. After confirming the timings we crashed.
TIME: 23:00 hrs (19/6/2012)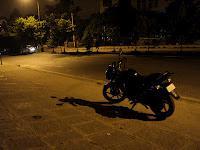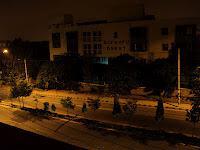 ASSEMBLE:
Yeah I was up at 04:00, had a cup of coffee, did a few push-ups & was all set for a long day on road. Left my home at 05:00 & cruised along the Outer Ring Road (ORR) at a slow pace to reach the BP petrol bunk on ORR. After a formal greeting we departed Bengaluru.
TIME: 05:30 hrs
RIDE 1: (Bengaluru – Tumkur – Sira – Hiryur – Chitradurga)
This was a 200-220kms stretch. So as we started off from Bengaluru, we cruised at a slow pace. We had a tea break on the highway and then set in and hit the road at decent pace to reach Tumkur. After reaching Tumkur we decided to skip breakfast, so we continued another 60-70kms to reach Sira. Took a small break and hit the road again to reach Hiryur, I kept a constant look out for the Arch, where we had to take a deviation to VaniVilas Dam. But unfortunately I couldn't spot it, so we continued further to reach Chitradurga.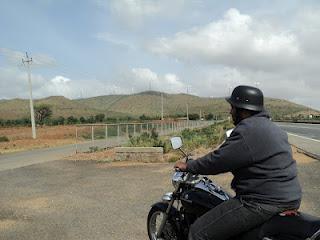 As we reached Chitradurga, the wind speed increased drastically & trust me balancing the bike became a challenge. We zoomed through the city and reached the fort entrance.  We parked our bike in front of the mighty fort and were all set for another tour.
TIME: 10:00 hrs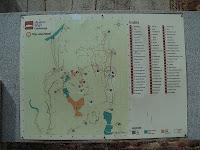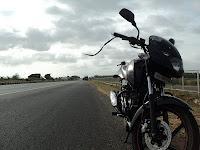 CHITRADURGA FORT:
Well this was my second visit to this huge fort, the last one being almost exactly 1 year back (23/6/2011). So this time we didn't need a guide to take us around the fort, also this saved us some money as well :)
So… like last time i'll be giving a fort tour like last time, hope you enjoy it, Cheers!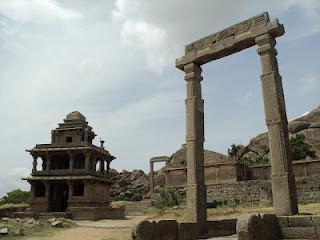 Ticket counter:If you don't have a ticket you wont be allowed to enter the fort: P, so a place of very much importance. If your pay Rs 5, you'll have an awesome ticket in your hand and now you shall enter the fort.
    1)Snake Inscription:This is right behind the ticket counter; the whole fort was built on this simple design.
    2)Gates:There are 7 main gates, and many secret passages. Each gate had several gun points to defend the fort.    3)Kamana Bagilu:The path way is at right angles to each other, it helped immensely to counter the enemy attacks as there were gun points on each of the corner. Oh yea it would also not allow the enemies to take a run up if they were planning to break the doors open with huge logs of wood or elephants.   4)Enne Kola (Oil Storage):This is at the entrance only, huge rock storage tank, oil used to be stored here. There is also a small tank next to it along with a cave for the guard. 
   5)Cannon ball shots:All along the fort wall you can observe the deep grooves due to the cannon balls. Hyder Ali who was the enemy had done some hard work for sure ha-ha!!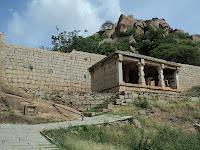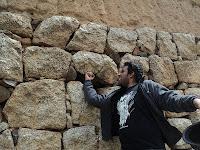 6)Bombe Mantapa:Place where they used to bury the animals which died in war , or during construction.
   7)Deer Drawing:Early men's inscription of a deer on a rock.
   8)Raja's Gym:The place where the King used to work out, the door of the gym was very small. This was because in case the enemies attack him at the gym, only one at a time could enter the place.
   9)Ancient art of Rock cutting:They used to make holes in the rock with a chisel, stuff wood into it, and allow water into the holes. The wood would expand and cut the rocks.
   10)Ganesha Temple:This temple was built for a reason, the huge boulder which is right behind it looks exactly like an elephant.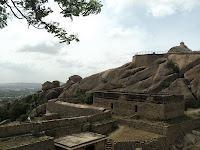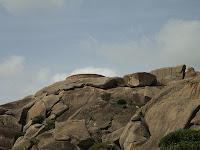 11)Weird Rock formations:The weird rocks & boulders to watch out for are Fish shaped , Ship shaped , Toad shaped , Alligator Shaped, Turtle Shaped, Shanku Shaped …
   12)Hidimba Temple:Hidimba the famous demon in the epic Mahabharata used to terrorize village people, staying on this hill. So a temple in his memories.
   13)Huge Swing & Lamp post:The goddess idol was placed on the swing during the festivals. And the king would climb up the lamp post and light the lamp.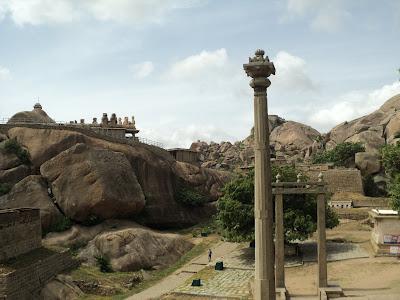 14)Ghee Storage:This is one of the main attractions of this place. If you had to be in the Chitradurga army you had to climb this hill, and as you did, they would start pouring ghee from the Ghee storage tank at the top. If you made it to the top well you were appointed in the army: D. ( Place where Ramchari played by Vishnuvardahan in Nagarahavu movie, falls off the cliff & commits suicide)   15)Bank & Safety Locker:Place where they used to mint coins. They used to bury the coins 15-20 feet below the ground; a small temple was constructed on the surface. Cannon ball shots are seen on the temples of this place too.   16)Akka Thangi Kola:Two small water bodies where the king's wives committed suicide once Hyder Ali won the war.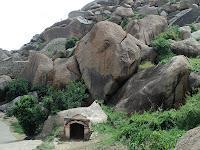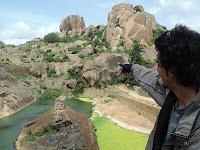 17)Temples:There are many temples which can be seen from Akka Thangi Kola ( the place where you are standing now :P), Some of them are Gopalswamy, Hanuman,Nandi,.Ganesha temples.
   18)Tanniru Doni:Place where cold water flows all through out the year. This is also the place where Obawa (wife of a guard) spots the first of Hyder Ali's men, so she went back to the Kindi and killed the others.
Ps:There is a fish inscription on a rock nearby, which suggested water's available nearby. Obawa's grave is also situated opposite to this place.19) Okkali Honda: Place where the town people use to play with colored water. Coloring of water was due to turmeric and other auyervedic ingredients.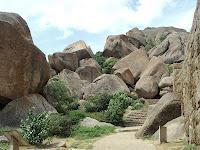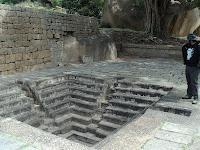 20) Obbavana kindi:Here is the main attraction of this place for all tourists.ThisPlace is where food & other groceries were brought to the soldiers from the from,But few of the soldiers leaked this info to Hyder Ali's men as it was the easiest way to invade the fort. Obawa whipped the soldiers at this place as only one could squeeze through.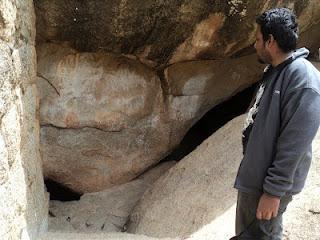 21)Gali Mantapa:This was the place where the king was worshipped during festivals. There's a huge swing           and a lamp post here.   22)Siddeshwara Temple:Nice ancient temple, where you can get a pooja done.   23)Murugha matha:This was a residential school for young kids of chitradurga, the interior of this place is just brilliant. The cooking place , study halls , dining halls etc..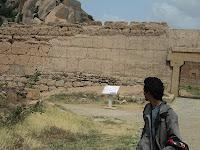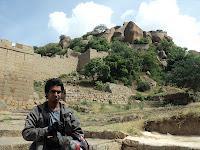 24)Pataabhisheka :

A huge platform where the king was given the pattaabhisheka, they used put gold and silver flowers, this was a common tradition during those days. This was also done if a person would live to see his 4th generation.(Thanks dad for this info)

   25)Monkey man:And you guys thought I forgot him eh , ha-ha… Introducing world's second fastest climber, man with the amazing skills to climb the fort walls, huge lamp posts mentioned earlier, the huge swing, the man who learnt his skills by observing monkeys – The Monkey Man (Kothi Raja)

 . During this visit, unfortunately he was recovering form a fracture so couldn't climb.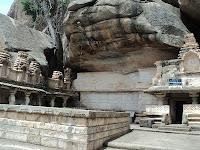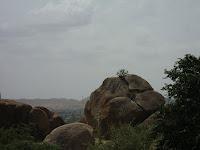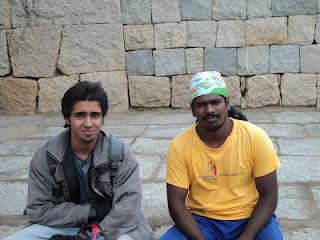 Well that was our view of this magnificent fort, hope you enjoyed it. The cool breeze made the tour superb. We fooled around the fort for a few more minutes & decided to leave Chitradurga.
TIME: 12:00 hrs
RIDE 2: (Chitradurga – Vani Vilas Sagara Dam)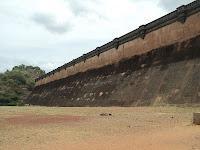 This was a good 60kms stretch. As we left Chitradurga, we cruised past the beautiful windmills and reached the highway. We continued for another 30kms to reach Hiryur. After reaching Hiryur we found that the Arch(our sign for the right deviation) had been pulled down, but fortunately we recognised the deviation and continued further, another 25kms to reach Marikaniva Dam.
TIME: 13:30 hrs
VANI VILAS SAGARA DAM: (Marikanive)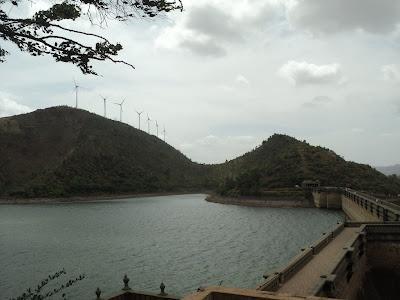 Alright I couldn't wait to get the first glimpse of this reservoir, over the huge bund that stood firmly in front of us. As we started climbing up the stairs I started jumping around in excitement, a few minutes latter down I was down with an ankle sprain. Damn it hurt badly, but we continued reach the top of the bund. Momentarily I forgot the pain, due to beauty that stood in front of me.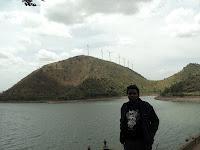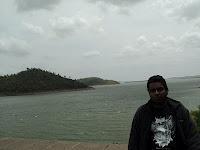 Limping across the entire bund, we found a neat spot to sit. We sat there for about an hour, sipping water and enjoying the cool breeze.

Vani vilas is one of the most beautiful reservoirs I've visited till date. After giving my ankle some time, it was a little better. So we decided to hit the road back to Bengaluru.

TIME: 14:30 hrs




RIDE 3: (Vani Vilas dam – Sira(lunch break) – Tumkur)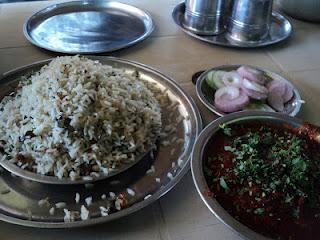 This was about 80-90kms stretch. As we left Marikanive, we did the next 25kms at a slow pace to reach back NH-4. Then on it was smooth sailing to reach Sira. (15:30 hrs)
At Sira we had the first meal of the day. But we ate really less, and decided to ht the road to Tumkur. After the light lunch we cruised along at a decent pace to reach Tumkur.
RIDE 4: (Tumkur – Bengaluru)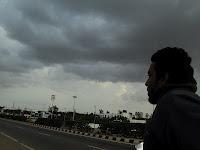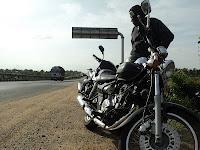 This was the last 70kms of this run. As we left Tumkur, dark clouds formed above us. We looked at each other in gave a thumbs up. Oh yeas, this was something we were waiting for the entire day. The clouds burst open & down came the rain. It was real fun riding in the heavy rains for a good 50kms to reach back Bengaluru.
TIME: 19:30 hrs
Ps:
As Zethu headed towards Malleswaram, I took the Outer Ring Road(ORR) and zoomed till Nayandhalli traffic junction. Then I put my bike's center stand, wiped my bike, took a nice nap & went back home fresh ha-ha !!:P
Until next time Cia \m/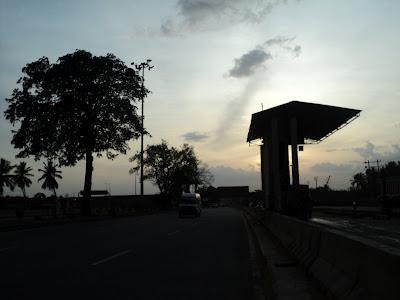 PICASA ALBUM:
MAPS:
View Larger Map