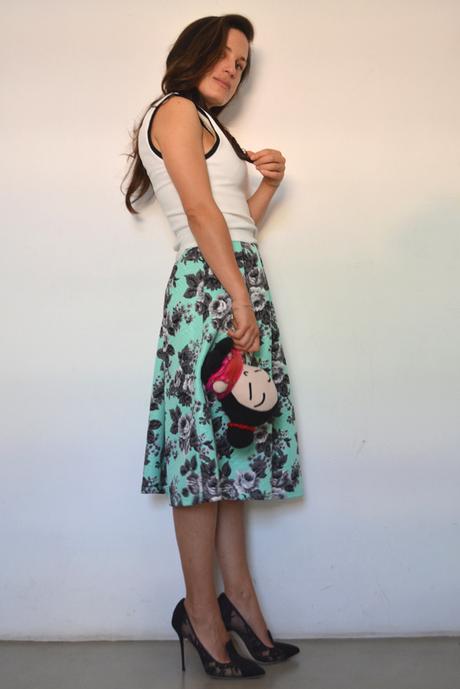 Everybody talk about it. The 50's inspired skirt trend is
">
"> of the most talked among trends: admired, copied and acclaimed this season.
">
">By the way, when Dior invented it, in 1947, he had in mind a New Look  thought for the aristocratic and refined women, who frequented his studio in those years.
">
">But the idea of ​​a silhouette, with a tight corset waist, soft on the hips and with a calf-length,  seems to still have a great appeal, season after season.
">
">The 50's inspired skirt has a retrò flavour , but can be declined in different ways.
">
">A carefree holiday style. The one shown by Stella Jean, with her typical batik fabric and African inspired prints. Who knows if she has been inspired by the Hollywood stars who used to wear it,
">
">in the 50s, returning from vacation in Mexico.
It could have a more dreamy and romantic allure, in a version made of tulle, which challenge you not to think about Grace Kelly in "La finestra sul Cortile" or Carrie in Sex and the City, for the most contemporary among us.I personally got lost many times looking for layers of tulle.
">
">It could simply be "tres chic" when you imagine Audrey in "Vacanze Romane" or in the incredibly luxurious proposals by  Esme Vie.
">
">The 50's retro skirt manages to be sensual and haunting, in the Vichy print and lace model wore of Brigitte Bardot.

">
">Often chosen for the best street style looks, it becomes an exercise in style on the most popular runway.
For Dolce & Gabbana is mystical and intriguing, like a golden mosaic of a Baroque church; with a liquid finishing for Dior; enriched with a metallic effect by Aquilano Rimondi; asymmetric and voluminous for Lanvin;
">
">British for Rochas.

">
">For every woman there is a skirt with a vintage feeling and a corolla silhoutte.

">
">You Just have to look for it.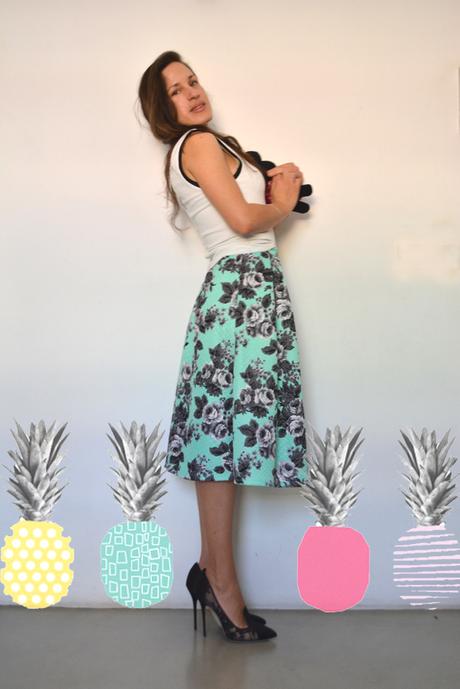 Some tips to choose yours:

">
">Length: If you are not tall – as I am, it's better you choose a model below the knee or not under the calf.
">
">
Fabric: should be slightly structured. Give the idea of ​​breadth and volume, yet not too stiff and awkward.
">
">Satin, lace and layers of tulle, cotton, leather and technological fabrics.
On the top: Oxford-style or denim shirts,  white or plain t-shirt and cropped top;
">
">short jackets or tops with a sporty finish.

">
">Shoes: decollete or heeled sandals, and only for the tall ones.

">
">Accessories: none.
And of course, I could not resist.
">
">I'm presenting you, the
">
"> 50s inspired skirt, I bought a year ago from Asos, and I had never experienced it until yesterday.
It's of course a #greeninspiration and it is the result of a survey I did here.
F
">
">loral print made of cotton on a mint green background.
It is more about an experiment than a real outfit.