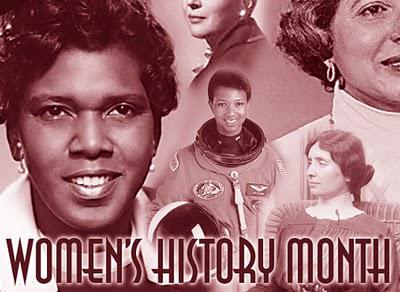 I'm embarrassed to admit that I didn't know March was
Women's History Month
until somebody emailed me an article called - you guessed it - 
50 Fascinating Facts for Women's History Month
. Chronicling amazing women suffragists, athletes, politicians, inventors and more from the past few centuries, this article is a good reminder that contrary to popular belief, the woman's role in history has
not
been a passive one!
Some
of the facts in the article surprised me, but almost
all
of them made me inexorably proud. As dumb as it sounds, I caught myself thinking "
We womenfolk are pretty dang amazing!
" several times while reading. 
Here are some random facts from the article (though I hope you'll go back and read it for yourself!):
Queen Victoria ruled one of the largest empires in the history of the world, at one point controlling land on nearly every continent.
Jane Addams was the first woman to be awarded the Nobel Peace Prize.
Upon her husband's death, Cherokee leader Nancy Ward took his place in a 1775 battle against the Creeks, and led the Cherokee to victory.
The first woman to run for U.S. president was Victoria Woodhull, who campaigned for the office in 1872 under the National Woman's Suffrage Association.
The first country to grant women the right to vote in the modern era was New Zealand in 1893.
On Nov. 26, 1916 birth control activist Margaret Sanger was arrested for distributing birth control information.
In 1903, Mary Anderson was granted a patent for the windshield wiper.
The first person to make the daring attempt to go over Niagara Falls in a wooden barrel was a woman.