Are you stuck trying to find right wedding entrance songs for your wedding reception? The entrance songs help set the mood and tone for your reception. First of all, you need to decide if you want traditional wedding reception entrance songs. Or would you rather have current Top 40 hits? Perhaps you want to mix it up a bit!
Next you have to find music that matches the theme of your wedding. Do you want your wedding entrance songs to consist of all country music? This, of course, will work if you are having a country-themed wedding. However, if you are having a fancy, white-tie wedding you may want to go with more traditional songs.
Are you stuck for the perfect wedding entrance ideas? It might seem overwhelming, but we are here to help! We have compiled a list of some of the best wedding entrance songs to help you choose!
Here Come Bride and Groom! – Best Intro Songs for Newlyweds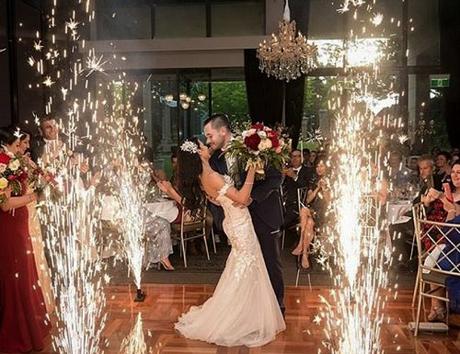 wedding-entrance-songs-bride-and-groom-ceremony-guests-emotiva.photo_.video-via-instagram.jpg', null)" class="icon-facebook wwm_socialshare_imagewrapper facebook_custom"> wedding-entrance-songs-bride-and-groom-ceremony-guests-emotiva.photo_.video-via-instagram.jpg', null)" >
Your entrance into the reception hall or venue is your first public appearance as a married couple. So, of course, you will want to choose epic entrance music to make the moment as memorable as possible.
You can choose a slow and romantic song or even upbeat song to set the tone for the rest of your reception. Either way, you want to make it special and meaningful. Whether you choose country first dance songs or the latest pop hits, your entrance song needs to make a statement about you as a couple.
For this reason, we have gathered a list of some of the most memorable couple entrance songs to help you decide:
10 Romantic and Dramatic Bride and Groom Entrance Songs:
"Can't Stop The Feeling" by Justin Timberlake
"Crazy In Love" by Beyonce ft. JAY-Z
"We Found Love" by Rihanna ft. Calvin Harris
"Marry You" by Bruno Mars
"Somebody Like You" by Keith Urban
"You Make My Dreams" by Hall and Oates
"Signed, Sealed, Delivered" by Stevie Wonder
"Best Day Of My Life" by American Authors
"Come Fly With Me" by Frank Sinatra
"The Way You Make Me Feel" by Michael Jackson

Now that you have some ideas for your wedding entrance song as a couple, let's talk about wedding party entrance songs! It's time to honor your bridal party, parents and special guests!
Meet the Groomsmen! – Best Men Fun Entrance Songs
No doubt, your groomsmen are an important part of your bridal party. They are your husband's best friends and family. And as men, they won't want to enter the reception hall to a romantic ballad or sappy chick song as would your bridesmaids. For your groomsmen, you want to select a song that embodies masculinity and strength. As well, it should have some sort of symbolism that ties them to your husband. Following are some of top wedding songs for groomsmen entrance:
Best Intro Songs For Groomsmen:
"Ain't That A Kick In The Head" by Dean Martin
"1999" by Prince
"Eye Of The Tiger" by Survivor
"Burning Down The House" by Talking Heads
"Hustlin'" by Rick Ross
"Yeah!" by Usher ft Lil Jon and Ludacris
"Let's Get It Started" by Black Eyed Peas
"SexyBack" by Justin Timberlake
"We Will Rock You" by Queen
"Me & My Gang" by Rascal Flatts
Look At Those Cute Bridesmaids — Upbeat Entrance Songs for Bridesmaids
Now let's get to your girls! You have chosen these girls to be your bridesmaids because they are special to you! From your sister to your bestie to your cousins, to your college roomie your bridesmaids play an important role in your life. So, of course, you want to honor them with fun wedding entrance songs.
Here you might choose a song that is meaningful to your bridesmaids, such as song that was popular in your childhood or college years. Of you might choose a fun, top 40 hit to get the party started. We have some great suggestion for bridesmaid wedding entrance songs:
Top Wedding Songs for Bridesmaids Entrance:
"Girls Just Wanna Have Fun" by Cyndi Lauper
"Here For The Party" by Gretchen Wilson
"Raise Your Glass" by Pink
"On Top Of The World" by Imagine Dragons
"Party In The USA" by Miley Cyrus
"Timber" by Pitbull ft Kesha
"Bang Bang" vy Jessie J, Ariana Grande & Nicki Minaj
"You Sexy Thing" by Hot Chocolate
"Let's Get Loud" by Jennifer Lopez
"Country Girl (Shake it For Me)" by Luke Bryan
Cheer Up Your Dear Guests — Grand Entrance Wedding Songs For Invitees
And now it's time to set the mood. Let's get the party started! You want to rally up your guests for the remainder of the reception. How about some hype songs to kick things off in style?
From top 40 to 80s hits to oldies but goodies, there are so many cheerful and fun wedding entrance songs to play for your guests. Again, you want these songs to have some special meaning that pertains to you and your husband. However, you need to take your guests into consideration. And most especially those honored guests who you will recognize at the reception. This could include your officiant, family members and other special people in your life.
The wedding ceremony itself is the most important part for you and your spouse. However, the wedding reception is meant to be a celebration for your guests and loved ones. So by all means, choose some upbeat wedding songs. Following are some suggestions of the best wedding entrance tunes for your honored guests:
Uplifting Wedding Entrance Music to Celebrate Your Guests:
"Who Let The Dogs Out" by Baha Men
"I'm Coming Out" by Diana Ross
"On The Floor" by Jennifer Lopez ft. Pitbull
"Everybody Have Fun Tonight" by Wang Chung
"Uptown Funk" by Bruno Mars
"Tequila" by The Champs
"Loveshack" by B-52s
"Shake YaTailfeather" by Nelly ft. Murphy Lee, P. Diddy
"Don't Stop Til You Get Enough" by Michael Jackson
"I Feel Good" by James Brown
Parents Deserves Our Honor – Good Parents Entrance Songs For Wedding
Of course you will want to honor your parents. They are an important part of your life and more than likely have contributed to planning your wedding. Suffice it to say you will to pay them homage during the reception.
From classic rock mother son wedding songs to ballads for that special mother-son dance, you probably have the perfect song in mind for that momentous occasion. But what about the entrance song for your mom and dad?
And we are sure that you have plenty of ideas for daddy daughter dance. From soft ballads to more modern hits, there is no end to the list of songs you can share with your father or father figure. But again, you need to find the perfect entrance song for your parents and the parents of your spouse. Here are some suggestions:
Special Wedding Entrance Songs for Parents:
"We Are Family" by Sister Sledge
"Beautiful Day" by U2
"It Takes Two" by Rob Base
"Walking On Sunshine" by Katrina & The Waves
"Love Train" by The O'Jays
"What A Wonderful World" by Louis Armstrong
"Angels" by Robbie Williams
"I Hope You Dance" by LeAnn Womack
"Sunshine of My Life" by Stevie Wonder
"Unforgettable" by Nat King Cole & Natalie Cole

Check out our site for everything involved in planning a wedding from creating you guest list to choosing a venue to list of wedding songs. We've got your covered so relax and enjoy the ride!
We hope that you have found our suggestions for wedding entrance songs to be helpful! Remember, that this is your special day to be shared with your loved ones so enjoy every moment!