You may want to make your vision of having a new body a reality though you know how hard it's to hit the gym? Working out on your own is certainly one thing, but sometimes it helps when you've someone else to yell at you in order to keep going even as you quietly sob while in the middle of a squat.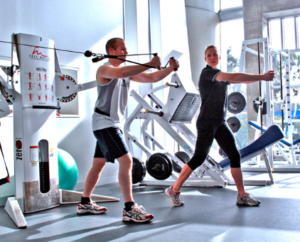 A good personal fitness trainer is knowledgeable about fitness equipment, diet and nutrition, besides being innovative & skillful in motivating his/her clients to attain their fitness goals.
However, having a famous fitness trainer may be a luxury to you if you aren't a celebrity with millions of dollars but don't let that hinder you from getting advice from them via their free content online.
Here are 5 top celebrity trainers and fitness experts to look out for and listen to! (In no particular order)
Tony Horton
Tony Horton is undoubtedly one of the-best known fitness trainers in America. He is one high energy trainer who makes his work outs engaging and fun for the listener. His training program can be used by In-home fitness enthusiasts, especially for those seeking muscle definition, fat loss, rapid weight loss, and lean bodies. He offers a complete line of fitness-products that are marketed through Beach Body. Tony's fitness programs are designed for persons of all ages, shapes, and various fitness levels.
He has more than 30 years of experience in the fitness industry, with clients ranging from movie stars, to recording artists, to the guy next door. Personal trainer for celebrities and recording artists like:
Musician Tom Petty,
Shirley MacLaine,
Annie Lennox,
Sean Connery,
Billy Idol,
Rob Lowe,
Bruce Springsteen,
Usher, and many others.
Even the military has benefitted from Tony Horton's fitness expertise. His acclaimed exercise techniques have featured in Men's Fitness Magazine.
Tony moved from Rhode Island, his hometown, to California in 1980, to become a personal trainer. He then created P90X, which was his breakout hit and one of the-most successful in-home work out programs ever.
Tony Horton rapidly built a successful fitness training career, and established ASH Fitness in Santa Monica. He then went on to establish an on-camera presence as a spokesman for Nordic Track. Tony focuses on exercises for to stay in shape, and to develop speed, flexibility and balance. His conditioning skills combined with unique motivational abilities are in high demand.
Greg O Gallagher
Since Gregory started his career several years ago, he has grown to become an amazing resource. His posts range from lifting to dieting to celebrity workouts, and anyone looking to get fitter and healthier can find something valuable. He launched himself into fame by-being the go to expert on flexible dieting, intermittent fasting and fitness instructor to many L.A. celebrities, including Matthew Morrison, Reese Witherspoon, and Sela Ward.
He believes in integrating different workout program set-ups, for long-term progress and has released several programs.
Among these are:
The Aggressive Fat Loss Program (if interested in leaning up quickly),
The Warrior Shredding Program (if you-want to lean up, yet at the same-time optimize strength and physique), and
The Greek God Program (to gain strength & great muscle-size and proportion) – his personal favorite.
Like many of the folks who are on this list, Greg ventured into the world of online coaching and training for both exercise and nutrition, and his clients get results. He shares his work-out and nutrition advice on his personal blog and youtube channel.
Greg's youtube video:
Greg has always been passionate about personal fitness, since he was a child and started a fitness training business at 18-years old. That said, it was not completely fulfilling for him as he needed something more, that goes beyond nutrition and fitness. It took him years of struggle and failure, until he finally found the light. The success of his brand came about when he learned to take on the mindset and outlook of fitness being more of a total lifestyle. He is also an internationally known motivational speaker and a great writer.
Jeff Cavaliere
Jeff Cavaliere is one of the top celebrity trainers and fitness experts in the country. He is also a renowned physical therapist. No stranger to the heavy demands of his performance-driven clients, Cavaliere excels in creating training programs that not only work, but that also produce unparalleled results in the shortest-time possible. Well regarded for his cutting-edge training techniques and quite fun, yet challenging delivery, it's easy to see why he's perhaps the most sought-after young fitness trainer in the country today.
Having spent 3-years as the head physical-therapist and strength-coach for the New York Mets MLB, Jeff is relied upon by his multiple professional athlete & celebrity clients to help get them in the best-shape of their lives, either for the scrutiny of the red carpet or for the long grueling season ahead. He is also the author of the "Teen-Sports Nutrition Blueprint" and a frequent contributor to the Men's Fitness Magazine.
Jeff also runs a very established and popular youtube base fitness channel. With almost 2 million subscribers, Jeff definitely is one of the few trusted online fitness trainers.
Greg Jackson
Greg Jackson's among the biggest names in Mixed Martial Arts' History & he's arguably one of-the premier coaches ever to-be involved in the-sport. With extensive experience in MMA, Greg Jackson knows that staying in weight-class is the main training area most fighters struggle with. Strong wrestling, good top-control & unorthodox striking form the-basis of the Jackson-Wink Mixed Martial Arts formula, which is topped off with a strong-dose of excellent strategic thinking.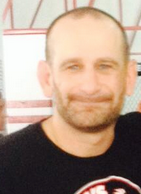 Greg Jackson well-renowned fitness / MMA trainer
Greg does coach some of the highest-caliber fighters the-sport has ever seen. This includes the likes of:
Holly Holm,
Rashad Evans,
George St. Pierre,
Jon Jones,
Diego Sanchez and
A roster of other World Extreme Cagefighting champions and UFC contenders to-name just a few.
With more than 20-years experience of-coaching athletes, with 6 becoming Champions and winning 3 World MMA Awards, no one knows more-about kicking ass than Jackson. He has published 2-books and even created his own Martial-Art for the sport, Gaidojutsu, in 1992 shortly after graduating from high school. The-art of Gaidojutsu, uses a blend of kickboxing, wrestling and Judo locks alongside grappling techniques & elements of BrazilianJu-jitsu. After the wide success of Gaidojutsu art, his training camp officially became purely MMA-oriented in 2000.
Jillian Michaels
If you desire to truly jump-start your weight-loss regimen & the 'tough love' approach can work for you, then consider celebrity-trainer Michaels. She is a great online fitness guru who gives her clients a strong-nudge & plenty of advice for getting-into shape. Michaels' training program contains a wide range of fitness exercises with a great emphasis on interval-cardio training as well as toning work outs. These involve kickboxing, Pilates, weight lifting, calisthenics & martial arts. Michaels has her own video work-out series, a newsletter with millions-of subscribers, a clothing line, and several books, including 'Unlimited.'
Jillian Michaels, who, once upon a-time, had a traumatic childhood and suffered verbal abuse by classmates as a 5′, 2″, 175-lbs eighth-grader, now has a long list of credentials and certifications, and has her seriously leaned physique plastered on billboards all over. Michaels got her big-break in 2005 when she starred as a fitness trainer on the NBC reality TV-show, 'The Biggest Loser.' Born in 1974 in Los Angeles, Michaels is now a high-profile personal trainer and life coach, and has managed to create her own fitness franchise.
A reason why you should listen to these top celebrity trainers
Without a doubt, these top celebrity trainers know what they are talking about. Most of them possess a degree in some kind of field pertaining to physiology or physical fitness.  They have received certifications in everything from fitness training, to diet & nutrition, to being a first-responder for ill or injured clients.  Apart from that, the experience they bring to table is highly valued and appreciated. Their names are now well-known brands, just like the celebrities they serve!