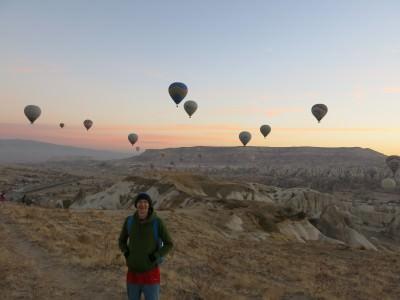 Sunrise in Goreme, Cappadocia, Turkey – my 5 tips.
I was sat in a bar in Baku, Azerbaijan in October 2013 and my mate Nial asked us if we would visit Turkey on this trip. The answer was a resounding NO. The reasons why we didn't plan to go there were predictable. Panny had already been to Turkey. I hadn't been but I didn't put it high on my list of places I want to see despite the fact my kid brother Danny (who I rarely mention on here!) told quite some interesting stories from his time in Turkey and the holiday he spent there. Tales of great hospitality and exciting activities. Somehow over the next month we changed our minds and decided to head to Turkey from Georgia.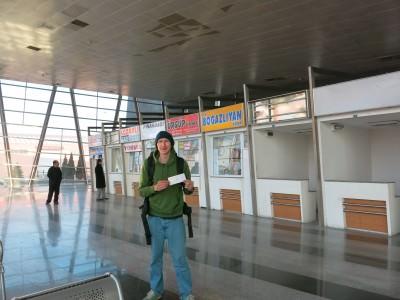 Boarding our bus to Cappadocia, Turkey.
It was mainly because we knew the Iran visa would be easier to get in Trabzon than Tbilisi or Yerevan. Plus Panny had a Jordan exit stamp that would more or less prove she had been to Israel. With all this in mind, for visa reasons we decided to fly into Istanbul and work our way over to Iran.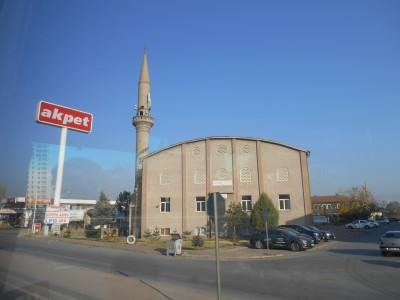 Overlanding it through Turkey…
This gave us some amazing added bonuses on route and the opportunity to see Ankara, Adana, Trabzon and Dogubayazit before crossing into Iran. From Ankara we got a bus to Goreme in Cappadocia (we actually did it the cheap and slow way and it took three buses in the end). At Goreme you can get up early to see the sunrise over the other worldly moonscapes of Cappadocia.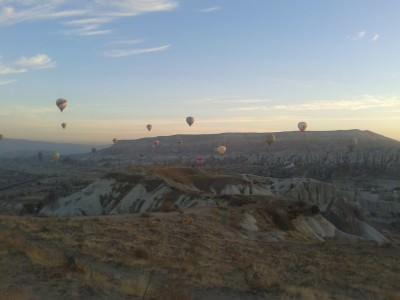 Sunrise in Goreme, Cappadocia.
We spent two nights in Goreme in the end staying in these cool Cave Villas carved into the rocks.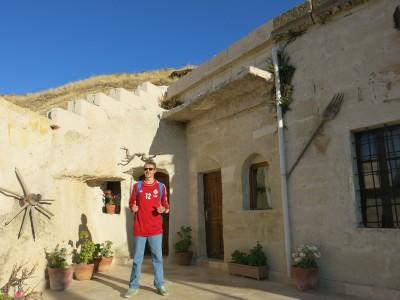 Staying in a Cave Villa in Goreme!
After the first night we decided we should get up early for sunrise over the magnificent landscapes. This meant a cold and dark 5am wake up call.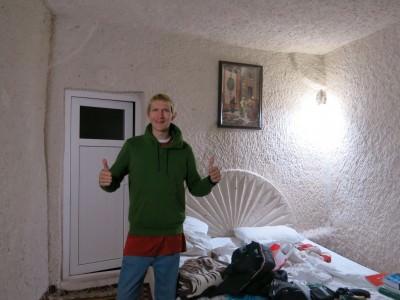 Our cosy Cave Villa for the night.
So we got up and headed up through the rising streets of Goreme and up to the sunrise viewing point.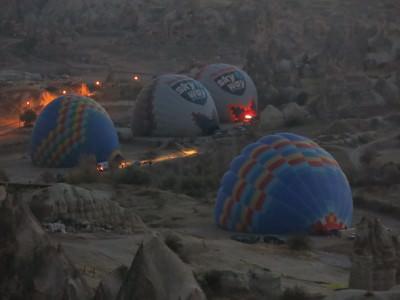 Hot air balloons blowing up in Goreme.
It was very cold so gloves, hats and coats were needed. We got to the viewing point at 6am which was too early but then it's better to be early than late especially for sunrise. Once there we just waited. As the sun began to come out we saw hot air balloons start to go up. The fire filled the air with light and Panny and I counted them as they rose into the air until we lost count.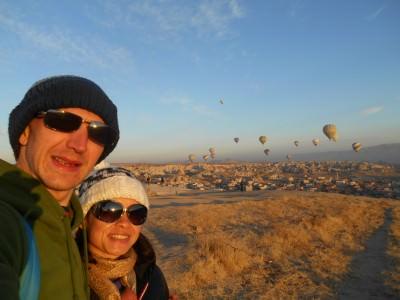 You'll lose count of the balloons.
There were probably about 70 of them. It's a very touristy thing to do in Cappadocia and you may well have heard of it. The thing is though, I'm still a budget backpacker and given the choice of seeing sunrise and hot air balloons from the FREE viewing point on the old terracotta or going up in a balloon. Here are my top 5 tips for watching sunrise over the magical moonscapes of Cappadocia, Turkey:
1. Stay in Goreme
Base yourself in Goreme not just to save money but to save time. The sunrise walk in Goreme to the view point is quick and easy, plus you don't need to drive anywhere to see the viewpoint. Some of the other towns and villages in Cappadocia are further out. We stayed in two separate "Cave Villas" in Goreme.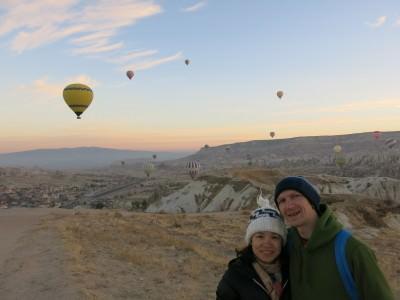 We stayed in Goreme for sunrise at Cappadocia.
2. Wrap up warm
Some people don't associate Turkey with being cold, but believe me it gets freezing in winter and snow appears in parts of it. Make sure you wrap up warm – scarves, hats, gloves, coats especially at 5am. After that of course it gets warmer but you'll need the layers at the start.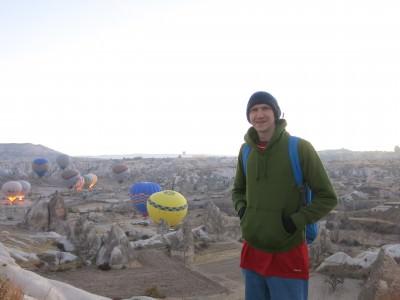 Wrap up warm!
3. Get up early
We got up at 5am in November for the walk up to the top. Obviously the time varies depending on season/weather but I recommend walking up in darkness (take a torch) so you don't miss it.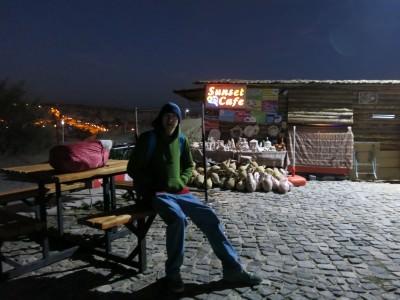 Up early at the viewpoint waiting for sunrise.
4. Bring a flask!
Nothing better than a hot cup of tea or coffee at the top watching the sunrise. Just amazing.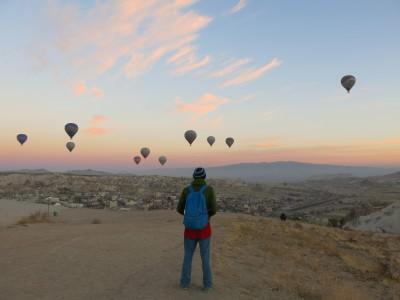 Admiring Cappadocia, Turkey.
5. Take lots of photos!!
The photos will look great – it's just an inspiring view. Here's a few more photos…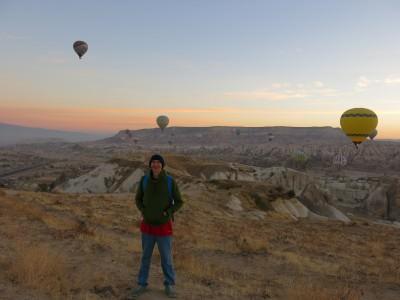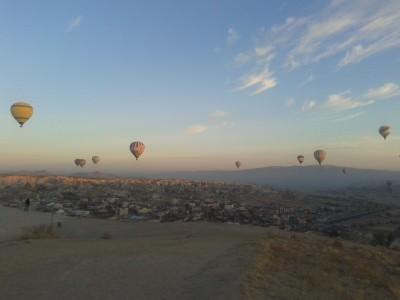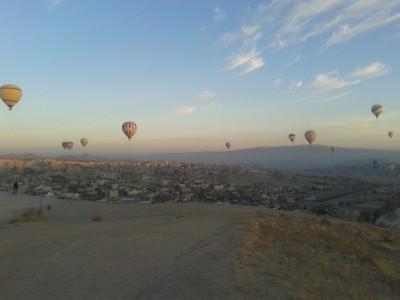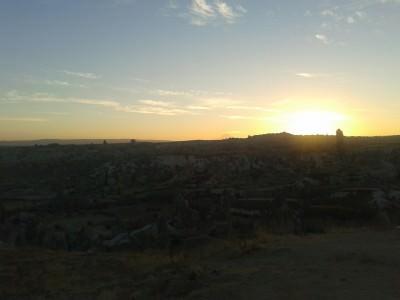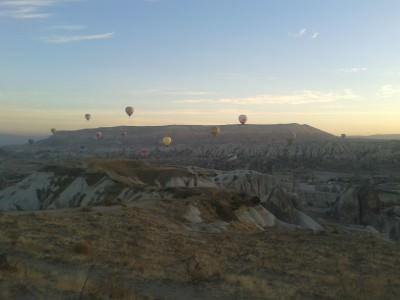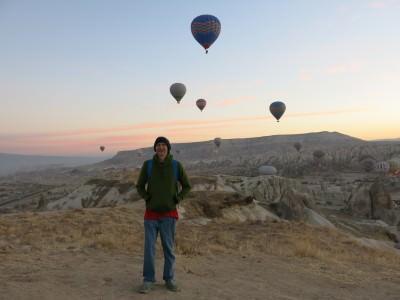 We totally recommend the sunrise viewpoint and the best thing is it is free! Incredible to wake up, short walk and then be faced with a view like this. Check out my videos and you'll realise why I recommend it so much:
Join 13,000 Monthly Readers! If you enjoyed this article and LOVE travel and SAVING money, get e-mail updates from Don't Stop Living – a lifestyle of travel! (It's Free)

Jonny