1.Wedding Photography Styles
There are various types of wedding photography. You're probably familiar with the traditional posed photography, where the photographer works off a shot list to direct the wedding party and capture classic shots. For those who want a more informal memento of their big day a documentary style of photography is a popular alternative. Generally, the photographer takes a more backseat approach and takes candid shots of the day, creating a story of unique and touching moments that gives an overall more natural style. Whichever photographer style you choose it is important to discuss it with your photographer beforehand, although they will usually work from a shot list, this is not set in stone and communicating well with your photographer will ensure you'll be 100% happy with the end result.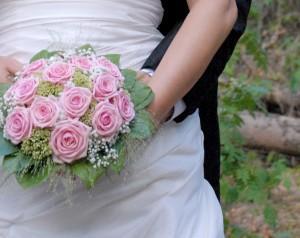 CC:image Source
2.Avoid Family Feuds
Your photographer is not Jeremy Kyle – chances are he doesn't want to know all the ins and outs of your family disputes. However it is important to mention if you have family members who really can't be stood next to each other in group shots to avoid any unwanted awkwardness on the day. It's also important that your photographer knows what your family members look like, especially for documentary style photos. For example, your workmate's four year old might look adorable in her party dress, but chances are you don't want tonnes of photos of her but hardly any of your aunties and uncles!
3.Custom Shots
With the rise in popularity of photo sharing apps such as Instagram and Pinterest it's so easy to come across some wonderfully unique wedding shots that you may want to recreate yourself. It's vital to tell your photographer these ideas before the wedding so he can add them to his shot list. Give your photographer copies of the photos that inspire you so he can get an idea of what result you are after, chances are he'll use his experience to tweak the shot to make it completely unique and special to you! Here are some brilliant wedding photo ideas that you may want to recreate yourself.
4.Special Items
Whether it's a quirky item that reflects something special for you as a couple, or a piece of jewelry given to you by someone who is no longer with you, these are the little touches that make your day extra special. Pointing these tiny details out to your photographer will make sure that they aren't overlooked in your photos. For a bit of inspiration on how to incorporate special items into your day, visit this site.
5.Surprises
If you're planning a first dance with a difference or rounding off the celebrations with a firework display it's a good idea to inform your photographer beforehand so that they aren't caught off guard and miss the surprise. This will also ensure that you photographer has plenty of time to asses the venue and pick the best spot to capture the moment.
Remember, don't be afraid to give your photographer any information you feel could be relevant even if it's something that hasn't be asked for. If you want something captured in a certain way then tell them. At the end of the day the most important thing to your photographer is that you're happy with his work – no photographer wants an unhappy bride or groom!
Matt Heath is the owner of Matt Heath Photography which specializes in producing innovative and creative wedding photographs to ensure the happy couple remember every moment of their big day.

Axel Ziba
Axelan Ziba is an author and researcher. He is specialized in business marketing, development and is a small business owner. He learns as he writes by researching and interviewing experts and professionals in many categories and topics. Join him in Facebook and become part of his pro network in LinkedIn All Axelan Ziba article's authored exclusively for BidsByPros.com All rights reserved. If sharing, credit Bids By Pros in article source.